The big picture: Broadway leaned hard into Hollywood this year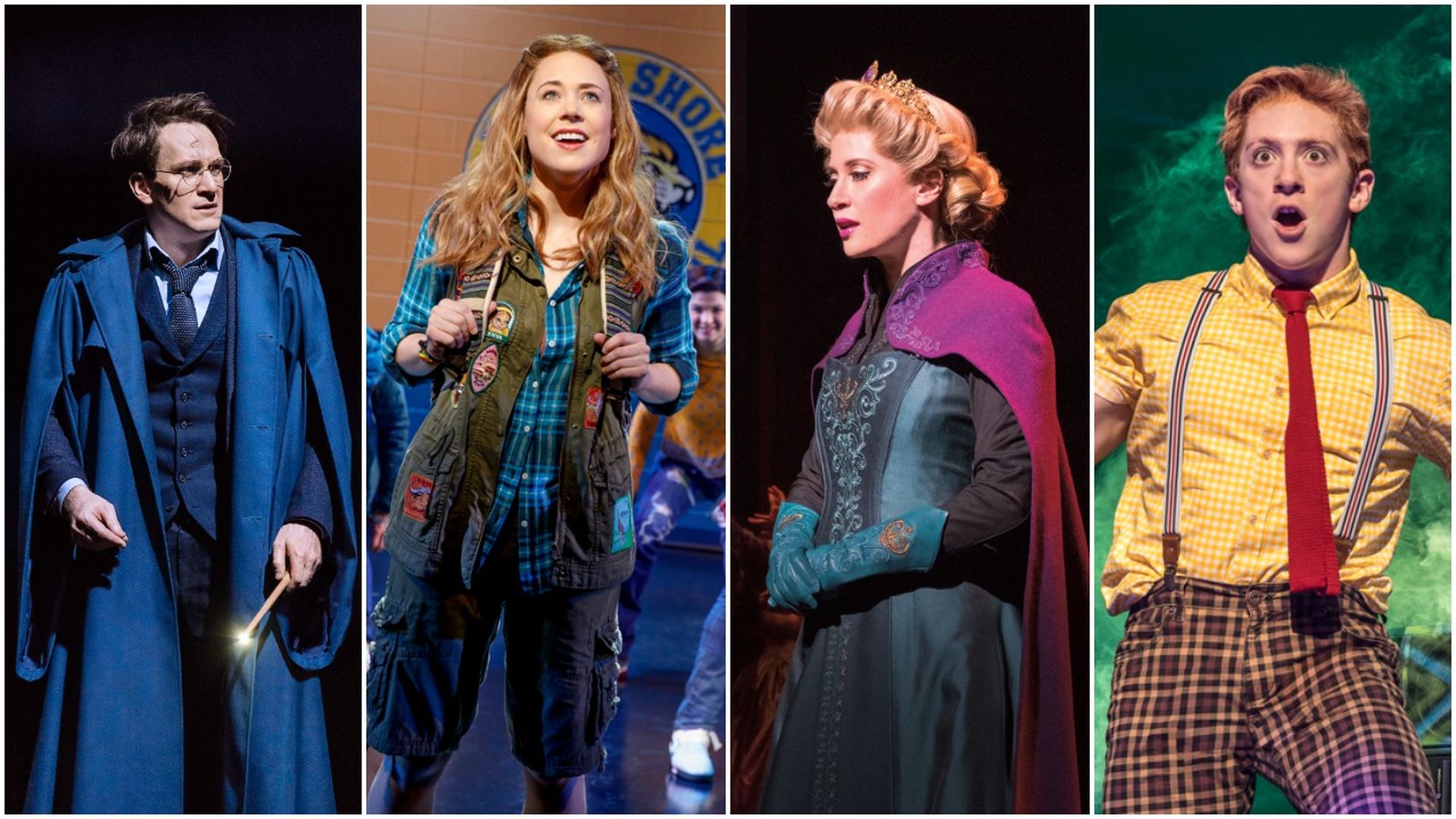 At Sunday's Tony Awards, three of the four nominees for Best Musical are "Mean Girls," "Frozen," and "SpongeBob SquarePants: The Broadway Musical" — and "Harry Potter and the Cursed Child" is the frontrunner for Best Play.
The big picture: A show with an original concept, original music and staying power is a rare breed on Broadway. We've seen "Hamilton" and "Dear Evan Hansen" in the last two years, but otherwise, the landscape is thin. Broadway is largely dominated by mass culture crowd pleasers, old-reliable revivals, jukebox musicals and takeoffs on movies.
The state of play: After a brief run of original hits, Broadway this year opted to churn out surefire moneymakers with mass appeal with little to show for acclaimed original shows. Even the fourth nominee for Best Musical, "The Band's Visit," was adapted from a 2007 movie.
Retreads, jukebox musicals and adapted productions:
Since 2000 on Broadway:
"The Lion King" has grossed in the top 3 every single year.
"Aladdin" has grossed in the top 6 each year since it premiered in 2014.
"Jersey Boys" held a top 10 spot for 9 straight years.
"Mary Poppins" held a top 10 spot for six straight years.
"Beauty and the Beast" held a top 10 spot for six years.
Other productions that grossed in the top 10 at least 3 straight years: Matilda, Spamalot, Kinky Boots, Spider-Man: Turn Off the Dark, Billy Elliot, Beautiful, The Producers, Hairspray.
The old hands
"Phantom of the Opera," the longest continuously running Broadway show — this production has been running since 1988 — is a perennial top 10 grosser.
"Mamma Mia," originally produced in 1999, held a top 10 box office spot between 2002-12.
The modern originals:
Shows that grossed in the the top 10 for at least two consecutive years:
"Wicked" — adapted from a book — was the biggest Broadway hit of the millennium until "Hamilton" came along. It held the top spot at the box office for 9 straight years following its premiere in 2003.
"Book of Mormon," which debuted in 2011 and has held a spot in the top 10 ever since, gets points as the rare hit comedy.
"Hamilton" set Broadway on fire critically and financially after its 2015 premiere, cementing itself firmly in the top spot. It raked in a record $157.8 million in 2017.
"Dear Evan Hansen" broke out last year and now finds itself 4th behind "Hamilton," "Lion King," and "Wicked."
"Come From Away," set in the aftermath of 9/11, was first made at an Ontario college in 2013 and made the leap to Broadway in 2017.
Go deeper