Inside the State Department's hunt for leakers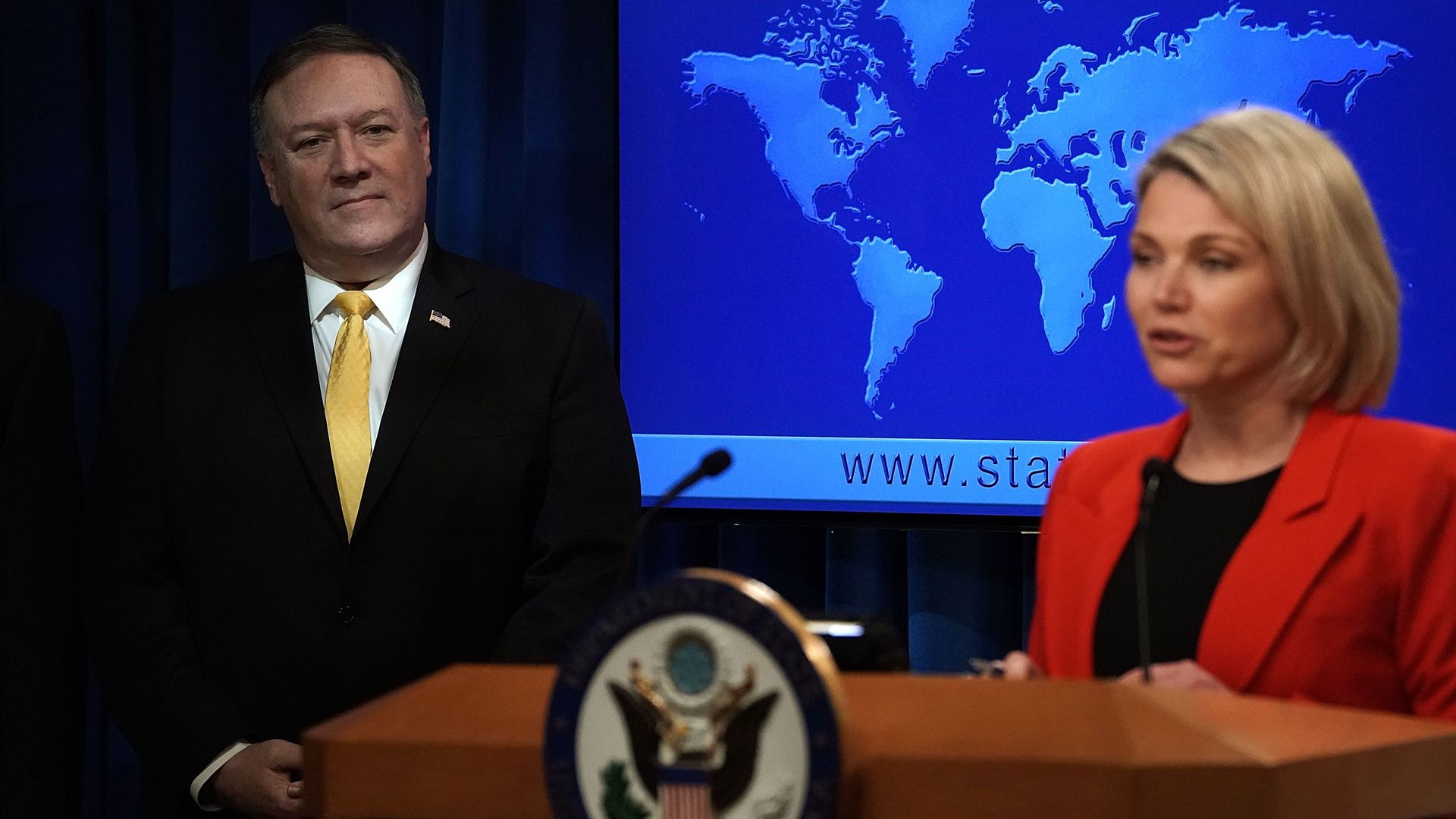 Mike Pompeo's senior aides are hunting for leakers inside the State Department after the new secretary of state became infuriated about several recent news stories.
Behind the scenes: State spokesperson Heather Nauert held a public affairs meeting to discuss the leaks several weeks ago in the aftermath of an Associated Press article that confirmed Brett McGurk — a Special Presidential Envoy appointed under former President Obama — was staying on an additional six months. This meeting has been leaked to Axios.
The details:
"There were a couple of articles that pissed off Pompeo," said a source familiar with the meeting. "One was an article about McGurk. Another about slow-rolling Palestinian funding."
A source familiar also said State Department employees' phones were checked as part of the leak investigation. A department spokesman declined to comment.
Between the lines: Pompeo, coming to State straight from the CIA, was caught off guard by some of the stories revealing internal deliberations.
What they're saying: A number of State Department officials feel that the crackdown is unwarranted and has been handled in a heavy-handed manner, according to sources familiar with the situation:
"It's not leaks; it's not classified info. It's reporters confirming what they got from overseas sources," a source familiar with the situation told Axios. "If you're going to do it, don't do it in a meeting about leaks that promptly leaks. They didn't learn their lesson when the White House did this?"
"They've gotten diplomatic security involved in the leak investigation — the internal security of the State Department — which is bananas," the source added. "These are the people who stand outside diplomats' doors when they sleep overseas."
Pushback from State:
"The unauthorized release of information, whether it's classified or not, is always a concern of the State Department," Nauert told Axios. "It can jeopardize ongoing operations and negotiations in which the State Department is involved." 
"Also, Diplomatic Security doesn't 'stand outside diplomats' doors,'" Nauert added. "DS is the security and law enforcement bureau for the entire agency. Their mission is to provide a secure environment for the conduct of U.S. foreign policy."
"Leaks of internal deliberations on matters involving this most sensitive region have a debilitating effect on our prosecution of foreign policy," a senior State Department official involved in Middle East policy told Axios. "Most diplomats working on these issues support any effort to ensure our messages are appropriately controlled and coordinated through official channels." 
Go deeper