Colombia's elections are about more than the FARC peace process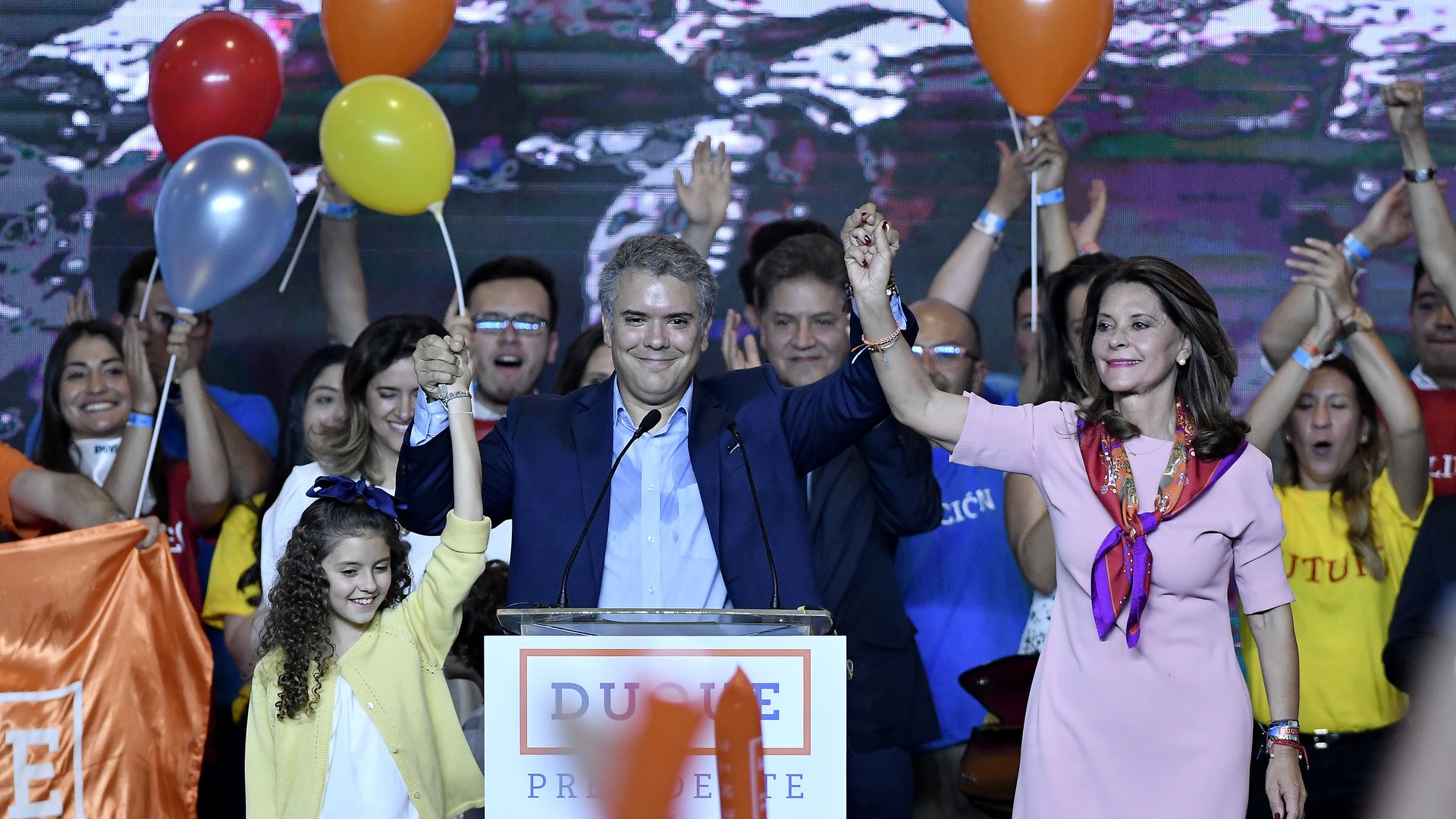 On June 17, Colombia will hold second-round presidential elections, after Iván Duque took a commanding lead over the leftist Gustavo Petro in the May 27 first round. According to surveys today, it looks like a runaway victory for Duque, who based his campaign largely on opposing the peace plan with the Revolutionary Armed Forces of Colombia (FARC) guerrilla group, negotiated by current President Juan Manuel Santos.
Yes, but: To boil the election down to an up-or-down vote on Santos' peace deal that ended a 50-year civil war is a mistake. First, the peace deal that Santos obsessively sought is likely a fait accompli, even with a Duque victory. And second, support for the top 3 first-round candidates suggests that voters have prioritized better services and more public transparency.
Duque is the protégé of former president Álvaro Uribe, who reinserted himself into politics after stepping down in 2010. Termed out under the constitution, Uribe supported Santos, his former defense minister, to succeed him, but took to social media shortly after leaving office to vehemently oppose Santos' peace initiative.
While Uribe and Duque may rail against it, the Colombian Congress has approved the plan, more than 7,000 guerrillas have demobilized, and the processes of reintegration are in full swing and will be difficult to unwind. Though a Duque government could cut public programs supporting these efforts, most Colombians want to move on.
The big picture: In 2000, the U.S. initiated a partnership to help Colombia win back its territory and reduce narcotics trafficking, since investing $1 trillion in Plan Colombia and, under Obama, endorsing Santos' peace efforts. Should he win, Duque (and his political patron) will have to adjust to a new round of citizen demands.
Christopher Sabatini is a lecturer at Columbia University's School of International and Public Affairs and executive director of Global Americans.
Go deeper