Updated Jun 7, 2018 -

World
What Kim Jong-un wants from Trump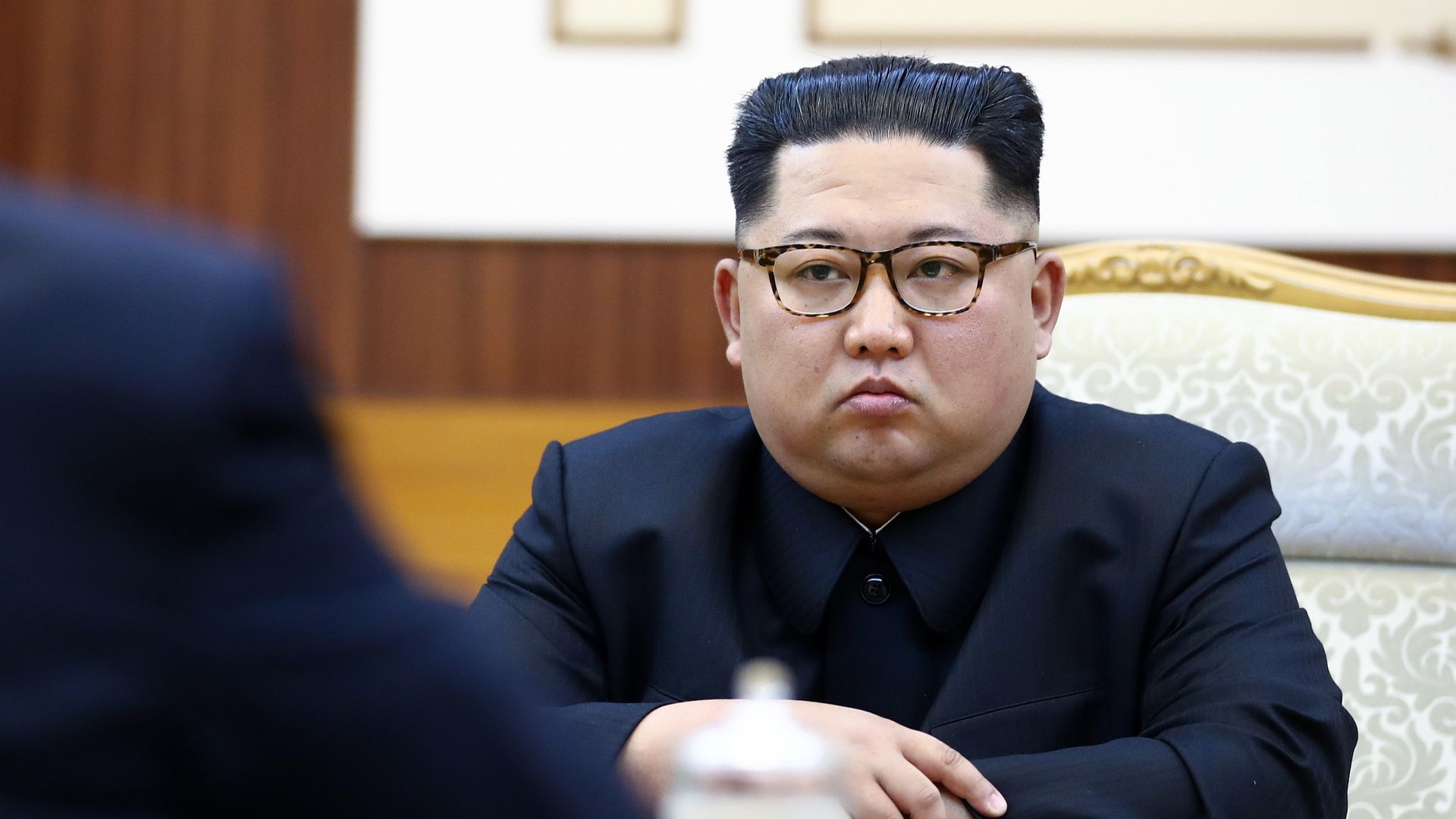 President Trump will soon sit across the table from a man who, as of three months ago, was an enigma even to the CIA. He hadn't left his country as leader, and his most high-profile summit was with Dennis Rodman. Not long ago we debated whether he was crazy — now there's concern he might be too shrewd.
Between the lines: Kim's emergence onto the world stage has been swift and, thus far, remarkably successful. Once a pariah, he's now being courted by foreign leaders. Commitment to maximum pressure is dwindling around the world, and even in Washington. Trump is looking for a breakthrough in Singapore. Kim has already had one.
I asked Jung Pak, a former CIA analyst now at the Brookings Institution, what a successful summit on Tuesday (Monday night EST) looks like for Kim:
"A vague statement, big smiles, big banquet, his wife is there — charming, lovely, young — talking to Trump, and he walks away. Maybe there's another summit, maybe there's follow-up meetings, maybe there's a declaration for peace, but in any case I think it's up to Kim if he's gonna start doing nasty things again or if he's just gonna stay quiet for seven years."
Sue Mi Terry of CSIS, also a former CIA analyst, told Mike Morell on the latest Intelligence Matters podcast that Kim doesn't need to get anything concrete from the summit to consider it a win. That doesn't mean a larger deal isn't achievable, though:
"I actually think the North Koreans see this as an opportunity. I think they see because Trump is so unique and different that if there ever were to be a deal made it could be made with President Trump," Terry said.
Pak concurs: "He sees a South Korean president who's willing to look away from the nuclear and conventional threats. He sees a U.S. president who is really eager to meet with him and wants to prove his international standing as a peacemaker, and who is also very much interested in potentially withdrawing U.S. troops in the Korean Peninsula."
But with Mike Pompeo reiterating the U.S. position today that nothing short of "complete, verifiable and irreversible denuclearization" will do, can Kim really get there?
"I think he's willing to sit down and negotiate. Will he, at this moment, be thinking in his head that he's going to absolutely give up his nuclear weapons program? I don't think so. That doesn't mean he won't ever... but at this moment, what he wants is just a negotiation."
—
Sue Mi Terry
Michael O'Hanlon of Brookings lays out one alternative to full denuclearization the U.S. might be able to live with: North Korea becomes "Vietnam with nuclear weapons."
"If he's gonna be in charge of North Korea for the next fifty years — reform from within, gradually connect to the world, build up the economy, but he keeps those nuclear weapons as long into the process as he can. ... We could live with that as long as we keep our expectations in check."
Go deeper