The coming health care wars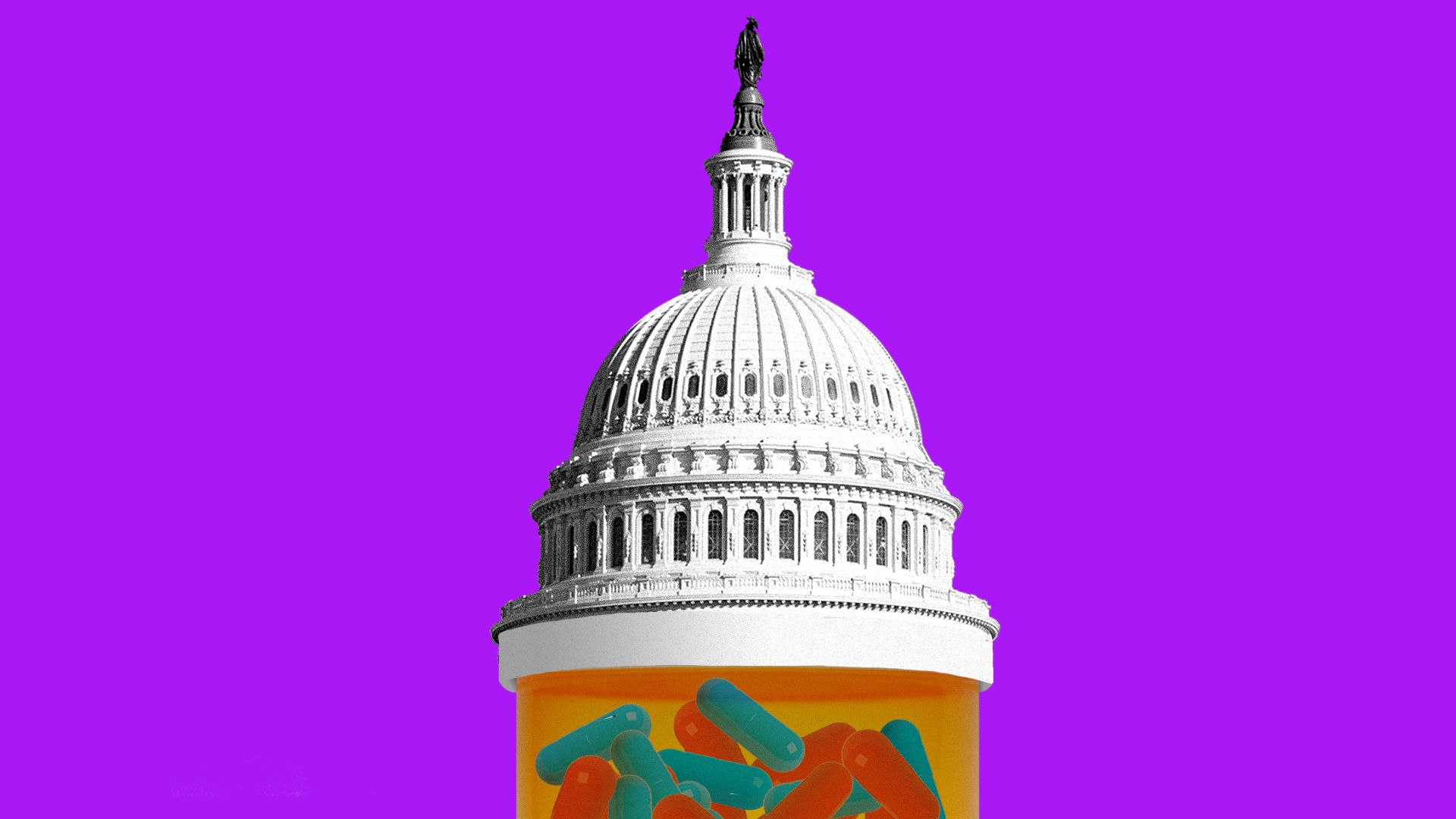 The next great health care war is already starting. It'll be about costs this time, not coverage, and Democrats are the ones firing the first shots — though neither party has a complete strategy just yet.
Why it matters: After a bruising, decade-long fight over the Affordable Care Act, plenty of candidates and lawmakers would love to keep their distance from the politics of health care. But the issue is so personal, and the system is so dysfunctional, that may be impossible.
"Even if you want it to go away, it's right in your face."
— Democratc health care strategist Chris Jennings
The big picture: Health care is rising back to the top of the agenda for two big reasons: Democrats want the fight, and health care is getting a lot more expensive, for everyone.
Democrats want to talk about it. Vulnerable red-state Democrats like Joe Manchin and Claire McCaskill in Missouri are focusing their campaigns on drug costs and the opioid crisis. Single-payer advocates are emboldened, too.
"These are areas where Democrats do well to engage. They're not in power, they have policies … they would be committing almost political malpractice not to do that," said Democratic health care strategist Chris Jennings, a veteran of both the Clinton and Obama administrations.
Polls show health care at or near the top of voters' list of important issues this year, and Democratic voters are largely driving that push.
The Democrats have moved left. Most of their 2020 contenders have endorsed some form of "Medicare for All," but the party is still fighting internally about what that means.
Sen. Bernie Sanders has laid out standards for "Medicare for All" that even Canada's actual single-payer system doesn't meet, while more moderate candidates have endorsed incremental changes like a public option or Medicare buy-in.
The parameters of that debate still represent a big leftward shift, with a common thread: a willingness to use the federal government's buying power to demand lower prices, and to move boost that buying power by moving more people into Medicare or something similar.
"It's a step toward a broader vision — which is why conservatives get nervous with it and progressives get impatient with it," Jennings said.
The other side: Republicans, on the heels of their own internal bloodletting over whether and how to repeal the ACA, have an even less unified message on health care.
"This will be the first midterm in a decade that Obamacare will not be the issue that unites and energizes Republicans. That's a big shift," said Alex Conant, a GOP strategist and former aide to Marco Rubio. "If Republicans are going into the midterms having done nothing on drug prices, it will be a tremendous vulnerability."
Tying Democrats to Sanders and criticizing a "government takeover" of health care might work, at least for now, but it won't get the GOP off the hook for a problem with no easy solutions.
Cutting Medicare benefits is unpopular; so is raising taxes to pay for Medicare. The trade-offs among premiums, deductibles and benefits in private coverage are also hard to reconcile — but voters seem increasingly unhappy with the status quo.
"It's an unavoidable issue for any candidate," Conant said.
Get more stories like this by signing up for our daily health care newsletter, Vitals. 
Go deeper