The climate stakes of Trump's power move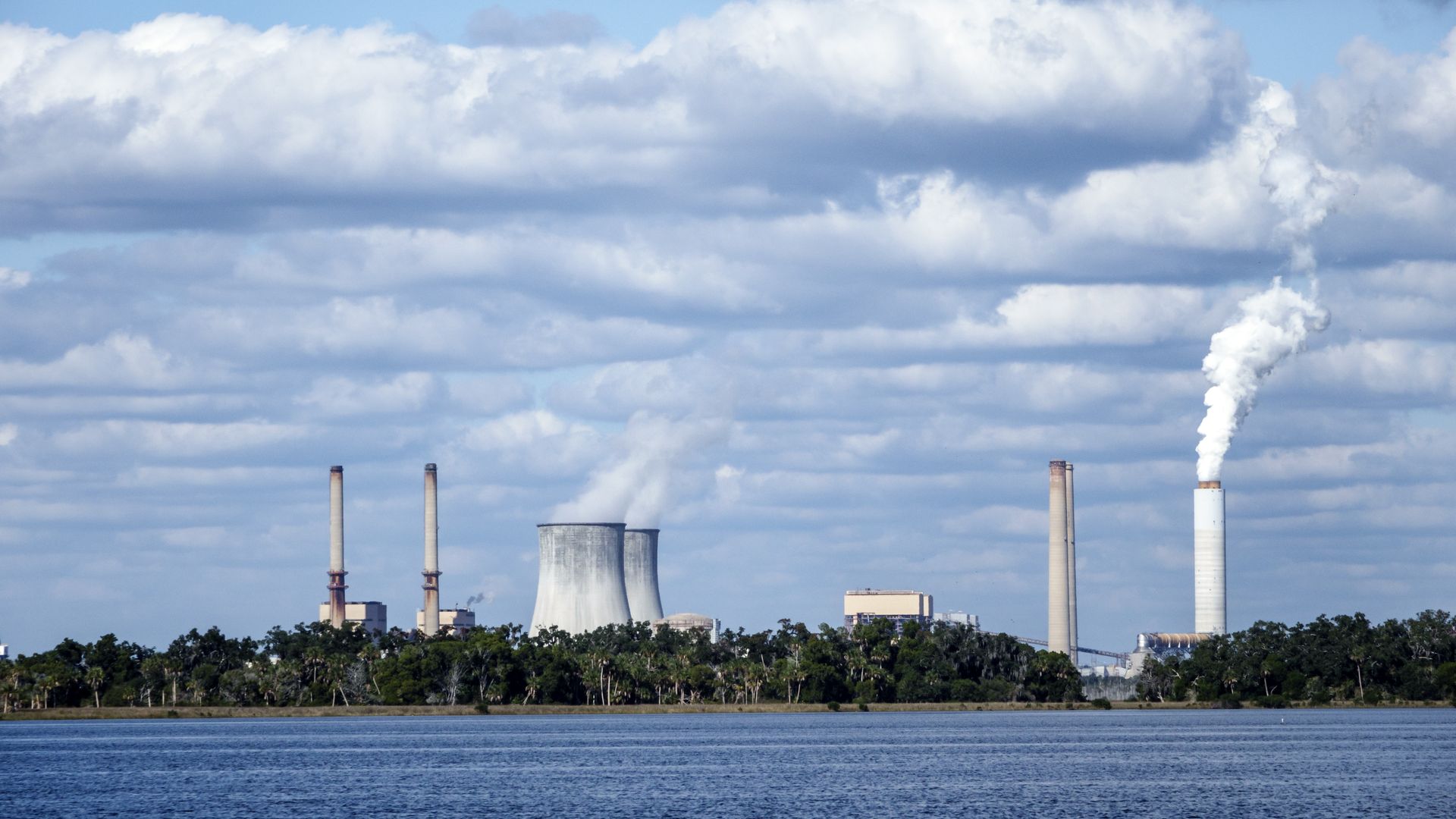 The emerging White House plan to throw an economic lifeline to struggling coal-fired and nuclear power plants would likely thwart progress on cutting greenhouse gas emissions, even though nuclear generation is the largest U.S. source of zero-carbon power, some analysts tell Axios.
Why it matters: This underscores how climate advocates increasingly fearful of a wave of nuclear plant closures — a topic we recently explored here and here — are still without policy allies in the White House despite the Trump administration's support for the fuel.
The basic reason: More coal-fired plants face shutdowns in the coming years than nuclear plants absent strong federal intervention.
"I think more coal is likely to be at risk of shutdown from poor economics than nuclear, so the impact of subsidizing uneconomic plants would be even worse from a climate standpoint."
— Jason Bordoff, head of Columbia University's Center on Global Energy Policy, in an email
To be sure: Uncertainties abound, such as what White House policy will ultimately look like and the lost mix of natural gas, renewables and other resources that would have replaced coal and nuclear plants set to be kept afloat.
One possible future: Council on Foreign Relations energy expert Varun Sivaram was kind enough to do some back-of-the-envelope modeling.
He looked at the effect of freezing coal and nuclear generation at their 2017 levels, rather than allowing both to drop in accordance with the most recent Energy Information Administration long-term forecast.
"This results in more production from coal and nuclear; the additional coal electricity generated in 2025 is about 24% more than the additional nuclear electricity generated in 2025," Sivaram said in an email.
That would be enough to hinder the power sector's ongoing emissions reductions — he finds that the Trump administration's actions would result in between 0% to 5% higher emissions in 2025 relative to 2017, depending on how much gas versus renewables are displaced.
The big picture: "That's bad because we actually need to substantially decrease power sector emissions by 2025 in order to meet our Paris commitment," Sivaram said.
One level deeper: Two analysts with Resources For the Future (RFF), a nonpartisan think tank, say their modeling shows that preventing a "typical, unprofitable" one-gigawatt coal plant from closing causes 2.9 million tons of CO2 emissions per year.
Their short note over the weekend also says that preventing a money-losing one-gigawatt nuclear plant from closing reduces CO2 emissions by 3.5 million tons annually.
But, but, but: The RFF note points out that over the last four years, coal plants have been retiring at a rate of roughly eight gigawatts annually, while nuclear capacity retirements have been about one gigawatt annually for the last five years.
Going forward: The amount of power from a given source slated to go offline in the years ahead is a moving target — and a number of states are acting on their own to preserve their nuclear plants, most recently New Jersey.
That said, EIA's Electric Power Monthly includes a database of planned power station retirements.
And the consultancy ClearView Energy Partners, in a recent note which did not explore the carbon topic, projects that roughly 23 gigawatts of coal-fired capacity might be retired between now and mid-2027. That's substantially more than the amount of at-risk nuclear capacity.
Go deeper