Battery pioneer unveils surprising new breakthrough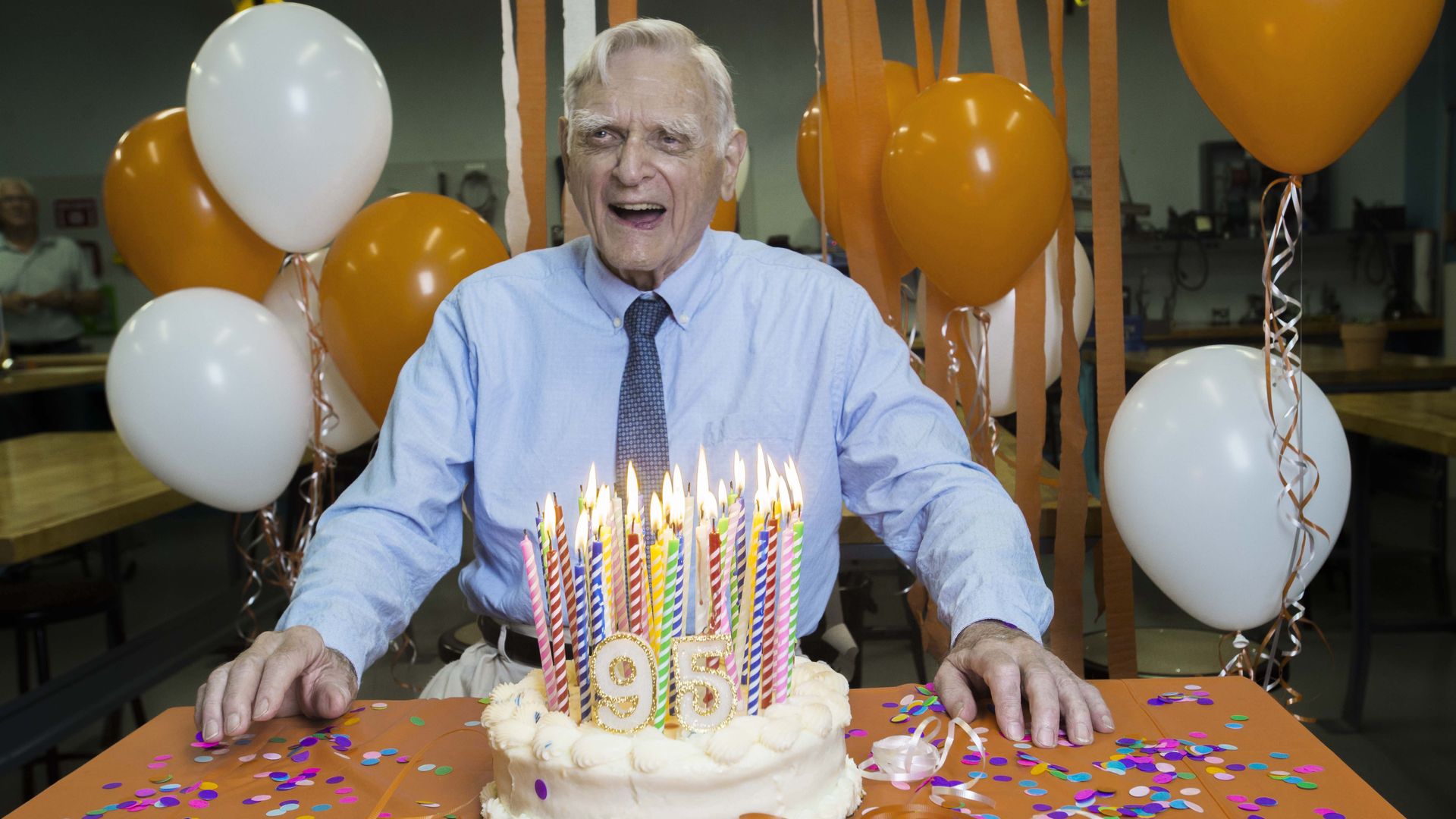 The world's most accomplished battery inventor says he has a new cell aimed at electric cars that delivers double the energy density of existing lithium-ion, and, in a first, actually achieves an increase in capacity when it's charged and discharged.
Quick take: The claims, among the most ambitious by any major researcher in recent memory, come in a paper co-authored by John Goodenough, a celebrated 95-year-old professor at the University of Texas who invented the battery used by almost every cell phone on the planet. It was published in the prestigious Journal of the American Chemical Society with co-authors Maria Helena Braga and two other researchers.
In addition to its assertions on energy density and capacity, the paper's main claims include:
It is a solid state battery, using no liquid electrolyte, the main cause of lithium-ion battery fires.
It uses no cobalt, an expensive metal contained in almost all commercial lithium-ion batteries. In recent months, China has all-but cornered the market for cobalt, whose price has sky-rocketed.
It can be cycled more than 23,000 times, while the typical electric car battery cycles 1,000 times.
Goodenough, a perennial candidate for a Nobel prize in chemistry, commands enormous respect in the field, having had himself invented or had a hand in creating almost every major lithium-ion battery currently sold.
But, like research published a little over a year ago by Braga and Goodenough, the paper has raised questions in the battery community. In interviews with Axios, researchers raised the following technical questions:
A record-high measure: A metric known as the "relative dielectric constant," which measures how much energy can be stored in an electric field, may be higher than ever recorded in a material.
Energy storage: The paper leaves unclear whether a charged battery, once unplugged from its source, can retain that energy or whether the charge will simply vanish, leaving a user, such as a driver, with a dead battery.
Rising capacity: Six battery researchers contacted by Axios said that, apart from as an errant anomaly, they had never encountered a rise, rather than a decline, in capacity as a battery is cycled.
Short of seeing added data, all said the findings do not add up. "The way to think about it is that you have a car that can travel 200 miles, and after five years it can go 800 miles," said Venkat Viswanathan, an assistant professor at Carnegie-Mellon University.
Gerbrand Ceder, a professor at Cal Berkeley, said their work on these papers "is not what it is stated to be. Most of us have moved on from this saga."
I asked Goodenough and Braga about the doubts. Braga responded: "There are a lot of interests. But time will be on our side." In a followup email, she said,
"Data is data and we have similar data from many different cells, in four different instruments, different labs, glove box. And at the end of the day, the LEDs are lit for days with a very small amount of active material after having cycled for more than 23,000 times."
[In an email exchange after publication of this post, Braga said the battery does hold a charge when unplugged.] Goodenough did not respond to emails seeking comment.
Go deeper: Panasonic is developing cobalt-free batteries, Reuters reports.
This post has been updated with Braga's added comment.
Go deeper