50 years on: RFK's death "was the death of hope"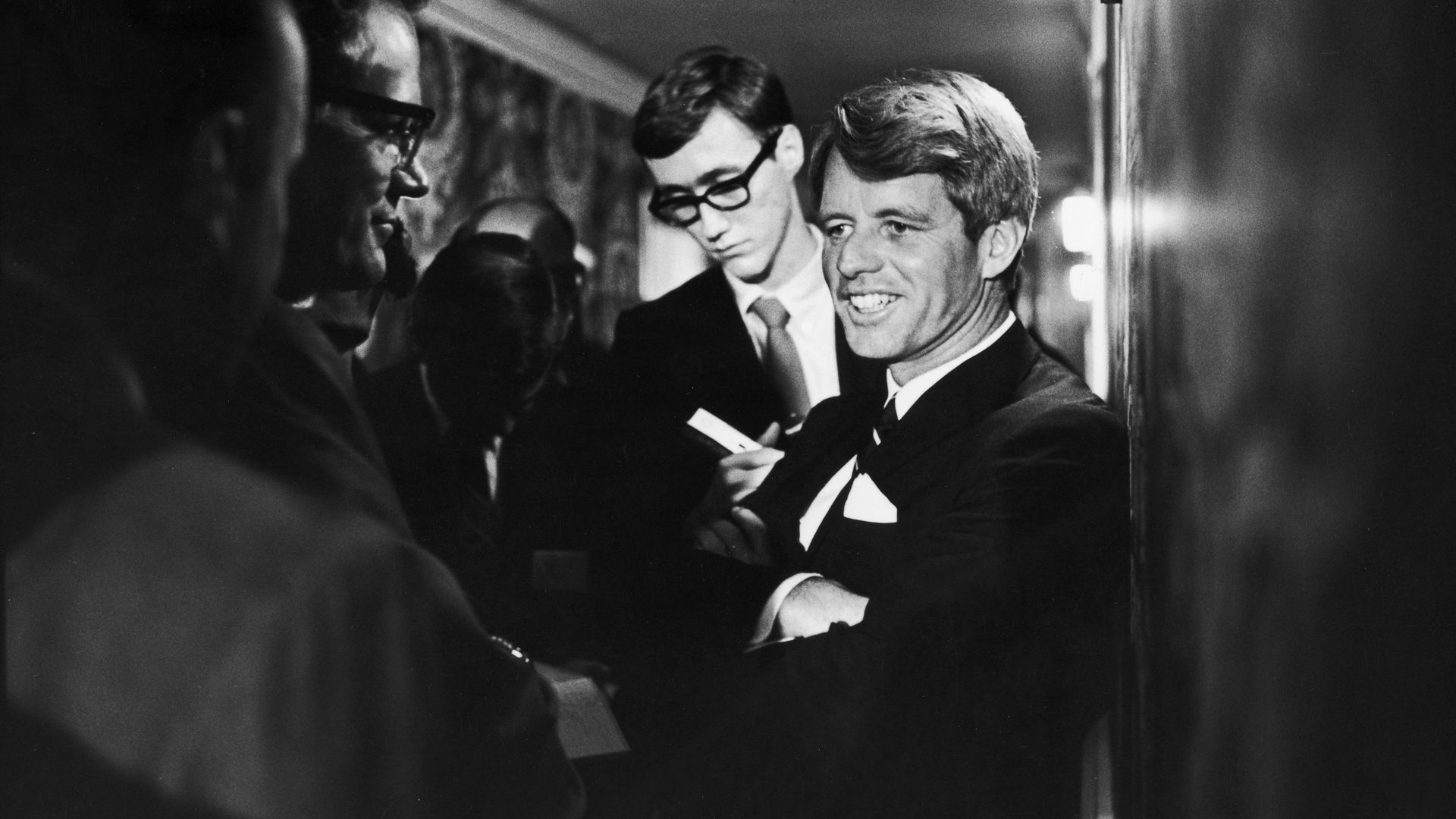 Tuesday marks 50 years since the assassination in Los Angeles of senator and presidential candidate Robert F. Kennedy, age 42, who had been attorney general for his brother, President John F. Kennedy. David M. Shribman, executive editor of the Pittsburgh Post-Gazette and former Washington bureau chief of The Boston Globe, has a Globe front-pager today:
"For 12 weeks he traveled the country, up and down the coasts, to Indiana the day Martin Luther King Jr. was killed; to Nebraska, where he won a vital primary in a devoutly conservative state; to Oregon, where he suffered the first political loss by any member of his family; and then to California, where he vowed to go on to the Democratic convention 'and let's win there,' only to walk through a hotel kitchen where it all — the campaign against a long war, the campaign for a new sense of national purpose — tumbled to an end with an outstretched arm and spray of gunfire."
"He might have won the presidency, he might have brought the Vietnam War to an earlier conclusion, he might have healed a broken nation. Or he might have lost to Richard Nixon (Hubert Humphrey, a more experienced and in some ways more sophisticated politician, did lose), he might have found the conflict in Southeast Asia much more difficult to wind down than he expected (as Barack Obama discovered in Iraq and Afghanistan), he might have stoked resentment from his foes and produced a furious conservative backlash (as Obama, as fluent a campaigner as RFK, surely did)."
"Robert Kennedy was perhaps the most religiously driven of the Kennedy men, and certainly the most self-examining ... [B]y 1968, Kennedy — drowning in despair and inflamed with anger — felt free to speak and act for himself."
Jeff Greenfield, the TV journalist, who was an RFK speechwriter: "The Bobby Kennedy campaign was an investment in hope, in the hope that if Bobby were elected, we could end the Vietnam War and bring the country together."
Mark Shields, the syndicated columnist, who organized 40 Nebraska counties for Kennedy: "He'd have been a more revolutionary president than Trump ... We have never had a tough liberal. He was the last tough liberal. Every one after him was a can't-we-get-along, bleeding-heart liberal."
Peter Robinson, the conservative Hoover Institution scholar who wrote Ronald Reagan's "tear-down-this-wall'' speech: "Bobby is the pivot of the Kennedy family."
Why he mattered: "That is the ultimate meaning of Robert Kennedy — not so much his accomplishments but his legacy as a man whose changed voice changed the American conversation."
Go deeper