Trump's global juggling act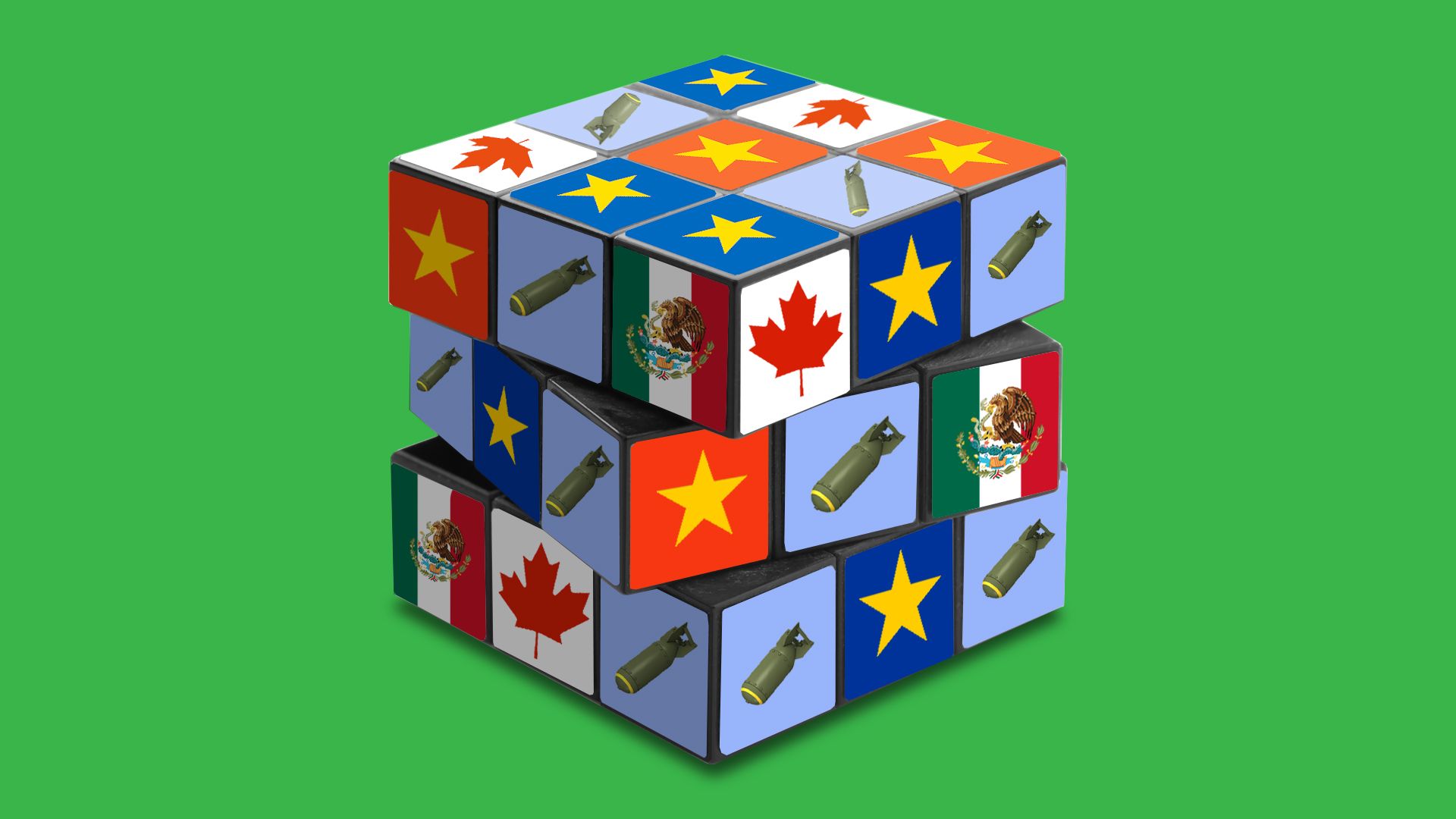 President Trump is now confronting two nuclear standoffs and fighting a trade war on multiple fronts — all at the same time.
The big picture: Trump's March decision to agree to meet with Kim Jong-un led to speculation he might hold off on withdrawing from the Iran nuclear deal, so as not to face dueling nuclear dilemmas. He didn't. Common cause on North Korea had seemed to pave the way for a trade war truce with China. It didn't. Now, Trump is slapping tariffs on America's closest allies — and they're hitting back.
The latest: Trump's tariffs — 25% on steel and 10% on aluminum — will go into effect at midnight on the E.U., Canada and Mexico, Commerce Secretary Wilbur Ross told reporters today.
European Commission President Jean-Claude Junckercalled the move "protectionism, pure and simple" and said Europe had no choice but to retaliate. The E.U.'s list of targets includes "everything from corn and tobacco, to T-shirts, Levi's jeans, bourbon, motor boats and various forms of steel," per NPR.
Canadian prime minister Justin Trudeau announced tariffs on U.S. steel, aluminum and other products, to match the total value of Canada's 2017 steel and aluminum exports to the U.S. He called the tariffs "totally unacceptable," and said he finds it "inconceivable" that "Canada could be considered a national security threat to the United States."
"Mexico's Economy Ministry said it would target several U.S. goods in response, including some steel and pipe products, lamps, berries, grapes, apples, cold cuts, pork chops and various cheese products," per the WSJ.
The big picture:
Gary Hufbauer, a former senior Treasury official now at the Peterson Institute, told me "this is not a macroeconomic event, this is pinpoint pain" for certain U.S. firms and industries. "But pinpricks are very painful for those on the receiving end," he added, and members of Congress from affected districts will be speaking out.
He said a deal to change the tariffs to quotas, which are less painful for exporters, was likely to be reached in 3 months or so with Europe, and sooner with Mexico and Canada — though NAFTA negotiations could complicate things.
"I think the way this turns into a macro event is if the Chinese don't come up with a nice pot of concessions when Ross goes over there this weekend," Hufbauer said. He noted Trump has threatened tariffs on up to $150 billion in Chinese products, while the steel trade is worth $10-15 billion.
The bottom line: Trump needs Europe to help him confront China, and China to help him squeeze North Korea. Facing several crises at once, he seems to have scores of allies and none at the same time.
Go deeper