Go deeper: Another hurricane could black out Puerto Rico again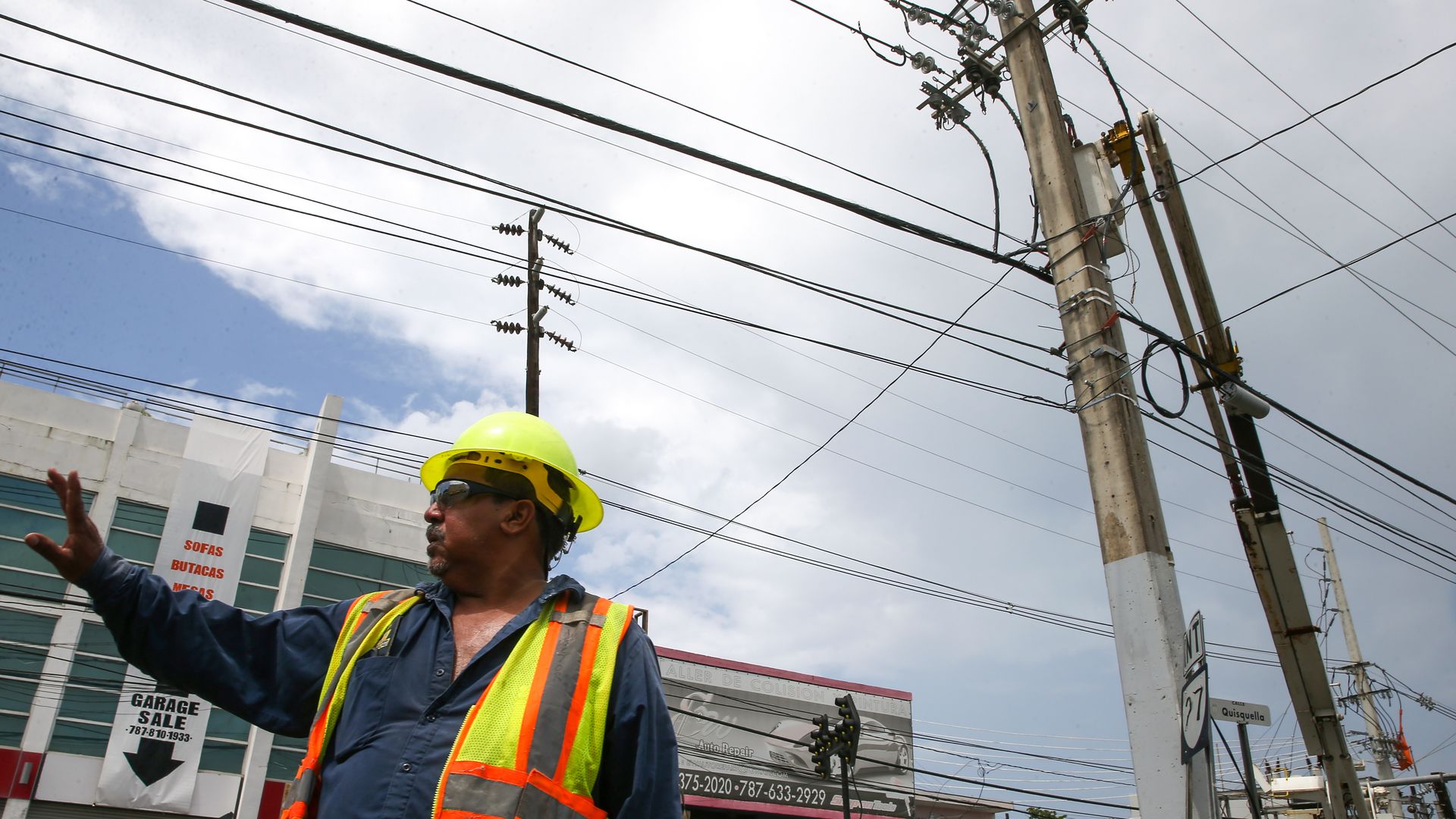 Puerto Rico is in danger of being without power once again when it is inevitably hit by another hurricane — be it this season or years from now, reports the Associated Press.
Why it matters: The United States spent $3.8 billion to get Puerto Rico's power system running again following damage caused by Hurricane Maria, but the system is in such bad shape that it's at risk of suffering more damage if another hurricane were to strike the island before it can be properly fixed.
"The grid is there, but the grid isn't there. It's teetering,"
— Hector Pesquera, Puerto Rico's commissioner of public safety.
Maria was the most intense such storm to hit the island in at least 80 years, but a weaker storm could still hobble the grid.
Many of the repairs made to the grid have replaced years of neglect to Puerto Rico's power grid, but funding hasn't been able to reach every spot across the island.
In the western highlands of the island, power cables have been spliced and woven together through trees.
In Cain Alto and another location, trees are being used as makeshift power poles because of a lack of proper equipment.
By the numbers: It is inevitable that a massive storm will hit the country again — though the island may be spared this season.
With hurricane season starting on June 1, forecasters say there's a 75% likelihood that the 2018 Atlantic hurricane season produces between five and nine hurricanes.
There's a 70% chance that as many as four of those storms could be "major hurricanes" of category 3, 4 or 5.
Winds in such storms would reach 111 miles per hour or higher.
Officials warn that a storm that is weaker than a category 4 could cause a blackout if one were to hit the island this year.
11,820 homes and businesses are still without power on the island.
What they're saying: Puerto Rico is considering selling its infrastructure system to a private company or companies and have it finance its repairs in time for the next storm, the report says. A sale could happen as early as this week.
The bottom line: If another storm hits Puerto Rico this year, thousands of people will be without power and it would cost billions to get the power grid back to the state its currently in. The federal government would continue to fund repairs even if the system is sold.
Go deeper