Meet Dinesh D'Souza, the conservative pundit Trump has pardoned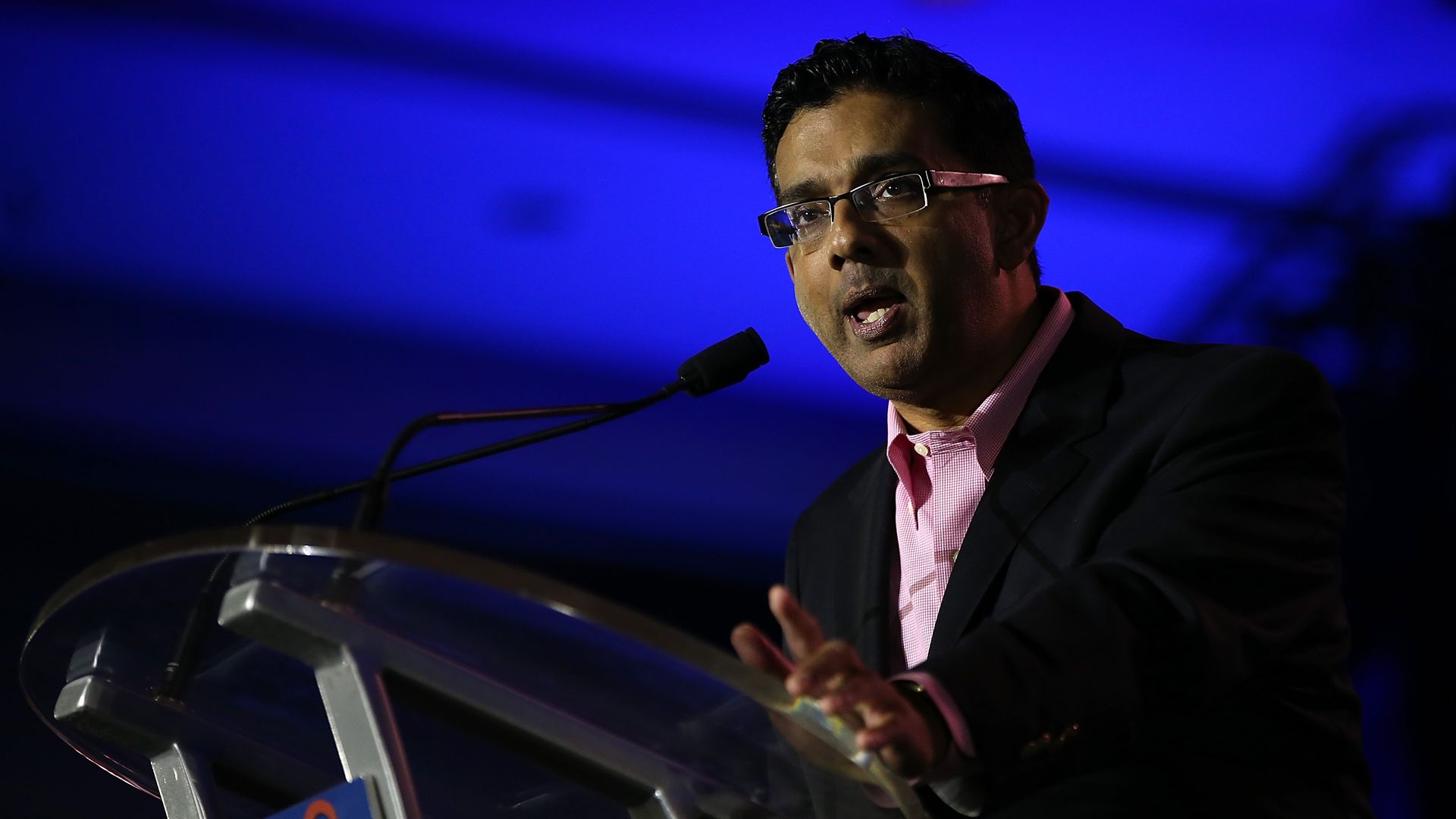 President Trump has pardoned Dinesh D'Souza, a convicted felon who has been a prominent conservative pundit and activist since the 1980s.
The big picture: D'Souza, who pled guilty in 2014 to violating campaign finance laws, served in the Reagan administration and worked at both the American Enterprise Institute and the Hoover Institution. He became prominent after publishing Illiberal Education in 1991, has written 16 books critiquing the liberal world-view, and gradually transitioned into film projects.
What Trump is pardoning: D'Souza was indicted in 2014 for violating campaign finance laws in Wendy Long's 2012 U.S. Senate race. He received 5 years of probation and 8 months in a supervised "community confinement center."
Preet Bharara, who was fired by President Trump in 2017, said when announcing the indictment:
"Dinesh D'Souza attempted to illegally contribute over $10,000 to a Senate campaign, wilfully undermining the integrity of the campaign finance process... Like many others before him, of all political stripes, he has had to answer for this crime – here with a felony conviction."
Upon the announcement of Trump's intention to pardon D'Souza, Bharara tweeted:
"The President has the right to pardon but the facts are these: D'Souza intentionally broke the law, voluntarily pled guilty, apologized for his conduct & the judge found no unfairness. The career prosecutors and agents did their job. Period."
D'Souza gained special notoriety on Twitter, including most recently for claiming the survivors of the Marjory Stoneman Douglas school shooting were grieving in a "politically orchestrated" way.
Among his most notorious tweets:
Wondering in 2017 if the white supremacist rally in Charlottesville was "staged."
He suggested the mainstream media potentially covered up the Las Vegas gunman was an anti-Trump activist, although this does not appear to be true.
He has defended Hitler as "NOT anti-gay," despite sending gay people to death camps.
He has shared a meme that labeled former President Barack Obama a "gay Muslim" and Michelle Obama a man.
And from his books:
He has claimed that liberal politicians in the U.S. are the "primary cause" for the September 11th terrorist attack on the U.S. — including Hillary Clinton, Ted Kennedy, Michael Moore, and Barbra Streisand.
The trend on pardons: Trump has issued several pardons during his presidency, including for former Vice President Dick Cheney's chief of staff "Scooter" Libby, former sheriff Joe Arpaio, and more recently, boxing champion Jack Johnson.
Go deeper: How Trump's pardon power works
Go deeper