Go deeper: How Trump's ZTE tweet sparked a bipartisan rebellion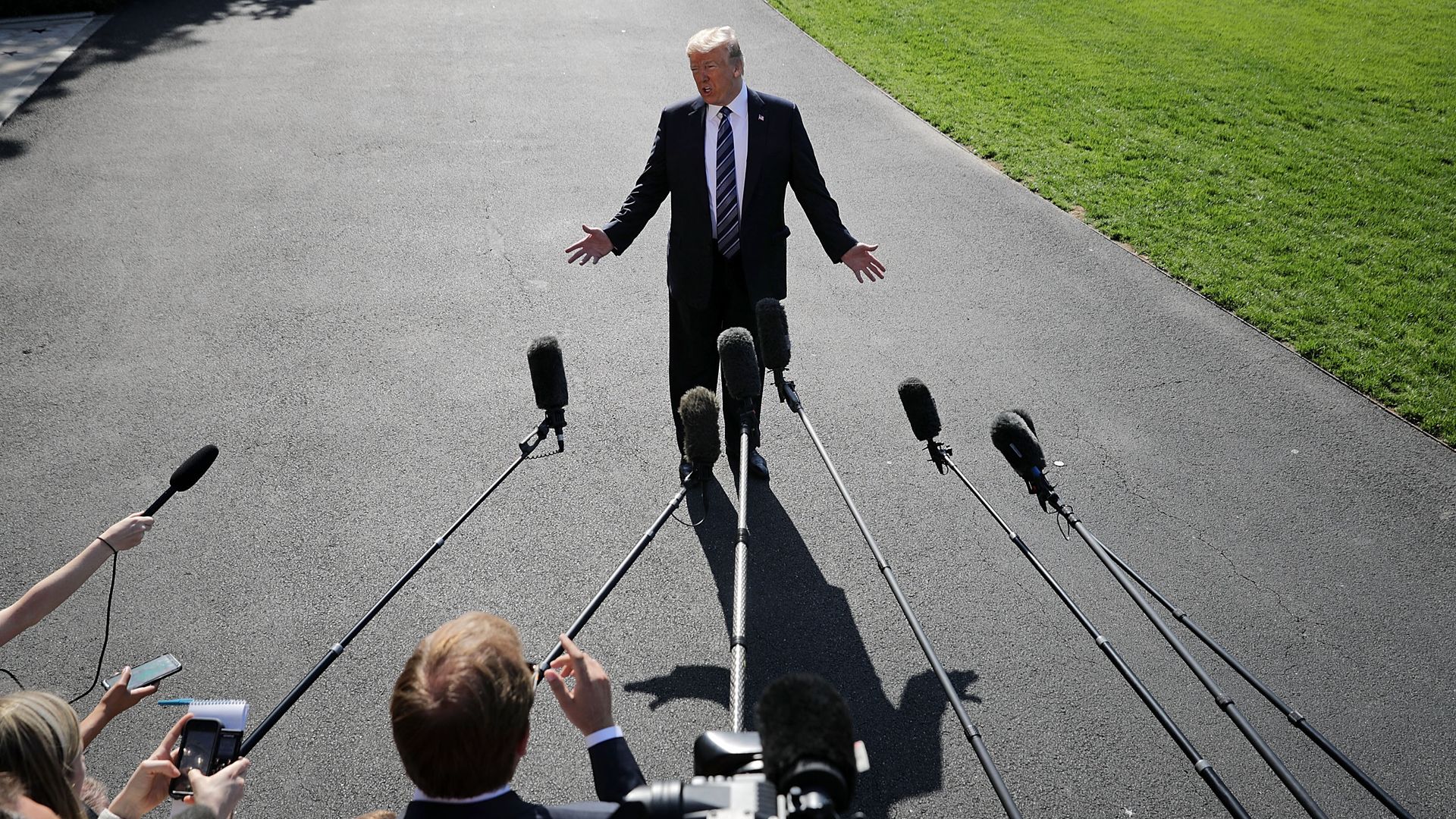 The long weekend was a busy period for news about ZTE. Lawmakers from both parties rebelled against a deal to save China's second-largest telecom manufacturer that President Trump announced on Twitter Friday.
Meanwhile: Chinese tech giant Tencent said it aimed to reduce China's dependence on U.S.-made components, and President Trump announced plans for new trade restrictions against China.
The background:
Earlier this month, the U.S. banned ZTE from purchasing American technology for seven years after the firm was caught selling to North Korea and Iran — its second such infraction. ZTE is dependent on American computer chips and said it would shut down production as a result.
There's more going on here than just sales to two U.S. enemies. Lawmakers view Chinese telecom firms as a security risk, producing equipment that can be backdoored for espionage. And China lawmakers have long argued that a reliance on U.S. chips puts companies like ZTE in jeopardy.
Trump's Friday announcement that he'd lift sanctions on ZTE in return for a $1.3 billion fine, oversight by U.S. compliance officers, and management changes chagrined national security-focused legislators.
The still-unfolding drama offers a case study in Trump's ability to handle competing U.S. interests during international negotiations. The president's transactional style may not be the best fit for diplomacy with so many variables, and the last few days have been erratic:
On Thursday, Trump blamed the growing bipartisan discontent from lawmakers on how the Obama administration dealt with China. That didn't appease any of his critics.
On Friday: Trump tweeted about his deal. Sen. Mark Warner (D-VA) said, in a statement, "This would be a big mistake. President Trump should listen to the advice of his intelligence leaders, who have unanimously said that ZTE poses a national security threat to the United States."
On Saturday: Pony Ma Huateng, founder of Tencent, said regardless of the outcome of the ZTE deal, the ordeal was a "wake up call" and Tencent was looking to invest in a domestic chip industry for China in order to break the U.S.'s "grip on [China's] throat."
On Sunday: Marco Rubio expressed his concerns on Face the Nation: "If this was just a company that did something wrong and needed to be punished, the president's right. I don't just view the ZTE issue through ZTE alone. I view it in the broader context of what China is trying to do overtake the United States by stealing and by cheating and they're not going to stop until they know there are real consequences for doing it."
On Monday: Chinese President Xi Jinping told a crowd of engineers and scientists: "The initiatives of innovation and development must be securely kept in our own hands."
And, finally, on Tuesday: Trump announced export restrictions, tighter investment rules and 25% tariffs against parts of the the Chinese technology sector.
Go deeper