Coming to you live from your belly: A tiny internal bleeding sensor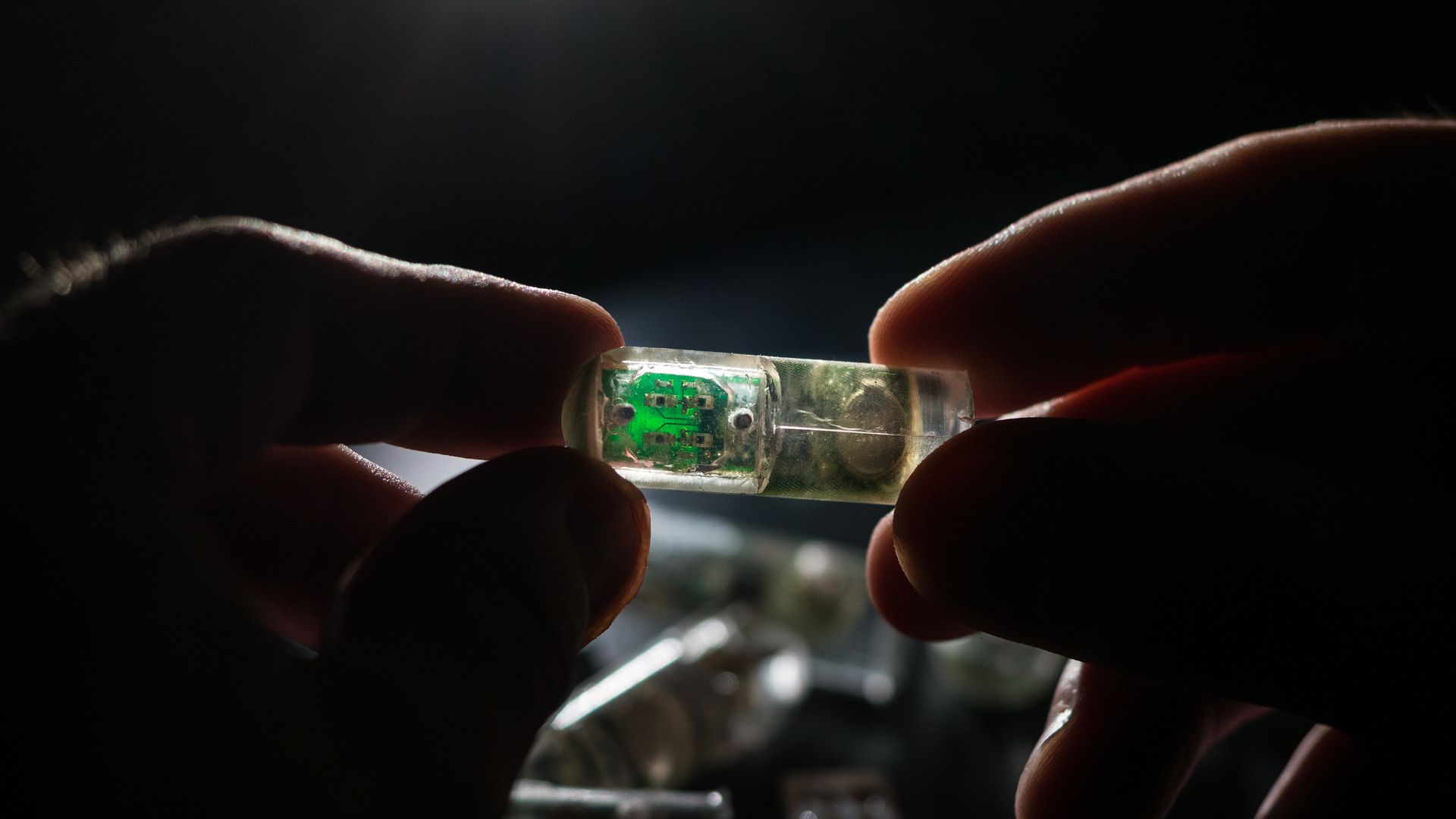 Doctors are now one step closer to deploying sensors that can travel to parts of a patient's body to diagnose hard-to-detect conditions.
The details: In a new study published Thursday in MIT's Science journal, researchers report on a tiny sensor they developed that can be swallowed, which contains genetically modified bacteria capable of detecting heme, a component of blood, in the stomach. The bacterial response can be converted into a wireless signal, which is then read by nearby computers or a specially-designed app on an Android phone.
Hunting down internal bleeding: The researchers created sensors aimed at detecting internal bleeding in the stomach, which can be caused by a variety of disorders, such as ulcers, and is often hard to identify. They also designed sensors that can locate a marker of inflammation.
What they found: In the experiments, the genetically engineered E. Coli bacteria produced light when they came in contact with blood or inflammation components in the gut of pigs. The researchers combined this capability, which synthetic biologists have previously demonstrated, with a low energy electronic chip that converted the light into a signal that could be transmitted to a nearby phone or computer. This combination of bacterial sensing with low power circuits and transmitting capabilities is what makes the findings so novel.
"Our vision is we want to try to illuminate and provide access to areas that are not easily accessible."
— Timothy Lu, MIT associate professor of electrical engineering.
Methodology: The researchers took a genetically modified, probiotic strain of E. Coli and placed it inside their sensor, along with a membrane that allowed small molecules from the surrounding environment to pass through. They also installed transistors to measure the light produced by the E. Coli cells when they came into contact with heme, which is the substance inside red blood cells that binds to oxygen in the lungs. The transistors then would send that information to a tiny chip, and relay a signal to a nearby phone or computer.
The sensor is not quite small enough yet to be put into wide use, nor does it have Food and Drug Administration approval for human applications. It's about 1.5 inches long, and needs about 13 microwatts of power, which for now comes from a 2.7-volt battery. The researchers said they could "probably" reduce the sensor's volume by about one-third, thereby making it far more suitable for human use.
Tests in pigs were successful: The tests in pigs showed promising results, with the sensor picking up whether any blood was in the animals' stomach. It's possible that the device, or others like it, could be used to monitor the stomach consistently for days or weeks, constantly sending signals that would be monitored by patients and their doctors.
Why it matters: This would have significant advantages over current diagnostic tools, such as endoscopy, which requires patients to be sedated and only gives a one-time snapshot of the stomach's contents.
Study co-author Mark Mimee said the techniques used for this study could be used to detect the presence of other biomarkers in addition to heme.
What they're saying: "We could evolve these systems to apply to virtually any other biomarker," he said during a press conference call on Tuesday. "This is platform technology that could be used by many synthetic biology groups."
Lu said building biomarkers to detect various health conditions is becoming "a whole field" unto itself, and that for some diseases, such as colon cancer, you may soon be able to swallow an early warning pill. "What if you could actually swallow a pill every week or every month that gives you early detection?" he said.
The bottom line: This ingestible biosensor is an example of the future of diagnostic tools.
Go deeper