Trump says summit with Kim Jong-un may not go ahead as planned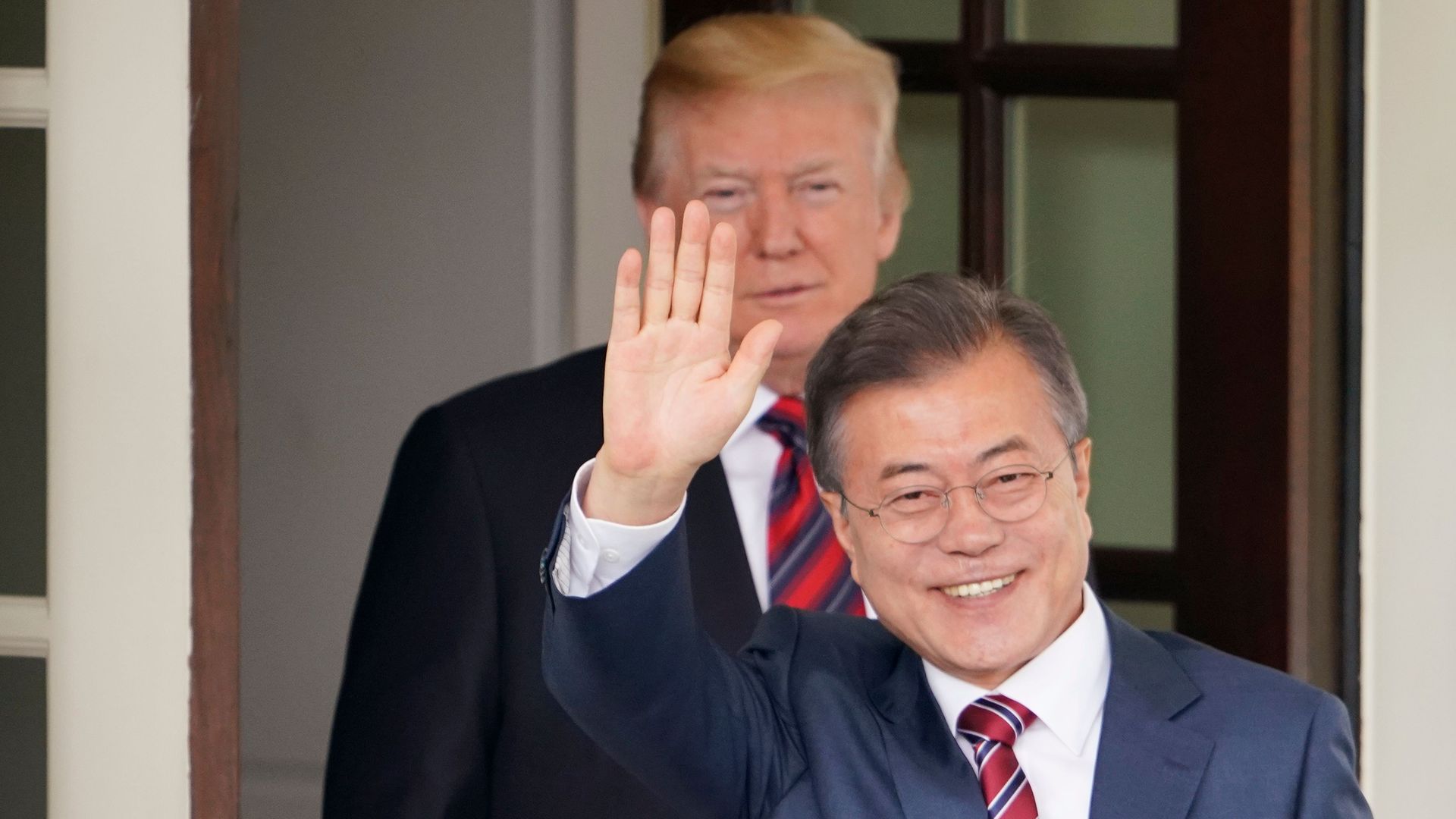 President Trump on Tuesday said that his summit with North Korea's Kim Jong-un may not go ahead as planned, adding that if the June 12 date does not hold, "maybe it will happen later."
Why it matters: It wasn't long ago that Trump and the North Koreans were trading threats of nuclear war. If the summit collapses, relations between the two countries could deteriorate quickly.
The back story: The comments came as South Korean President Moon Jae-in arrived at the White House to meet with Trump about the planned summit, which is scheduled for three weeks from today. The buildup to what would be an historic summit sparked speculation about a long-sought breakthrough with North Korea, and even a Nobel Prize for Trump.
Key comments:
Seated beside Moon, Trump said "there are certain conditions that we want" ahead of the summit, and if they aren't met the summit won't happen.
Trump said "denuclearization must take place" and that he would prefer if it was "all in one" but he wouldn't commit himself to that approach.
He also said of Kim "we will guarantee his safety" under the terms of a deal, and that China, South Korea and Japan were all willing to invest big sums of money to "make North Korea great."
Trump wouldn't say whether he had spoken to Kim, but said the two sides were in communication. He also said Moon "may or may not" have a separate meeting with Kim.
Trump said he believes Kim had a "different attitude" after meeting for the second time with Chinese President Xi Jinping — adding that the U.S. did not know that meeting would be taking place.
Between the lines: Moon is one of the few world leaders to have met face-to-face with Kim Jong-un. On his way to White House, the chief of South Korea's National Security Office said the Trump-Kim summit is almost certain to happen, but they are preparing for every scenario, per Yonhap News.
Context: The meeting follows a surprise move by North Korea last week to cancel a meeting with the South Koreans and threaten to cancel the summit with Trump over joint U.S.-South Korean military drills.
Go deeper: Why Kim threatened to cancel the summit.
Go deeper