Lessons of the last techlash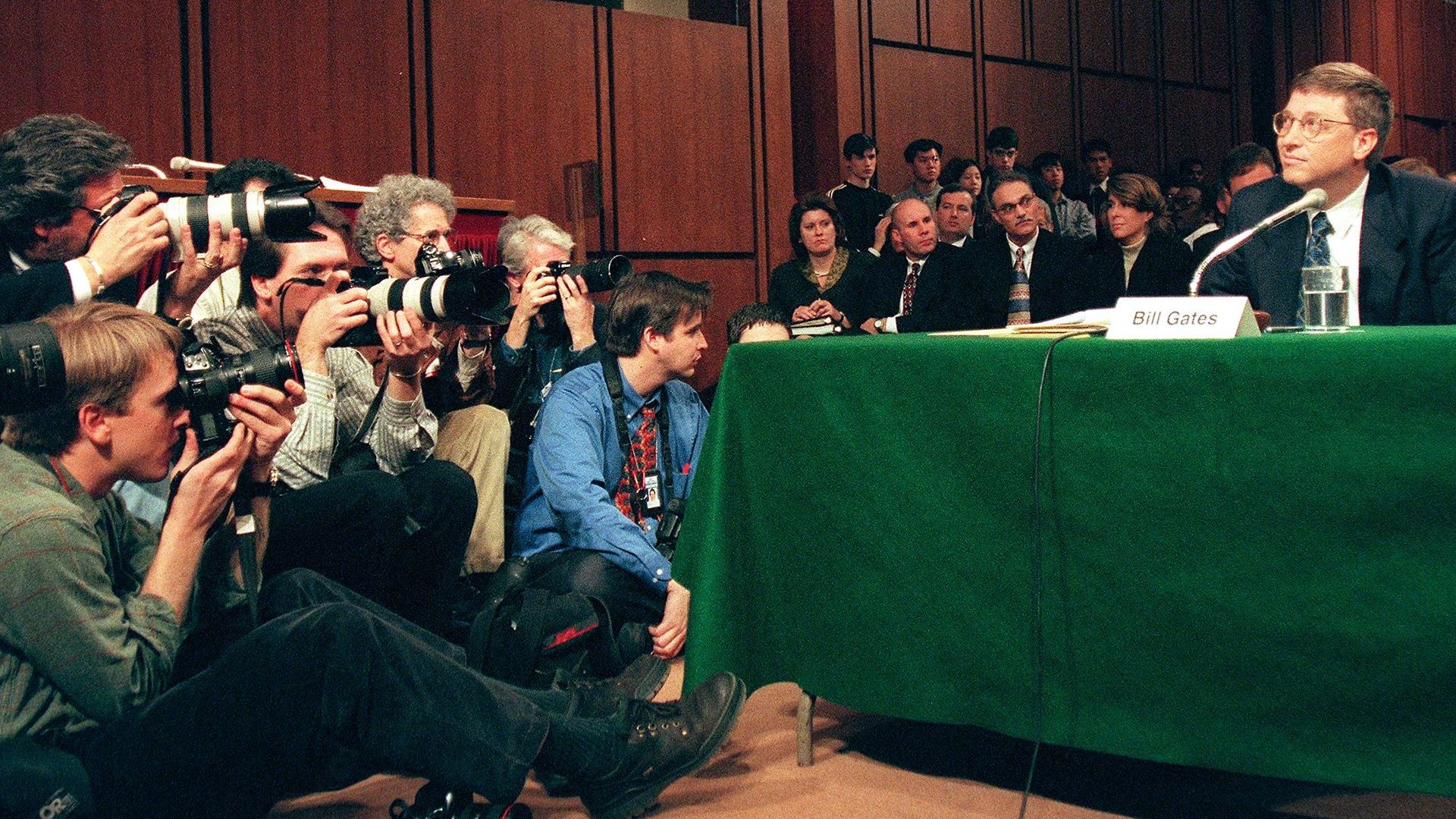 Key players in the Microsoft antitrust fight — which the Justice Department brought to court 20 years ago this month — have one piece of advice for tech companies facing criticism now: Engage with your critics before it's too late.
Why it matters: A whole new generation of powerful companies is in the spotlight in Washington now. The issues today are different but the dynamics are similar.
What they're saying:
Policymakers want to hear from the companies they're criticizing. "I think criticism can be a very good thing. It can be an advantage to a company if they pay attention to it and work with the people who are doing the criticizing," said Sen. Orrin Hatch, who chaired the Senate Judiciary Committee's hearing with Bill Gates, after an appearance at an event focused on the Microsoft case and hosted by longtime Google foe Yelp. "And if our criticisms are not good, or they're questionable, I think you ought to take us on."
Veteran Microsoft-ers think it's in their best interest to talk with tech's critics. "It has made me a lifetime believer in the importance of actually trying to reach out more proactively and solve problems before they get too big to be solvable," said Brad Smith, Microsoft's president who joined the company as a lawyer in the midst of its antitrust fight, in an interview with Axios in February.
The big picture: Previous battles between tech and skeptical antitrust regulators, from Microsoft's case to the government's landmark breakup of AT&T, have become newly relevant in an era when Google, Facebook and Amazon are all facing allegations of being anticompetitive. Progressive groups are launching a major ad campaign urging the Federal Trade Commission to break up Facebook, and "60 Minutes" ran a segment making the case that Google is a monopolist.
Jack Krumholtz created Microsoft's Washington, DC office in 1995. Today he says the new tech giants are already learning the lessons of the past and have built powerful lobbying shops.
Facebook spent $11.51 million on lobbying in 2017; Google spent $18.04 million; Amazon, which has grown its lobby shop recently, spent $12.84 million.
"There was a lot of work going on by our detractors to really undermine the company and we were playing catch up," he said after his own panel at the Yelp event. "You've seen Google, Facebook, Amazon learn from that experience and really invest in engaging in Washington and defining their business models and their value propositions."
Memo for DC: Manus Cooney, a former Hatch aide who is now a lobbyist, said on a panel at the event that lawmakers should do more to prepare for when they get their opportunities to confront the leaders of big tech companies. Too often today, he said, "the necessary prep work isn't done."
Go deeper: The Ringer has a new oral history of Microsoft's battle with the government; John Heilemann wrote a definitive article on the case for Wired in 2000.
Go deeper