Facebook is beating Snapchat on its own invention — stories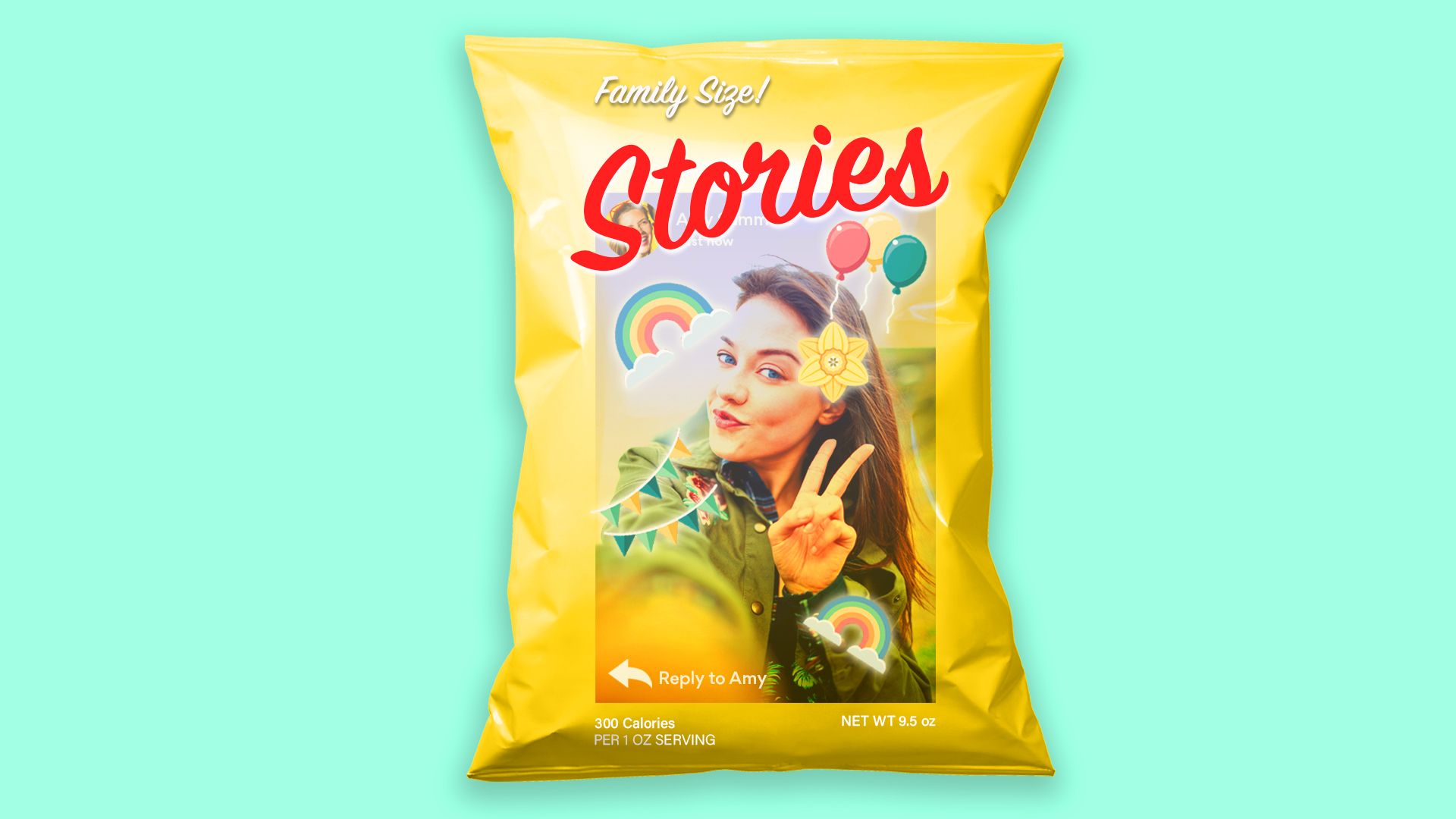 Stories, the tap-and-swipe vertical format for sharing pictures and videos, are poised to dominate the social web's next era — and Facebook now has the lead, even though it was Snapchat that invented and popularized them.
Why it matters: Each generation of digital media brings new voices and firms to the fore. But right now, Facebook appears to have surmounted the Snapchat challenge — thanks to smart acquisitions, speedy product development, and the power of incumbency with billions of users.
The back story: Simply by acquiring Instagram and WhatsApp, Mark Zuckerberg locked down an enormous amount of the social-media landscape — and its potential revenue. Then, beginning with Instagram and spreading to the rest of Facebook's properties, Zuckerberg and his lieutenants openly and expertly copied Snapchat's stories invention — and even improved upon it.
By the numbers: Snapchat has a total of 191 million daily active users — whereas Facebook's platforms have close to a billion users just for its stories.
That breaks down (with some potential overlap) to:
150 million for Facebook stories
300 million for Instagram stories
450 million for WhatsApp's stories-style Status feature
Facebook exec Adam Mosseri said last week that visual sharing (images and videos) via stories on Facebook's platforms, including Instagram and WhatsApp, is growing fast, while visual sharing on the news feed is "stable." Also last week, Facebook introduced ads on Facebook stories.
Why stories have taken off:
They're mobile: They are the first truly phone-native media form. Instant messaging and news feeds both existed on the desktop, but you can't create or even consume most stories there.
They're visual: They use the phone's camera, not a keyboard, as the main input device.
They're easy: Pointing and clicking a camera is simpler than typing and writing.
They're casual and ephemeral: They generally disappear after 24 hours.
They're personal: Snapchat's base of young users have grown up with stories and use them to frame and share their daily lives.
They're fast: They aren't clogged with a ton of ads — but just wait.
They're engaging — and maybe habit-forming: "Consume and swipe seems to lead to different types of engagement compared to just scrolling down a feed," says Nate Bolt, a Facebook alum and veteran design-research expert.
Thought bubble from Axios chief design officer Alexis Lloyd: Think of stories on a spectrum of digital media forms, with linear, deep focus at one end (traditional video) and nonlinear, less focused browsing at the other (any news feed or social stream).
Stories give the user a little more control over moving from scene to scene with a tap, but they require intent and immersion that is much more akin to watching video than a news feed, which allows for lightweight, efficient skimming.
State of the art: If, as TechCrunch told us a year ago, "Stories are the new News Feed," there are some drawbacks to ponder.
Media companies have dabbled in the stories format, but you won't find much substance or creativity here yet. It's mostly celebrity news and fleshy clickbait, with just a few examples of on-the-scene spot reporting.
Snapchat has famously struggled to figure out how to organize stories in relation to messages, but throughout its multiple redesigns it has kept friends' stories segregated from branded "Discover" stories.
It's certainly possible to imagine stories being used to convey complex narratives and dense information — but we don't know how to do that yet.
The big picture: The story of the internet is one long chronicle of people hopping from one mode of personal sharing to another — from home pages to blogs to social media feeds. New media forms very rarely vanish; they just find new niches as consumption behavior and distribution practices change.
The bottom line: As the story matures, it's more likely to coexist with its predecessors than to kill them off.
Go deeper