As Trump tweets, Rosenstein leaps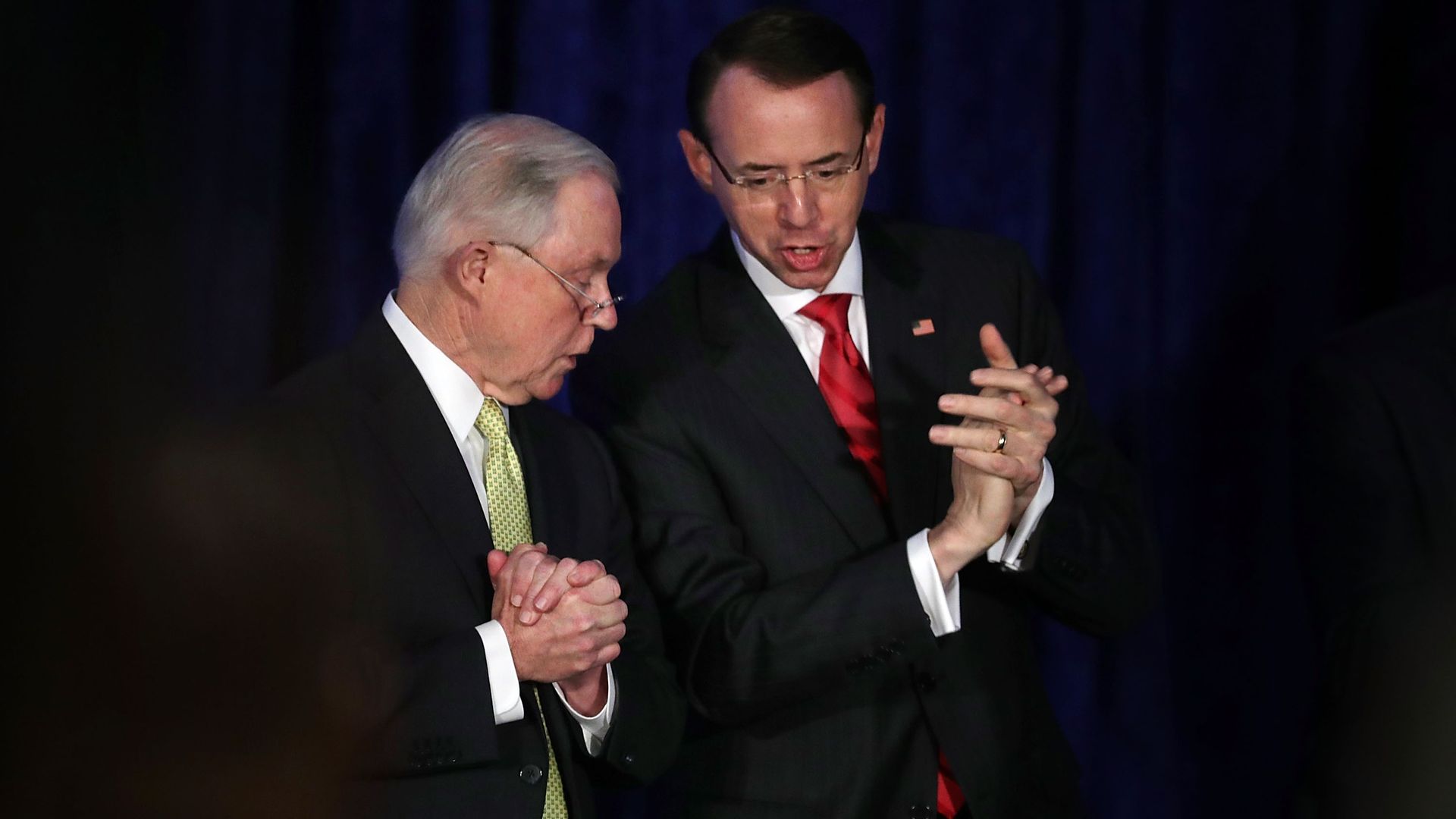 At 1:37 p.m. today, the President issued a consequential and ominous tweet: "I hereby demand, and will do so officially tomorrow, that the Department of Justice look into whether or not the FBI/DOJ infiltrated or surveilled the Trump Campaign for Political Purposes - and if any such demands or requests were made by people within the Obama Administration!"
Why this matters: Trump was effectively rolling a grenade into the Department of Justice — ordering the agency to conduct a politically-motivated investigation of itself.
The twist: Deputy Attorney General Rod Rosenstein appears to be trying to pre-empt Trump's official request by saying he's happy to allow an independent investigation. (The thing DoJ officials are most concerned about is the exposure of confidential sources and documents, which Trump still hasn't formally ordered Rosenstein to do.)
Four hours after Trump's tweet, Justice Department spokeswoman Sarah Isgur Flores emailed: "The Department has asked the Inspector General to expand the ongoing review of the FISA application process to include determining whether there was any impropriety or political motivation in how the FBI conducted its counterintelligence investigation of persons suspected of involvement with the Russian agents who interfered in the 2016 presidential election.
"As always, the Inspector General will consult with the appropriate U.S. Attorney if there is any evidence of potential criminal conduct."
Rosenstein also issued the following statement: "If anyone did infiltrate or surveil participants in a presidential campaign for inappropriate purposes, we need to know about it and take appropriate action."
Between the lines: Trump would be happy if Jeff Sessions or his deputy Rosenstein resigned, according to multiple sources who've discussed both men with the President. But Trump's lawyers have been urging him not to meddle in the Justice Department and to avoid any actions that look like he's interfering with Robert Mueller's investigation.
Some Trump allies thought his tweet would put the DoJ leadership in a bind: accept the President's order (one many will hate), or resign.
A former administration official, who stays in touch with a number of people involved in these discussions, told me on Saturday that exactly this would happen. The source presented it as a perfect way to "set the predicate" for getting rid of Rosenstein.
A current senior administration official then told me they'd heard this idea was being kicked around, but didn't think Trump would ultimately follow through with it.
The bottom line: As I publish this newsletter I don't know whether Trump will feel mollified by Rosenstein's statement and his decision to kick the expanded investigation over to the Inspector General. If he backs off, and doesn't order Rosenstein to go even further and release documents and reveal sources, then it might be crisis averted. For today at least.
Go deeper