Paul Ryan's House is collapsing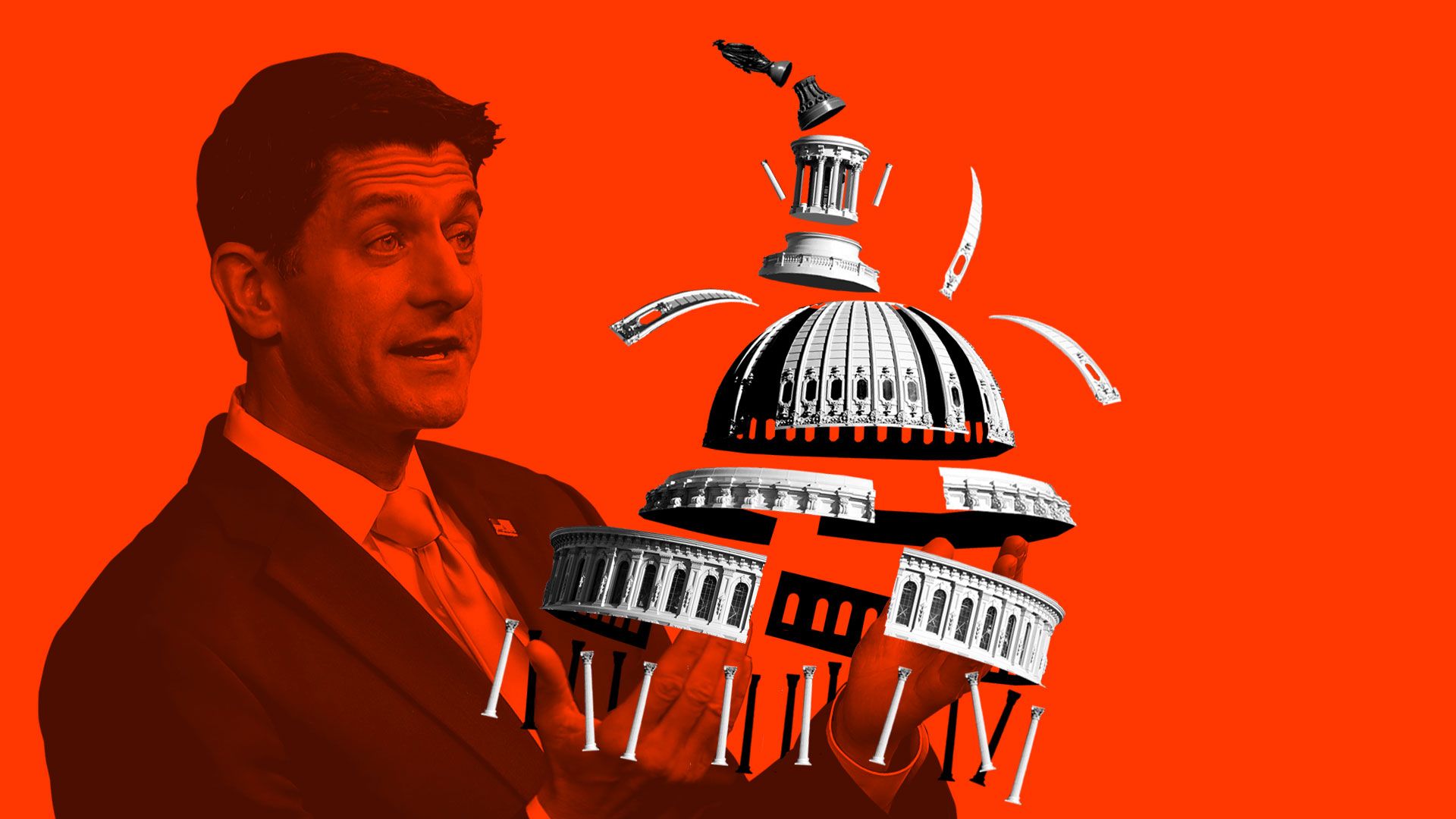 Paul Ryan's House is collapsing, and if the chaos keeps accelerating it could force him out of the speakership before his planned graceful exit at the end of the year:
The state of play: A group of about 20 moderate Republicans are threatening to help Democrats force a vote on a DACA bill. If this works, it could trigger a larger rebellion — likely driven by the Freedom Caucus — similar to the revolt that brought down Ryan's predecessor John Boehner.
On Friday, House Republicans failed to pass the farm bill — one of Congress's few remaining must-pass projects. Ryan, a lame duck Speaker, has little power over his members. He can't convincingly threaten them. And nor can he cajole them or make any promises to help members in the future. He's stuck.
The ultra conservative House Freedom Caucus took down the farm bill, with chairman Mark Meadows saying his group wouldn't vote on it until Republican leaders brought a conservative immigration bill to the floor. And Democrats refused to give Ryan an assist because the bill toughened work requirements for food stamps. A late push from Trump couldn't save Ryan.
Why this matters: The Republican House is careening into chaos at the moment its members most need to rally together. We're less than six months away from the midterms, and the House is on the line. Hill Republicans are anxious and effectively leaderless. Nobody fears repercussions from a lame duck Speaker. So even the usually well-behaved moderate members are wreaking havoc.
"Another major misstep could really start a spiral," a senior aide to a moderate Republican House member told me. "Moderates are showing a new willingness to defy leadership, so we are tiptoeing into uncharted waters. Don't think this episode is fatal by any means, but it could be the kindling to start a bigger fire."
"There's an every man for himself attitude because there's a leadership vacuum and because everyone is running scared in an election year," said a source close to leadership.
When Ryan announced his retirement in April, he created a power vacuum that's being filled by conservatives, below-the-radar leadership jostling, and outside agitators like movement leader Ginni Thomas who isleading a petition for hardliner Jim Jordan to replace Ryan as Speaker.
Ryan has anointed Kevin McCarthy as his successor, but McCarthy is stuck in dangerous limbo as a not-quite leader.
McCarthy's enemies are beginning to peck away at him; and the Majority Leader's allies tell me they believe opponents are planting stories amping up the Ryan-McCarthy divide to "drive a wedge" between the two men.
The pushback: Ryan's defenders say the Freedom Caucus's purpose in life is to screw with leadership and sink reasonable legislation. In other words: the Republican House has long been ungovernable; nothing new here. But this allegedly "ungovernable" House — led by the pre-retirement Ryan — passed an Obamacare repeal bill and overhauled the tax code.
What's next: House Republicans could come to blows again in June when Ryan may introduce immigration legislation. More drama is sure when they start introducing appropriations bills and stare down a September government-funding deadline.
The bottom line: None of this turmoil helps in November's elections.
Go deeper