School in America in 2018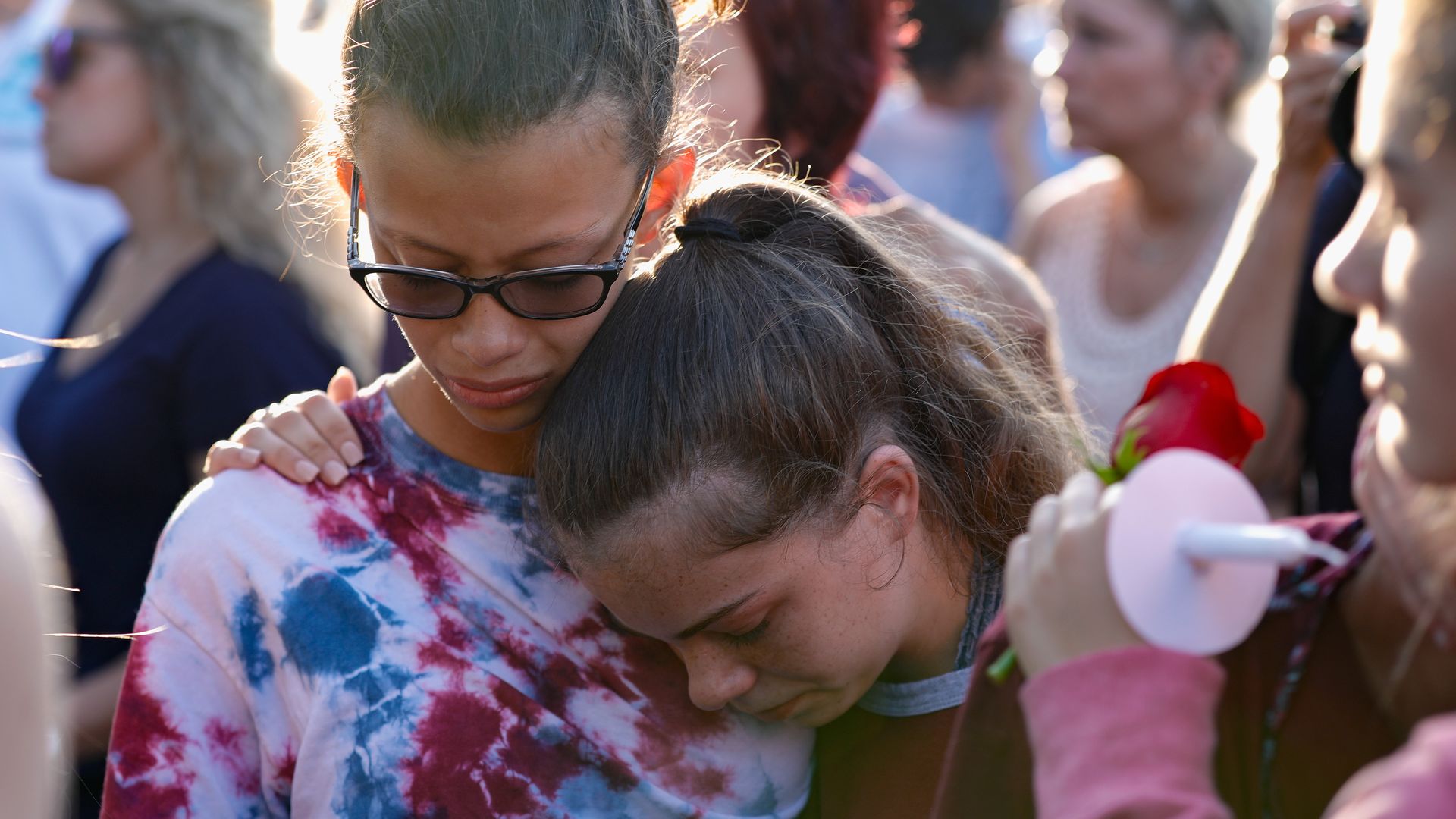 "More people have been killed at schools this year than have been killed while serving in the military" — just over 30, versus just under 30, per the WashPost's Philip Bump.
Yes, but: "The figures ... do not suggest schools are more dangerous than combat zones. After all, there are more than 50 million students in public elementary and high schools and only about 1.3 million members of the armed forces. So far in 2018, a member of the military has been about 40 times as likely to be killed as someone is to die in a school shooting."
Santa Fe, Texas, "about 30 miles south of Houston, ... joined a growing cadre of U.S. communities with children who will never come home, racked by a mass shooting and represented by political leaders who have no clear consensus on how to stop them," the Houston Chronicle reports:
"About 7:30 a.m., 17-year-old Dimitrios Pagourtzis killed 10 and injured 10 more before a Santa Fe school police officer and a Texas state trooper intercepted him. He eventually emerged from the art class and surrendered."
The conversation:
"This Is School in America Now," by N.Y. Times chief television critic James Poniewozik: "It is what your children are taught. Lockdown drills, active shooter drills. It's a procedure they have learned, and what you are seeing is a kind of ... exam."
"Every time I see another American class walk out, the lucky ones, I'm struck by the calm, the cooperation. ... [T]he hands go up, and they put faith in what adults have promised them: Just follow the rules, and you'll be all right."
Different in Texas ... L.A. Times' Molly Hennessy-Fiske: "Unlike the vigil after the school shooting in February in Parkland, Fla., there was no talk of gun control."
"No mourning parents pleaded with the president and members of Congress to change the nation's gun laws. One man even showed up wearing his handgun on his hip, legal under Texas' 'open carry' law. No one challenged him, or even stared."
A New York Times editorial runs screen after screen of blank calendar pages to show what Congress has done on guns in the five-plus years since Sandy Hook.
Go deeper