NYT: Trump Jr. heard pitch on Saudi, Emirati support for 2016 election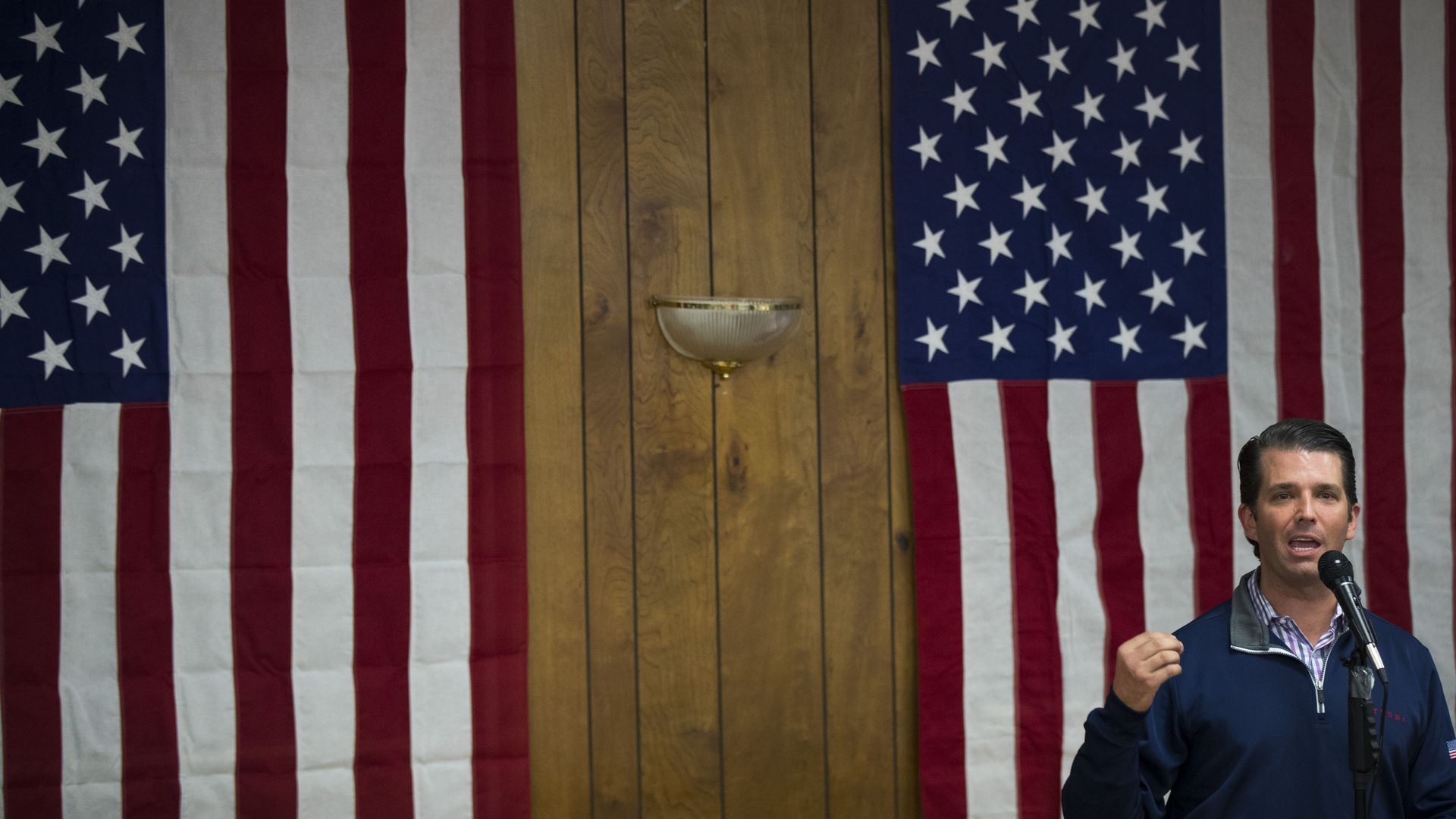 Donald Trump Jr. participated in an August 2016 meeting at Trump Tower that included suggestions that Saudi Arabia and the United Arab Emirates wanted to help his father win the 2016 presidential election, according to a New York Times report.
Why it matters: The meeting is "the first indication that countries other than Russia may have offered assistance to the Trump campaign," per the Times.
Who was there: Erik Prince, the founder of private security firm Blackwater, arranged the meeting. It also involved George Nader, a Lebanese-American businessman with ties to the UAE, and Joel Zamel, an Israeli social media specialist who wanted to pitch his firm's work to the Trump campaign. (Nader also assisted Prince in assembling another international get-together in the Seychelles.) White House adviser Stephen Miller, known for his strong views on immigration, was also in Trump Jr.'s office when the meeting began.
The big takeaway: There's no evidence that the Trump campaign actually worked with Saudi Arabia or the UAE — which would be illegal under federal law — though top campaign officials were reportedly not worried about the meeting. In that way, it's comparable to Trump Jr.'s prior Trump Tower meeting, where he, Jared Kushner, and Paul Manafort sat down with a Russian lawyer after being promised dirt on Hillary Clinton.
It's also unclear if the Trump campaign utilized Zamel's social media pitch, which "specialized in collecting information and shaping opinion through social media" at Psy-Group, his company staffed with former Israeli intelligence officers — though Trump Jr. "responded approvingly" at the meeting.
Trump Jr.'s response to the Times: "Prior to the 2016 election, Donald Trump Jr. recalls a meeting with Erik Prince, George Nader and another individual who may be Joel Zamel. They pitched Mr. Trump Jr. on a social media platform or marketing strategy. He was not interested and that was the end of it."
Other bites:
"The revelations about the meetings come in the midst of new scrutiny about ties between Mr. Trump's advisers and at least three wealthy Persian Gulf states. Besides his interest in Saudi Arabia and the Emirates, Mr. Mueller has also been asking witnesses about meetings between White House advisers and representatives of Qatar, Saudi Arabia's bitter rival."
"Mr. Nader explained to Donald Trump Jr. that the two crown princes [of Saudi Arabia and the UAE] saw the elder Mr. Trump as a strong leader who would fill the power vacuum that they believed Mr. Obama had left in the Middle East, and Mr. Nader went on to say that he and his friends would be glad to support Mr. Trump as much as they could, according to the person with knowledge of the conversation."
"Mr. Nader was also in discussions with Mr. Prince, the former head of Blackwater, about a plan to get the Saudis to pay $2 billion to set up a private army to combat Iranian proxy forces in Yemen."
Worthy of your time: Read the full piece by the New York Times.
Go deeper