10 killed in Texas school shooting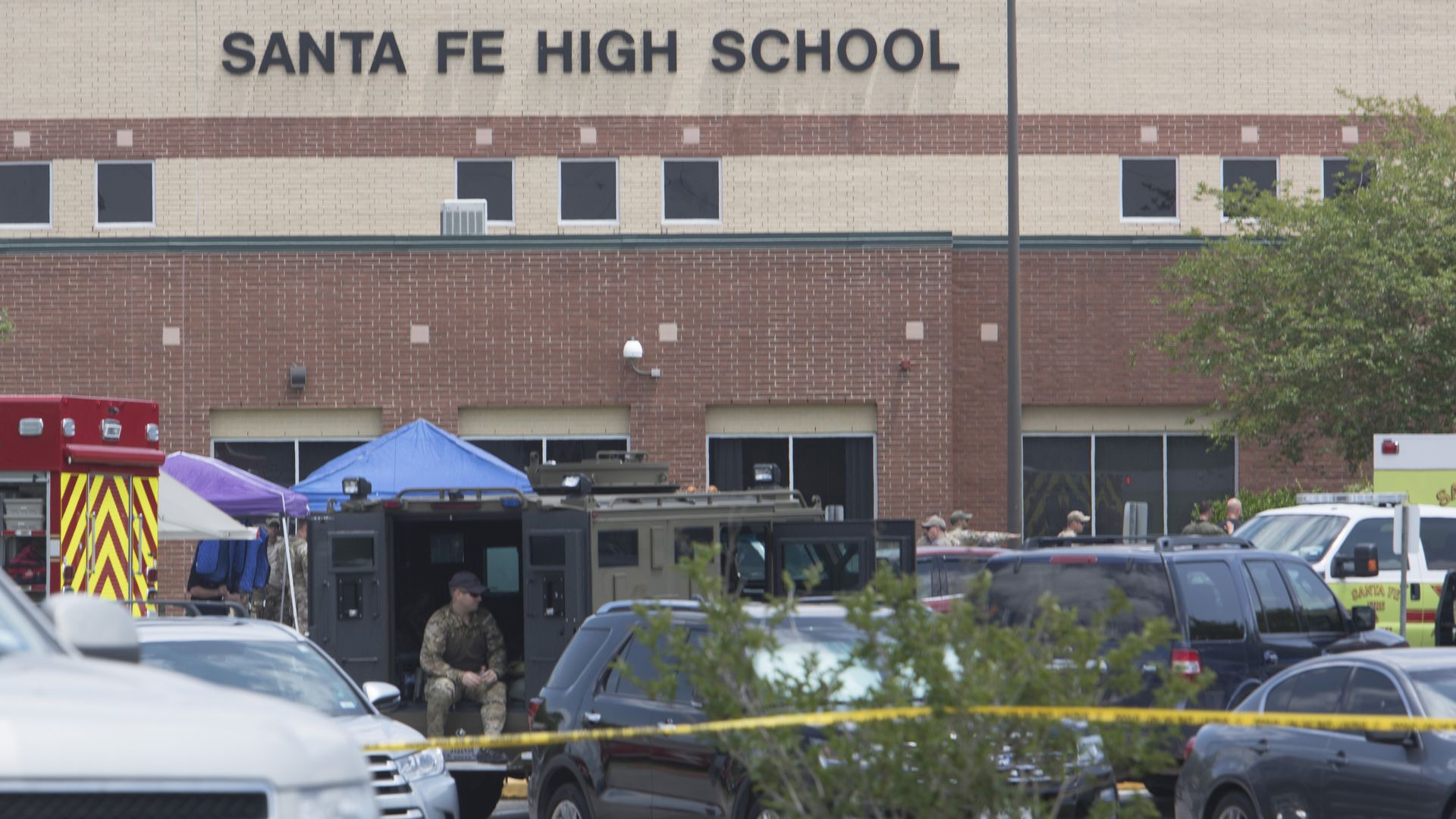 At least 10 people are dead and 10 others injured, Texas Governor Greg Abbot told reporters after a shooting at Santa Fe High School in Texas Friday morning. Nine students and one teacher are among the victims, a law enforcement official told CNN.
The latest: The suspect in custody has been identified as 17-year old Dimitrios Pagourtzis, reports CBS. He is being held without bond on a capital murder charge, per the AP.
What we know:
Explosive devices were found on and around campus, Santa Fe Independent School District police chief Walter Braun said Friday. Per ABC, "devices including a Molotov cocktail were found in a car and a home."
The shooter told authorities after the shooting that "he had intended to kill himself too, but that he lacked the courage," the AP reports.
The school, located 30 miles southeast of Houston with 1,462 students enrolled, was placed on lockdown at 8 a.m.
President Trump addressed the shooting late Friday morning, stating: "This has been going on too long in our country, too many years, too many decades now."
Texas Gov. Greg Abbott ordered flags to fly half-staff following the shooting.
From the scene:
"As soon as the alarms went off, everybody started running outside — and next thing you know ... you hear 'boom, boom, boom.' And I just ran as fast as I could to the nearest forest, so I could hide and called my mom," said a student.
"Run, baby. Run and hide," a mother told her daughter while on the phone during the shooting.
A student, asked if there was a part of her that felt 'This could not happen at my school?'" the student replied: "No. It's been happening everywhere. I've always felt it would eventually happen here, too."
Several students from the Parkland, Florida shooting in February reached out to today's survivors on social media: "Not a single one of you should know me ... But you do because we come from one of the hot school shootings of the month," wrote Parkland survivor Cameron Kasky. "... Another community attacked that will only be further attacked by the NRA. Welcome to America, folks. This happens here."
The impact: Today's shooting marks the fourth deadliest shooting since the Columbine massacre, meeting the 2015 Umpqua Community College, Roseburg, Oregon that also left 10 dead.
Go deeper: Most teens worry about school shootings; The global roar for gun control
Go deeper