The big picture: It's getting harder to be a teacher in America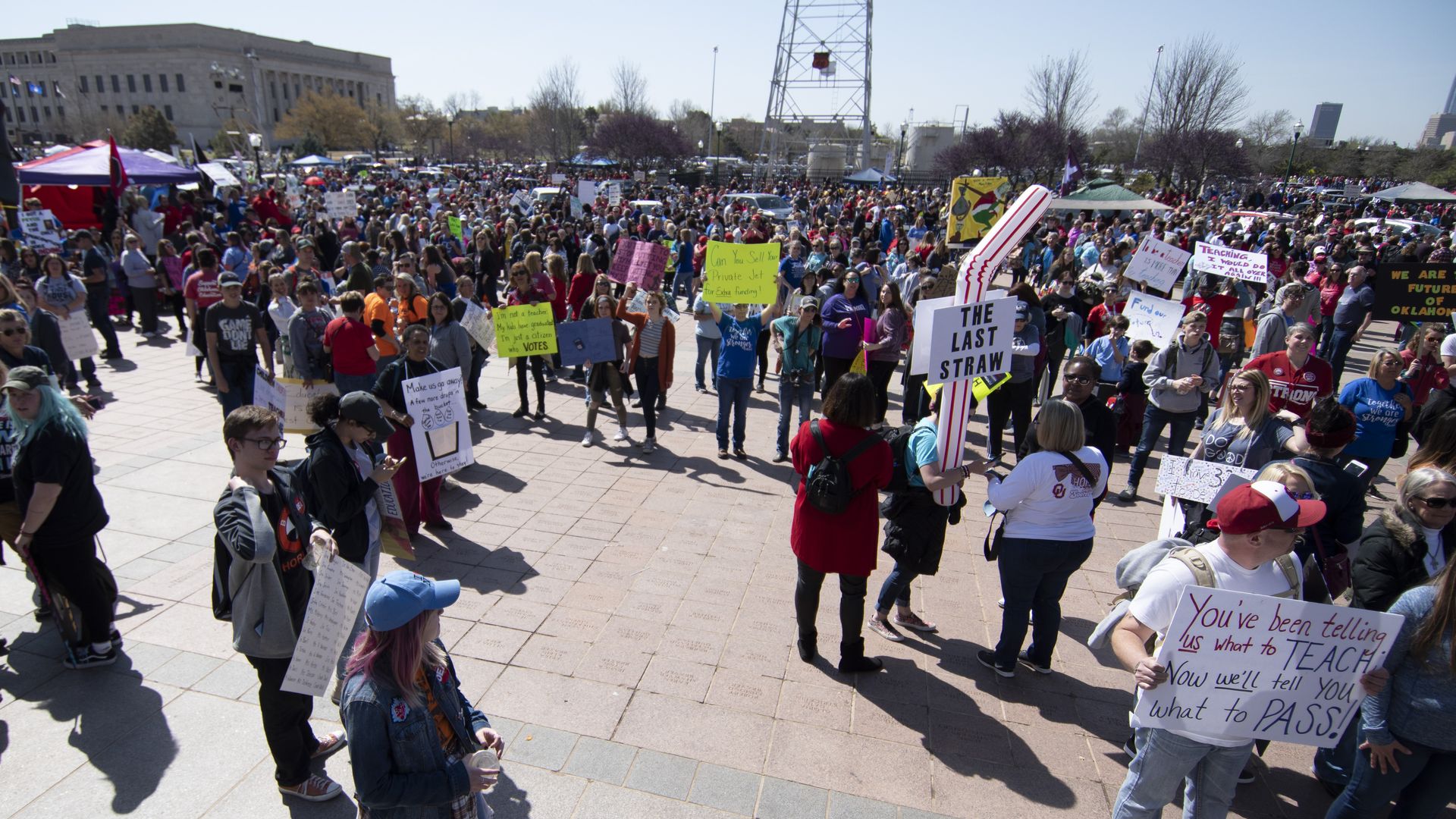 Teachers from six states across the country have gone on strike in 2018 in protest of their working conditions, even at times in defiance of state laws.
Why it matters: Teachers have seen wage decreases across the country, yet they're still shouldering the weight of taking care of their classrooms and paying for supplies without reimbursement. This has launched a national movement among teachers from private and public schools alike who are fighting for more money, better budgets, and less red tape.
By the numbers
Costs rise while salaries shrink
While student costs are rising for teachers, 39 states have decreased funding for instructional materials.
In 11 states, plus Washington, D.C., teacher salaries have been declining since 2010, while their cost of living has increased.
What we're hearing
Teachers believe they can make a change because of the power in their votes. And it isn't a coincidence that strikes are being held during an election year.
A lot of legislators' jobs are in trouble right now.
— Noah Karvelis, organizer of Arizona Educators United, tells Axios.
Karvelis told Axios that teachers are watching the way legislators vote and aren't satisfied. Meanwhile, the thousands of teachers who are disgruntled are among potential candidates in support of education.
Some teachers are prepared to run for seats in Arizona, Karvelis said.
In Kentucky at least 39 current and former teachers are running for seats in the state legislature in its upcoming primary, per an AP report
Oklahoma teacher Amanda Jeffers had no intention of running for office before the walkout, she told the AP, but has since changed her mind.
Teachers want to change restrictive laws
It's difficult for several teachers unionize because of right-to-work laws that don't require states to pay union dues.
So they strike; however, striking for teachers is illegal in all but 12 states. But even if it's legal, striking could risk their pensions or jobs.
The big picture: More teachers will continue to mobilize until the numbers swing in their favor, like teachers in North Carolina did on Wednesday. The growing trend of walking out of the classroom appears to show no signs of stopping, as more teachers feel emboldened by their peers and begin to push for change in their own education systems.
Go deeper