Chinese tech firms dodge ZTE fallout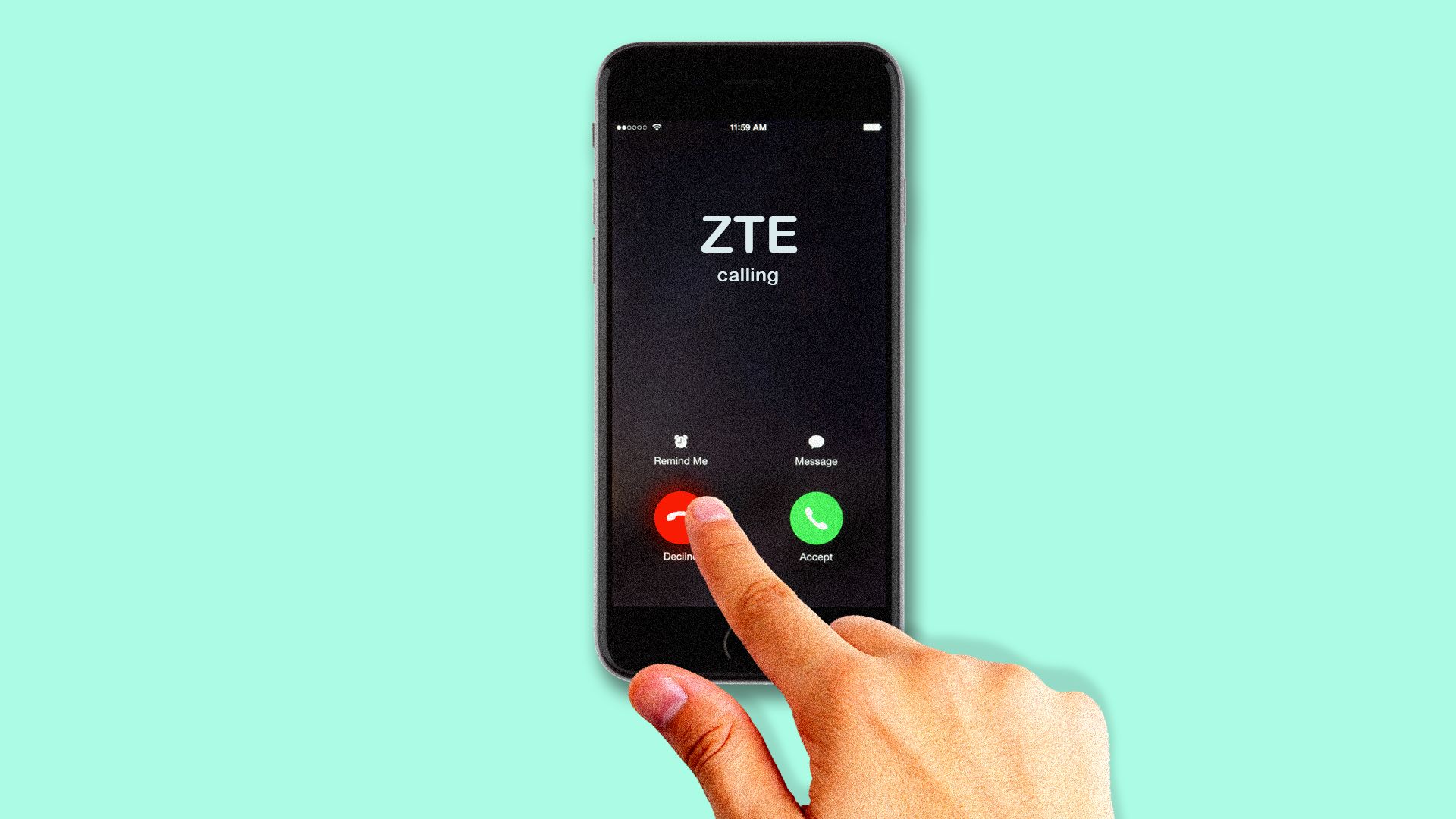 ZTE isn't the only Chinese tech manufacturer trying to navigate a volatile trans-Pacific trade climate. Of course, there's Huawei, another giant that, like ZTE, has long faced charges of assisting Chinese intelligence efforts. Then there's Coolpad, a phone maker that's hoping U.S. consumers won't judge every firm by its nation of origin.
Why it matters: Chinese companies are sending a loud "we're not all the same" message to the world. Despite the cloud over ZTE and the looming threat of a wider U.S.-China trade war, Coolpad hopes to break the perception of cheap products made with fealty to Beijing, and insists its business is different.
"Those companies are under investigation for business practices, not the location of their headquarters," said Charlie Parke, senior vice president of sales at Shenzhen-based Coolpad. "The reality is, ZTE was caught breaking the rules."
ZTE shut down its operations after getting hit by sanctions that cut off its supply of U.S.-made chips. President Trump then threw the case into confusion with a weekend tweet suggesting that he wanted to lift the sanctions to save jobs in China.
"My personal opinion is to every choice there is a consequence and if you make a choice you should be ready to accept the consequences," said Parke.
Parke says Coolpad differs from ZTE by emphasizing transparency to gain consumer trust. "We do our own R&D, all our own manufacturing," he said, saying that differentiated Coolpad from larger firms that operated on a more contractor by contractor basis.
A ZT-REcap: First ZTE's phones (along with Huawei's) were banned for sale on military bases for national security concerns. Then the company, charged with breaking trade embargoes on North Korea and Iran, received an effective death penalty from the Department of Justice in the form of a ban on the U.S. microprocessors required to make its phones.
Trump's weekend tweet about saving ZTE jobs baffled lawmakers on both sides of the aisle. "My main concern is they're an arm of the Communist Party and are actively involved in espionage ... It's not just strictly a trading or jobs issue — there's more to it than that," said Sen. John Cornyn (R-Texas).
On Wednesday, Trump explained he was using ZTE as a bargaining chip in much wider trade negotiations. "We have not seen China's demands yet," he tweeted.
Axios's Jonathan Swan quickly noted that China had actually presented its demands two weeks ago.
Of course, if Coolpad can escape the cloud that hangs over ZTE, it also stands to gain something: market share.
Go deeper