Go deeper: 5 key revelations about the Trump Tower meeting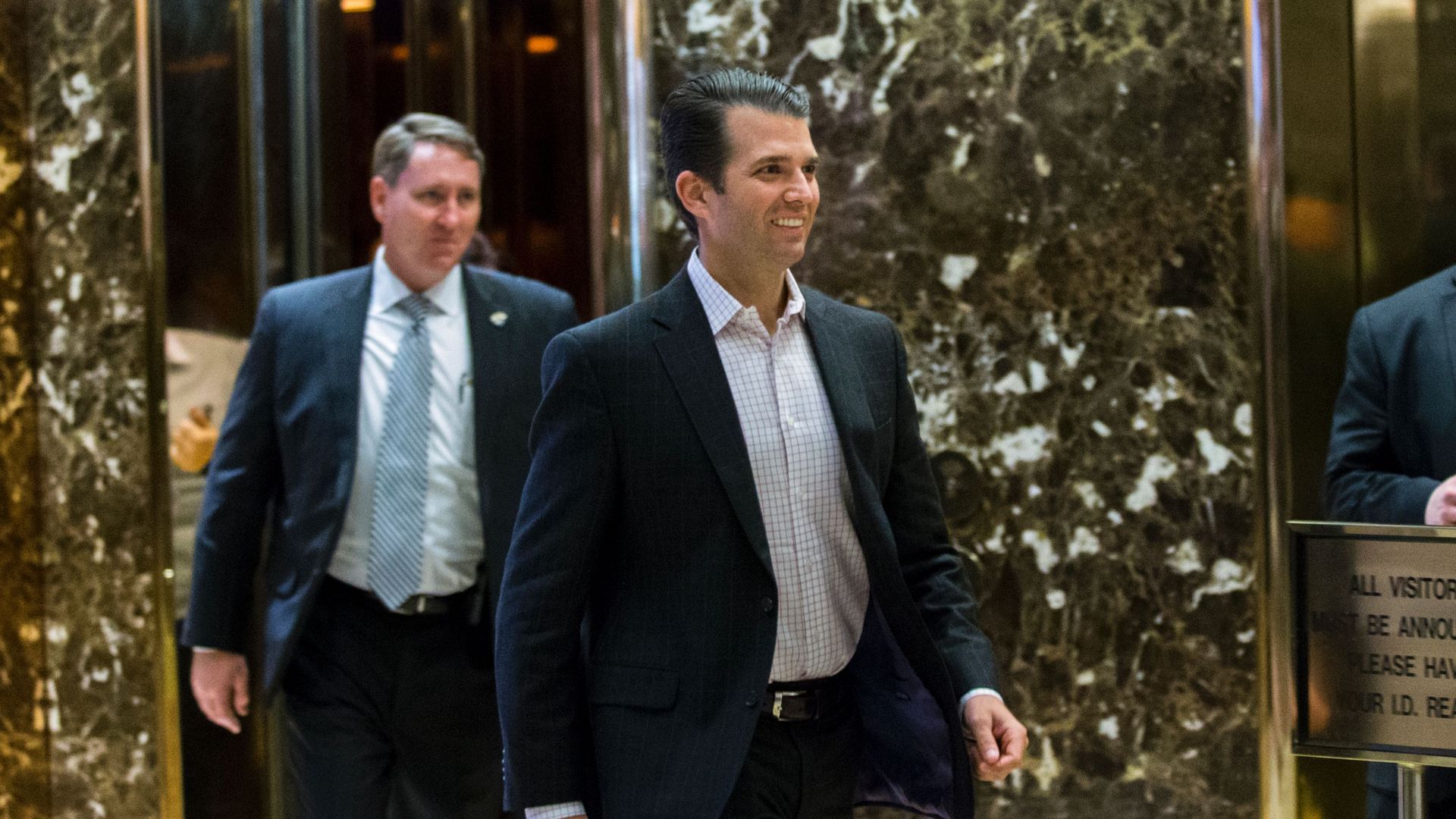 The Senate Judiciary Committee's release of the transcripts from Donald Trump Jr.'s testimony about the 2016 Trump Tower meeting answers some lingering questions but still doesn't provide much clarity regarding whether the meeting is definite evidence of the Kremlin's efforts to boost President Trump's chances in the 2016 election.
What we learned: Trump Jr.'s statements surrounding the meeting have notably shifted as more news has emerged about its details, but his statements to the committee indicate that he did seem to hope to receive some sort of dirt about Hillary Clinton or her campaign. And while he expounded on his father's involvement, it's still not clear what the president did — or didn't — know about the meeting.
1. Trump Jr. said he didn't tell his father about the meeting before it happened — or the email that led to it.
Why it matters: Skeptics of this statement have pointed to the timing of Trump's June 7, 2016 statement in which he said he would give a "major speech" with new information on Clinton. The Trump Tower meeting, where Trump Jr. was told to expect negative information on Clinton, took place two days later.
Another point: Sen. Dianne Feinstein, the ranking Democratic member on the committee, points out that on June 6 — just after Trump Jr. spoke to Russian singer Emin Agalarov "about this Hillary info" — Trump Jr. made an an 11-minute call to a blocked number, per Talking Points Memo. He testified he could not recall who he spoke with during the call or whether his father used a blocked number.
Trump Jr. said he only told Jared Kushner and Paul Manafort, who both attended the meeting, about the meeting taking place.
2. Trump Jr. confirmed that the "it" in his email to Rob Goldstone, in which he said "I love it," was the Clinton opposition research, adds the Washington Post. It was in response to an email where dirt on Clinton was offered.
Yes, but: He also said the response was "simply a colloquial way of saying that I appreciated Rob's gesture."
Why it matters: Trump Jr. has changed his statements about the meeting a few times — first claiming that it never happened before stating that it focused on Russian adoptions. Several of his explanations have fallen apart now that it's clear he was interested in meeting because of the potential negative information on Clinton.
The buzz: Trump campaign officials' "efforts to conceal the meeting and its true purpose are consistent with a larger pattern of false statements about the Trump campaign's relationship with Russia," the Democrats of the committee write, per Politico.
3. Trump Jr. said he was "skeptical" of the meeting all along, and "my skepticism was justified" because "the meeting provided no meaningful information."
Goldstone painted a similar picture: "I said to [Trump Jr.], 'Don, I really want to apologize. This was hugely embarrassing. I have no idea what this meeting was actually about."
What they're saying: "The committee's staff interviews reveal that top Trump campaign officials were frustrated and angry that the meeting did not produce enough damaging information on their opponent," per Judiciary's Democrats.
4. Trump Jr. said he didn't know if his father was involved in drafting the responsive statement about the meeting, per WaPo: "I never spoke to my father about it." He said the president "may have commented through Hope Hicks." He added that Hicks asked him if he wanted to talk to the president about the statement, but "I chose not to because I didn't want to bring him into something that he had nothing to do with."
Why it matters: If President Trump was involved in drafting the statement, he may be vulnerable to accusations of being involved in a coverup.
5. Manafort took notes on the meeting, and here is what he wrote:
"Bill browder
Offshore - Cyprus
133m shares
Companies
Not invest - loan
Value in Cyprus as inter
Illici
Active sponsors of RNC
Browder hired Joanna Glover
Tied into Cheney
Russian adoption by American families"
What it means: It's unclear at this moment what they mean exactly, but decoding the contents seems set to be a topic of interest moving forward.
Notes from the Washington Post on what this could point to: "Browder is the U.S. businessman behind the Magnitsky Act which the Russian government hates. 'Joanna Glover' appears to be GOP lobbyist Juleanna Glover, a former Dick Cheney aide who worked on the Magnitsky Act. 'Illici' is unclear but seems as though it may have been a typo for 'illicit.'"
Go deeper