Eric Schneiderman's exit won't end New York's war against Trump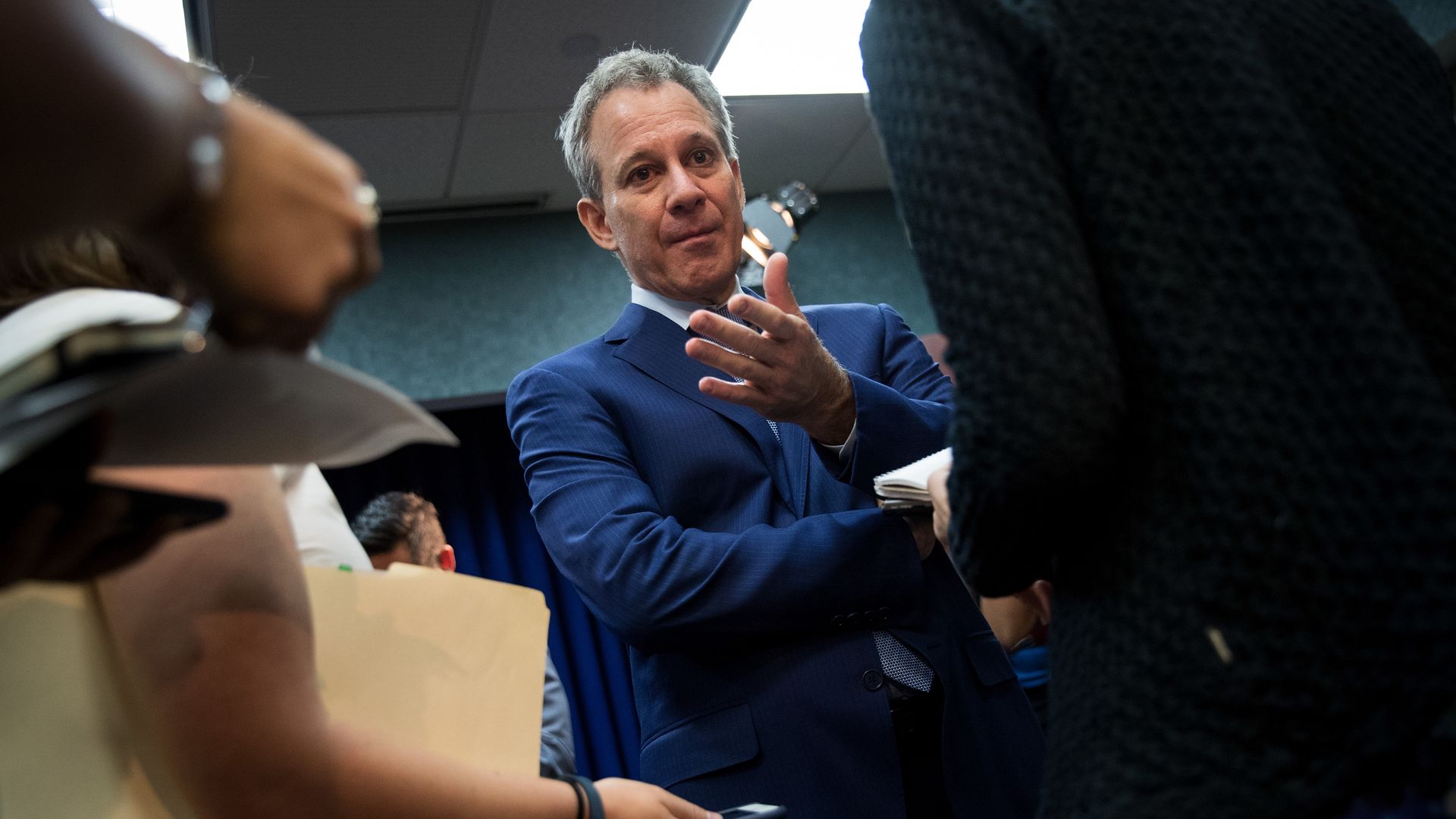 The resignation of former New York Attorney General Eric Schneiderman, one of the central figures in the liberal resistance, is unlikely to ease the state's ongoing fights against President Trump.
Why it matters: Schneiderman's office started more than 30 lawsuits against the Trump administration, a spokesperson told Axios, over policies ranging from immigration to environmental regulations.
The backdrop: Schneiderman resigned last week after four women accused him of physically assaulting them. He has since denied the accusations.
The bad blood between Schneiderman and Trump dates back to 2013, when he zoomed-in on the now-defunct Trump University for fraud. A $25 million settlement was finalized last month.
Major challenges:
1) Census: In March, Schneiderman's office said it would lead a multi-state lawsuit to block the Trump administration's decision to add a question about citizenship to the 2020 census.
2) DACA: A federal judge in February gave New York a significant victory with its challenge seeking to block the administration's plan to rescind an Obama-era program that shields some 700,000 young undocumented immigrants from deportation.
3) Net neutrality: New York is leading an effort by multiple states to block the Federal Communications Commission's move last year to roll back net neutrality regulations.
4) Travel ban: Schneiderman's office has challenged Trump's first, second and third travel ban orders that target some Muslim-majority countries.
5) Environment: In a suit with a coalition of 15 attorneys general, the state alleged that the Trump administration has failed to control methane emissions from existing oil and gas operations. 
Earlier this month, New York joined California and 16 other states in a suit accusing the Environmental Protection Agency of violating the Clean Air Act with its proposal to roll back Obama-era mileage regulations on vehicles.
6) Prosecutorial protection: Less than three weeks before his recent fall, Schneiderman asked state lawmakers and Gov. Andrew Cuomo to close a loophole so his office could prosecute Trump's aides for federal crimes if the president pardons them.
What's next: New York Solicitor General Barbara Underwood — who clerked for Supreme Court Justice Thurgood Marshall and argued 20 times before the nation's high court — was named acting attorney general until the state legislature appoints someone to complete Schneiderman's term. In a statement, Underwood pledged the office's work "continues without interruption."
Go deeper