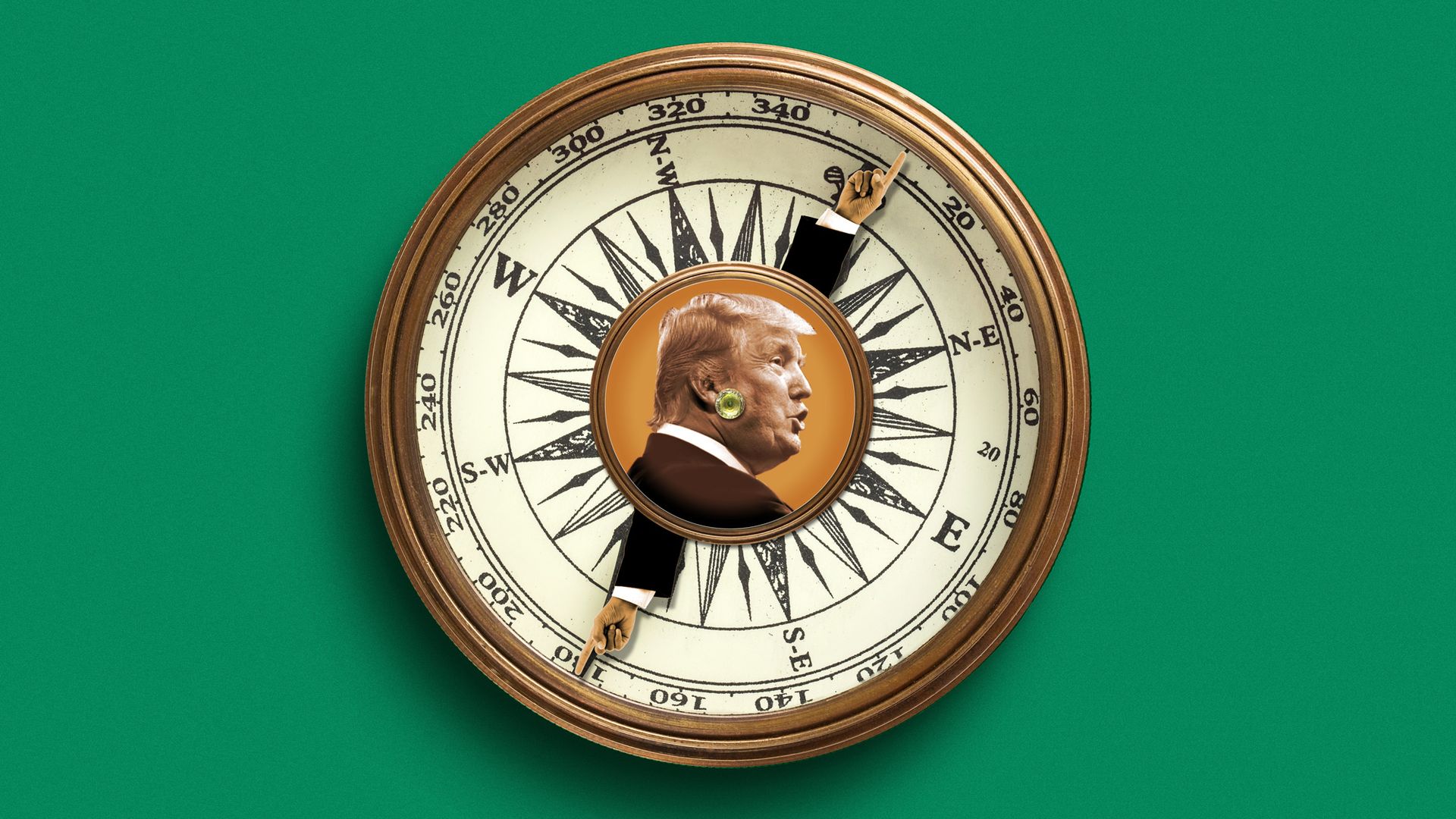 Most coverage of President Trump focuses on the negative aspects of his style: the making-it-up-as-he-goes, the lying, the management-by-chaos.
Yes, but: The Trump Way does offer future candidates and presidents some valuable lessons in navigating contemporary politics.
People are sheep: Reversing one of the basic assumptions of politics, Trump has shown you can radically change a political party's core beliefs and brand overnight. Only six years ago, the GOP's Romney-Ryan ticket was preaching the evils of Russia, the virtue of free trade, the sin of deficits. With no debate and little resistance, Trump has flipped an entire party's core beliefs. Turns out, voters are far more malleable than we thought — and candidates and presidents can change minds overnight. 
Money is overrated; authenticity isn't: Trump has shown that if you can write in a real and captivating way, you can dominate the conversation — for free. The cost of entry on Facebook, Twitter and whatever follows is zilch. He also showed early in the campaign that if you're not too constipated to roll with the news, cable shows will give you billions in free airtime. (As president, he has hidden out on "Fox & Friends," proving the pipeline to true believers is equally easy and free). 
Companies can be bullied, in a good way: If Trump had a longer attention span, his campaign to pressure U.S. companies to keep jobs in America might very well be flourishing more. Last year, many Fortune 1000 companies were plotting how to show the White House they were serious about job creation at home. The reason: Trump used the power of the presidency, followed by social media and cable mobs, to call out companies outsourcing jobs — and praise those that kept jobs at home. Trump moved on. But U.S. businesses are more sensitive than ever to how they are viewed internally and externally. So the right political leaders applying the right kind of pressure can shift some behaviors. 
A little wild unpredictability goes a long way: Even Democrats begrudgingly tell us North Korea would not be returning hostages and talking denuclearization absent Trump's mad-man routine. The stilted, scripted, sclerotic ways of tradition are not always terribly effective tactics. Trump takes wild unpredictability way too far. But he has shown how constrained improvisation could be a powerful approach at home and abroad. 
Anyone can run and win: We always assumed party affiliation was a prerequisite for leading a political party, and some political experience a must. Trump was a liberal Democrat and he hijacked conservatism. The hunger for something different is unmistakable, partly because a big chunk of voters have had it with conventional politics and politicians. No reason another exotic Republican — or third party, or even a surprise Democrat — couldn't do the same. 
Go deeper