Chinese vice premier may not be coming to D.C. for trade talks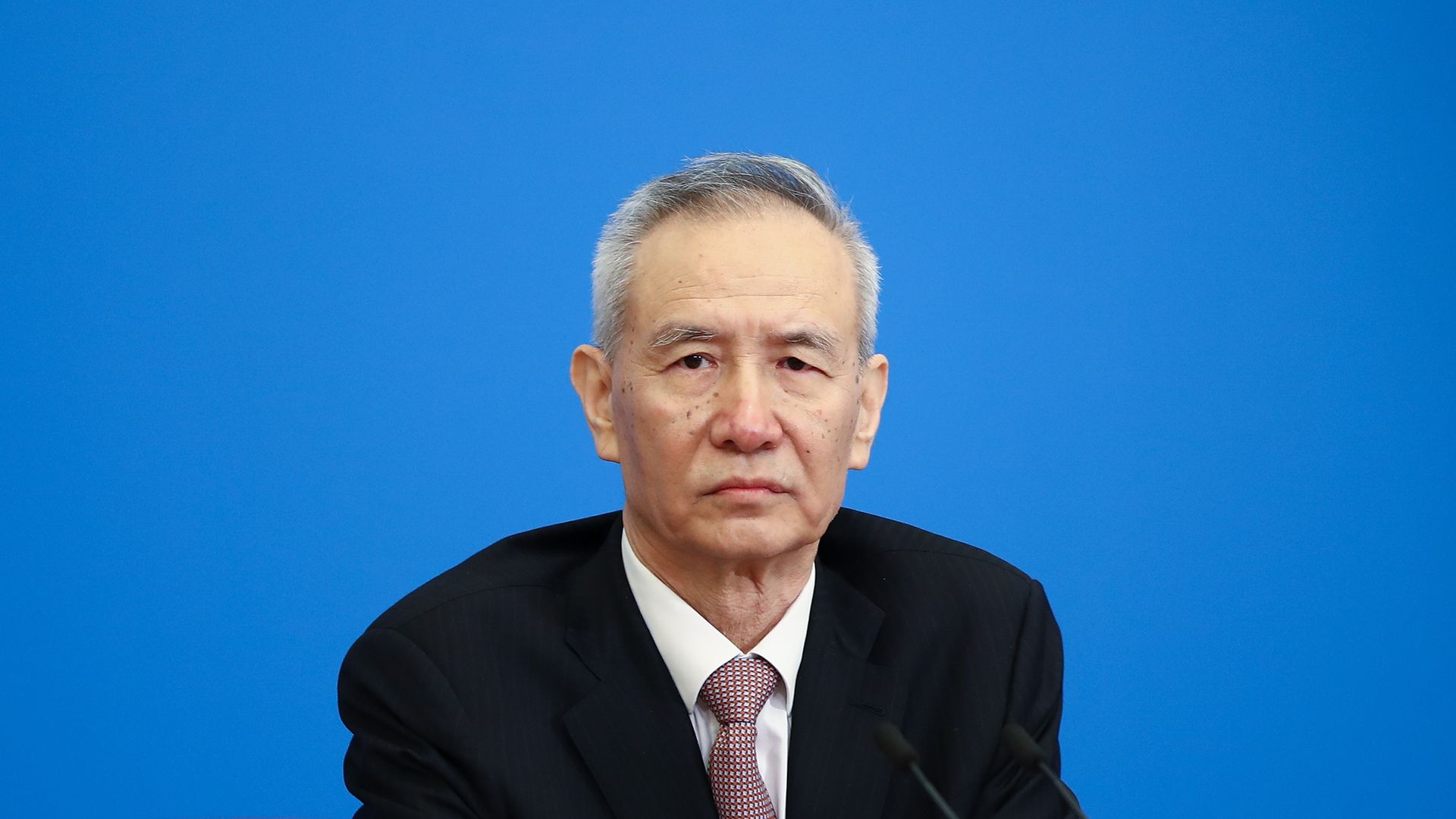 Chinese Vice Premier Liu He is scheduled to come to D.C. next week to continue trade discussions, as announced by the White House on Monday. However, Liu's trip may be delayed now, depending on how preparatory negotiations pan out this weekend, the Financial Times reports.
Why it matters: China and the U.S. are hanging on a precipice of trade war, with Chinese President Xi Jinping himself reportedly instructing negotiators to press for the U.S. to lighten its punishment against ZTE. Meanwhile, the U.S., which has companies embedded in China that could be hard hit by a trade war, wants to reduce its huge trade deficit.
What's happening, per FT:
According to three people familiar with the talks, a senior Chinese commerce ministry official, Wang Shouwen, arrived in Washington on Thursday for preparatory negotiations that are likely to be focused on what Beijing can do to reduce Washington's $337bn trade deficit with China.
Mr Wang is expected to hold discussions with U.S. officials through the weekend that will determine whether Mr Liu goes ahead with his trip.
"It's more likely than not," said one person familiar with the discussions. "But if these talks with Wang don't go well, that will raise questions about whether [Mr Liu] will still come."
My thought bubble: Very high on Liu's agenda — which I hear comes directly from Xi — is to have ZTE's punishment lessened. In the wake of the U.S. Department of Commerce sanctions, ZTE has now ceased major operating activities.
Perhaps I'm too pessimistic, but I still think the structural issues around the Chinese economic model and technology development are unresolvable. However, as long as the two sides keep talking, the markets will likely believe a true trade war can be averted.
The June 12 summit between President Trump and North Korean leader Kim Jong-un in Singapore may help delay any tougher U.S. trade actions as Trump has tweeted he may meet Xi soon, and since he will be in the region it's quite possible his trip will include a visit with Xi.
One thing to pay attention to: Chinese officials and media keep saying that when looking at the U.S.-China trade imbalance, people also take into account the role of U.S. companies' subsidiaries in China. In a recent interview with Caixin magazine, Yi Gang, governor of the People's Bank of China, said:
"In 2015, U.S. exports to China were about $165 billion. In the same year, sales of U.S. companies' subsidiaries in China totaled $222 billion. If we put them together, we will see a dramatic decline of the overall imbalance."
Quick take: I read these repeated mentions of the U.S. companies' subsidiaries in China as a clear signal that if it comes to tit-for-tat tariffs, the U.S. firms with big businesses in China will be hit hard.
Go deeper: Axios' Jonathan Swan has some details from Trump's meetings with Xi in November in Beijing:
Trump wound up U.S. Trade Representative Bob Lighthizer and let him go to town in Beijing when meeting with Xi and a whole bunch of Chinese representatives in November.
In fact, Trump egged Lighthizer on. POTUS asked Lighthizer leading questions at the table in the bilateral meeting, which included Xi and the U.S. and Chinese delegations.
Trump: "Bob, why don't you walk them all through what our trade deficit is and [how] all these dialogues have produced nothing? ... Take them through the history." Lighthizer was all too happy to do it.
Go deeper