Congress releases every Russian Facebook ad that ran during election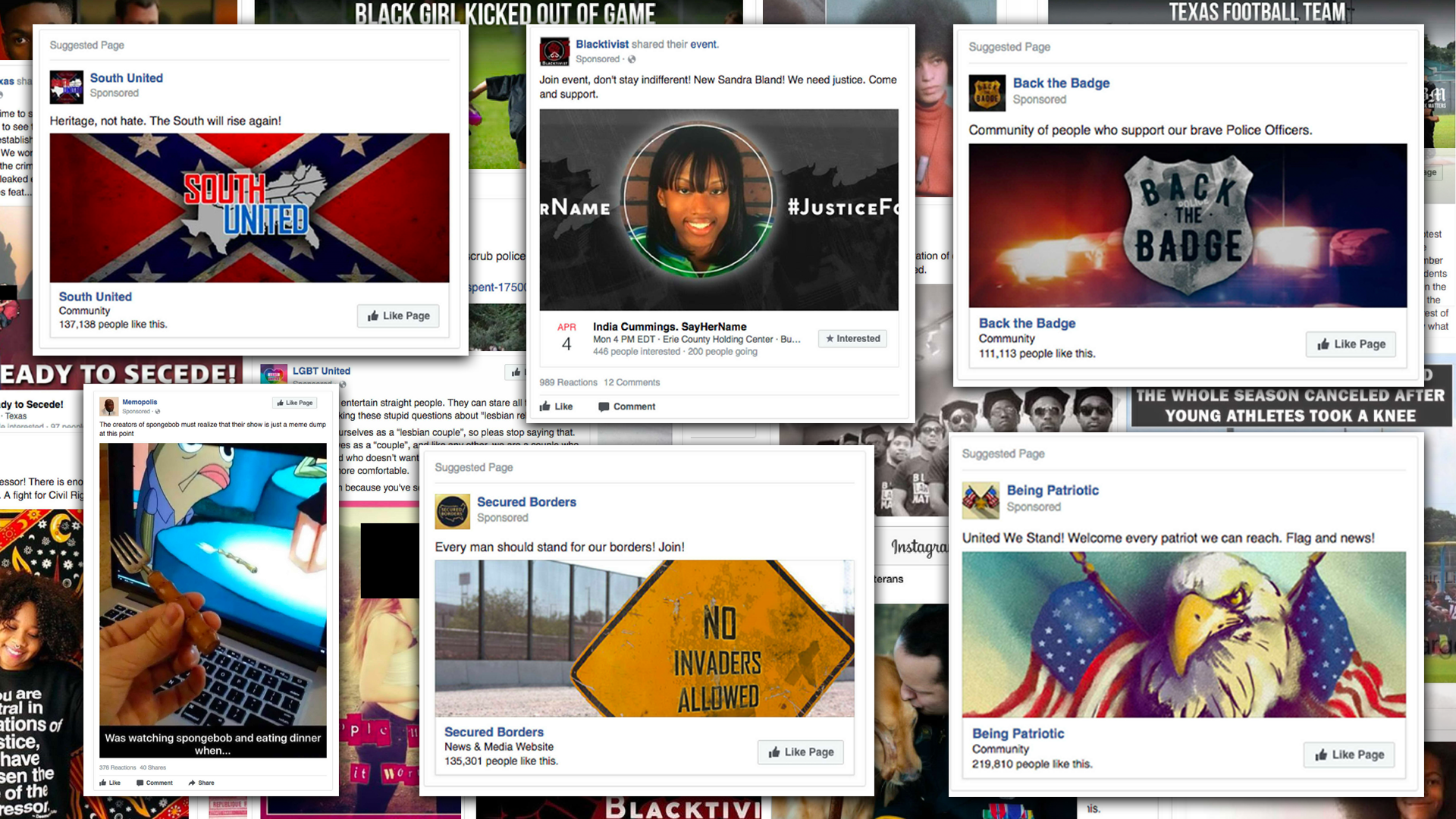 House lawmakers released the thousands of Facebook ads Russian operatives used to sow division in the U.S. before and after the 2016 election, ranging from blatant political messages to lighthearted memes.
Why it matters: Americans have heard for months about the Russian ad campaign — from political leaders, the media and office of Special Counsel Robert Mueller — but they haven't been able to see its full breadth until now.
The release of more than 3,500 ads, which appeared on both Facebook and Instagram, shows in sweeping details what the campaign looked like and how it was targeted at unsuspecting Americans.
Some of the ads include direct statements on contentious political or social debates. "What will happen if Hitlery becomes President," asked one sponsored post by a group called Heart of Texas. "Let's remind them what Texas is made of and show that we're ready to SECEDE!"
Others appeal to a shared common quality — race, sexual orientation or political beliefs, among others — that the page in question claimed to represent. A page called Brown Power posted a graphic, for example, that featured the Mexican and American flags and included the text "Like and share if you're proud to be Mexican!"
Still more tried to entertain the users who saw them, which could have helped to build the page's audience. A page called Blacktivist posted a "Get you a man who can do both" meme with two photos side by side: one of Barack Obama wearing gym clothes and another of him wearing a tuxedo, giving a toast.
Innocuous ads used to build a Facebook page's following could be followed by more controversial content on the page.
The operatives at the Russian troll farm behind the ads, called the Internet Research Agency, showed an understanding of the contours of American politics and culture over the years they built the ads. As was reported last year, the ads cover issues like the Black Lives Matter movement, LGBT rights, immigration and gun rights.
Some also explicitly mentioned Donald Trump and Hillary Clinton; the intelligence community has conluded the Russian operation was interested in aiding Trump.
The ads contain a variety of cultural references, from Michel Foucault to Beyoncé to characters from SpongeBob SquarePants.
Funny graphics posted by a page called "Memopolis," which touted itself as "the city of memes," were targeted at people interested in other destinations like BuzzFeed, iFunny and Imgur. In one ad, Memopolis advertised itself with the caption "Hot chicks. Dank memes. Dope stuff."
The gritty details: House Intelligence Committee Democrats released the ads on Thursday, after an earlier release last year of a small portion of the posts. Facebook, which handed the ads over to congressional committees in October 2017, redacted personal information from the content.
"The only way we can begin to inoculate ourselves against a future attack is to see first-hand the types of messages, themes and imagery the Russians used to divide us," said Rep. Adam Schiff, the top Democrat on the committee.
The thousands of ads ran from June 2015 to August 2017. Their release is accompanied by details of how they were targeted to users based on qualities including their interests, age and location.
The number of times an ad was surfaced varied widely, according to the targeting data that accompanies the ads.
One ad that appeared for users 1.3 million times starting less than a month before the election, for example, allowed them to "like" a page called Back the Badge. "Community of people who support our brave Police Officers," it said.
But some of the ads were never shown to anybody, something Facebook said was the case last year.
The other coast: Since the story of the Russian campaign broke last year, Facebook has taken steps to curb potential similar abuses of its platform in the future.
Get more stories like this by signing up for our daily morning newsletter, Axios AM. 
Go deeper