Trump squeezed small win out of Nigerian president's visit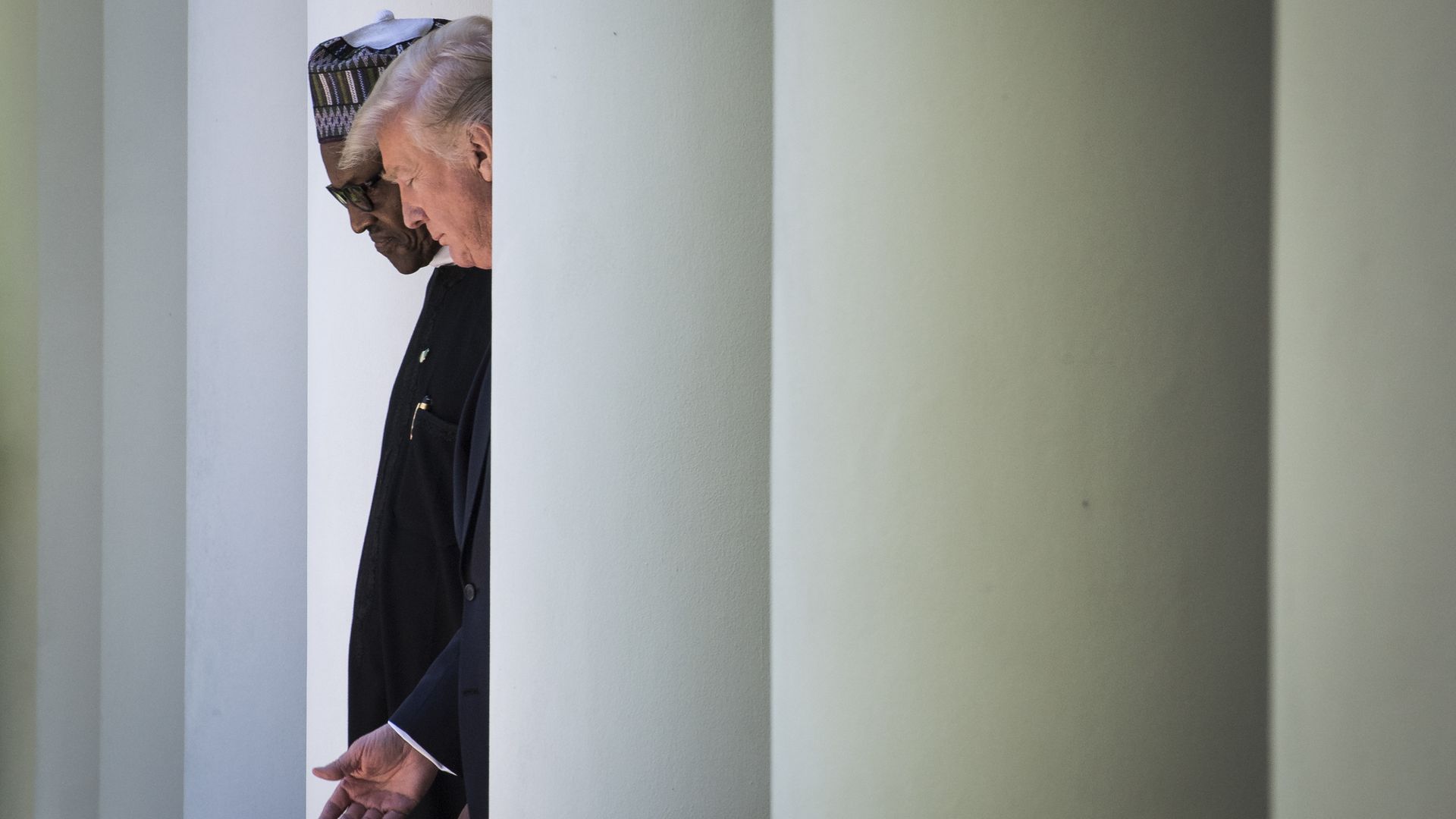 President Trump should be very happy with Nigerian President Muhammadu Buhari's visit last week. Unlike recent visits by French President Macron, who criticized Trump's policies before Congress, and German Chancellor Merkel, who has also butted heads with him, Buhari's involved much praise for Trump in ways that should please him and his base. 
Why it matters: Buhari's visit may have at least partly defanged criticism of Trump's racism vis-à-vis his alleged Africa comments. Trump's mention of Christian killings in Nigeria may have rallied his evangelical supporters, and seemingly won him a constituency in the Independent People of Biafra, a Nigerian separatist movement, whose spokesperson referred to Trump as a "God sent to ameliorate the suffering of Christians in Nigeria."
The trip was a win in more concrete ways for Buhari. As he observed, U.S.–Nigeria security cooperation is limited. However, the day before the meeting, Buhari's senior special assistant said that President Obama had failed to provide Nigeria the necessary support for the counterterrorism fight, likely referencing Obama's blocking the sale of Super Tucanos to Nigeria on human rights grounds. During the press conference, Trump explained he had unblocked the sale. Buhari's assistant went on to say that, under Trump, U.S.–Nigeria relations "had recorded remarkable progress."  
Trump also reaffirmed Nigeria's regional leadership role, promised security cooperation and affirmed that the two countries' would work to return stolen Nigerian funds, estimated at $500 million, parked in the U.S.
The bottom line: Buhari's visit is likely to have only a limited impact on American domestic politics in the November mid-terms run-up, and was overshadowed by the generally negative reactions to Macron's and Merkel's visits. But Trump got what he wanted: favorable reviews from an African head of state.
John Campbell is the Ralph Bunche Senior Fellow for Africa Policy Studies at the Council on Foreign Relations.
Go deeper