Trump's walls may be crumbling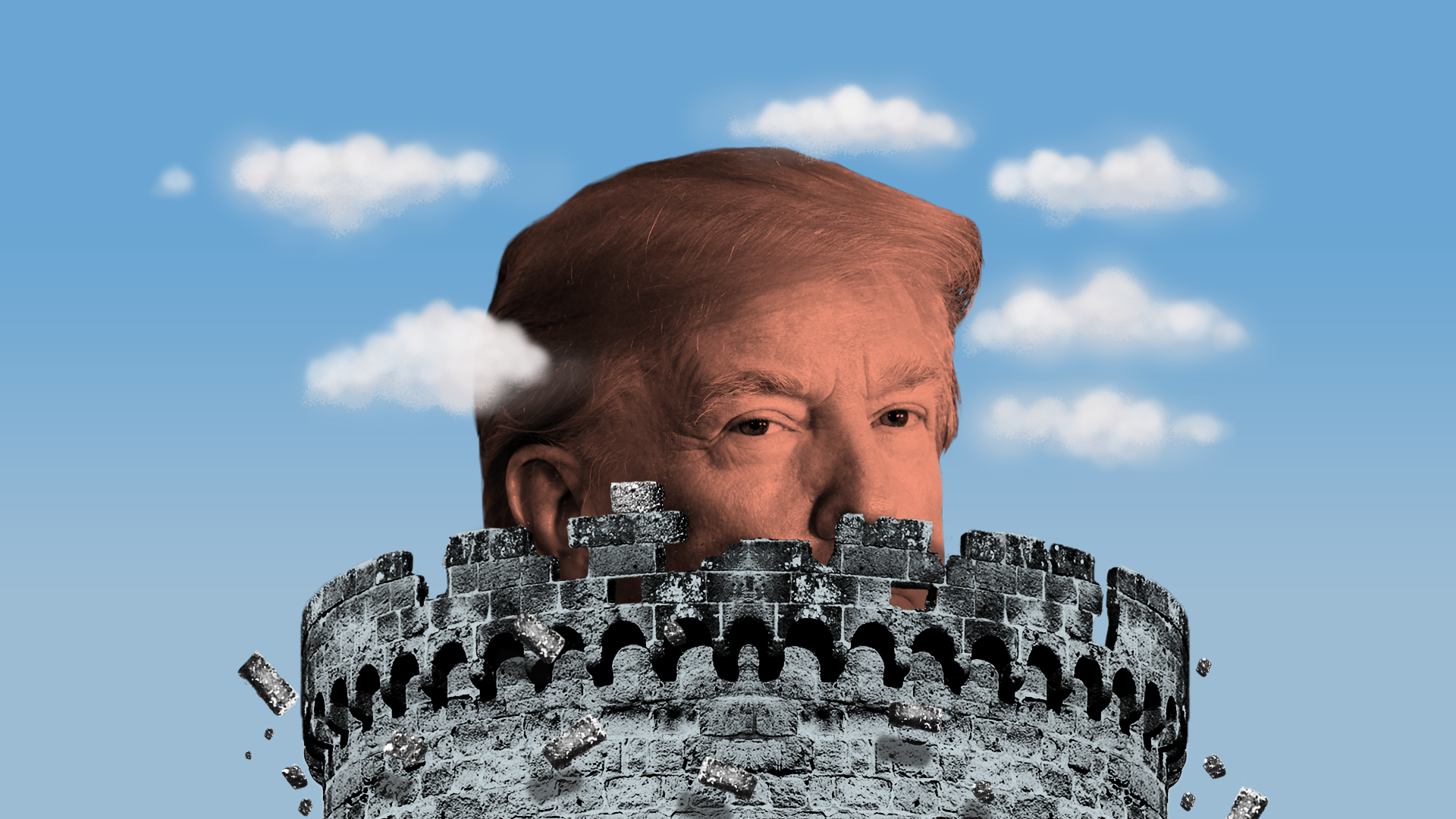 It's easy to grow immune to — or skeptical of — the constant news breaks that all seem like big, defining Trump moments unfolding before our eyes. But we might look back at this week as the real deal.
The big picture: The breadth and speed of the new disclosures were sobering even to the most fervent loyalists in Trump's inner circle.
Two weeks after joining President Trump's legal team, Rudy Giuliani told Fox's Sean Hannity last night that the president had repaid Michael Cohen for his $130,000 payment to Stormy Daniels: "Funneled it through a law firm and the president repaid it." Aboard Air Force One last month, Trump was asked if he knew about the payment and he replied: "No."
The specificity and scope of Robert Mueller's question list for Trump was chilling to many Trump friends, and infuriating to Trump. The questions —many of which cite specific dates, reflecting the vast narrative Mueller has already developed — sweep across the campaign, the convention, the transition, the first 13 months in office. 
And the questions were posed before the FBI raided Cohen's office. Cohen is the Rosetta stone of Trumpland, with intimate knowledge of Trump's life before the campaign. 
The disclosure that Mueller has threatened to subpoena Trump, if he refuses an interview, was a reminder of the president's potential vulnerability amid his bluster. Giuliani told Hannity that if Trump sits down with Mueller, it should be "not under oath ... not videotaped but audiotapes. I want to make sure they don't misrepresent his answers."
The departure of Trump lawyers John Dowd and Ty Cobb, and the arrival of brawler Rudy Giuliani and impeachment specialist Emmet Flood, signal a more combative stage, according to the WashPost's lead story:
"Trump has adopted an increasingly hostile posture toward the special counsel ... '[T]he gloves may be coming off.'"
Be smart: "Trump is intent on ridding his presidency of the shadow that the investigation has cast ... and no longer sees cooperating as the quickest way to make that happen."
"In private conversations, Trump has taken to decrying Mueller's probe as a 'total b------- investigation' and has occasionally invoked his late attorney Roy Cohn, a hard-charging figure who taught him to punch back at enemies."
P.S. And back in the West Wing ... "The president has come to believe that [Chief of Staff John] Kelly is hiding things from him," the N.Y. Times reports.
"Kelly complains aloud about Mr. Trump, telling colleagues, 'I don't need this' after dressing-downs from the president."
Go deeper