How AT&T's antitrust battle looms over the Sprint/T-Mobile deal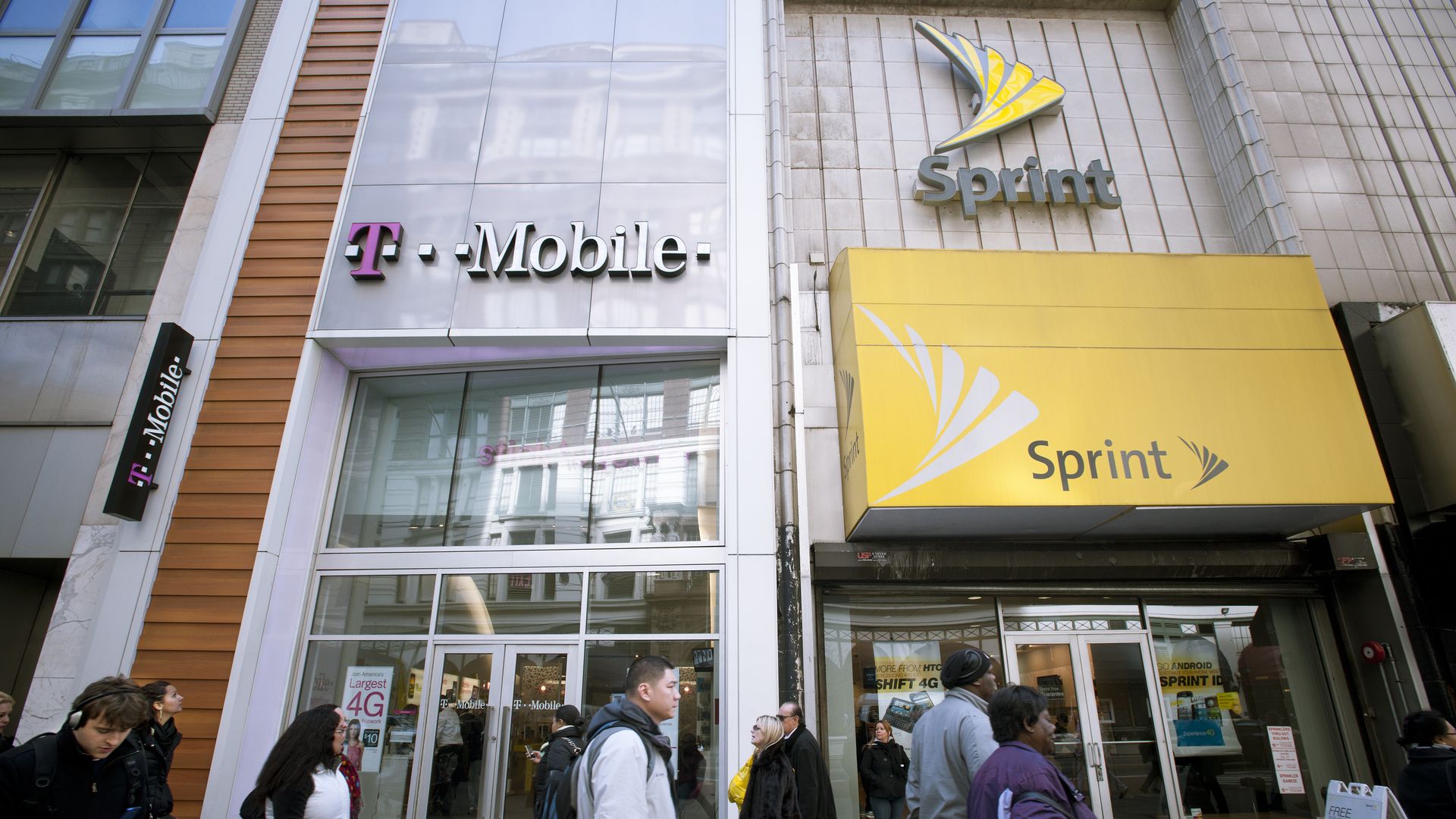 The outcome of AT&T's fight with the Justice Department over its bid for Time Warner could shape the regulatory review of the long-anticipated union of Sprint and T-Mobile.
What's happening: Closing arguments take place Monday in AT&T's courtroom battle with DOJ. The verdict of that trial, expected in the coming weeks, could impact antitrust regulators' appetite for challenging another telecom deal, as well as AT&T's level of enthusiasm for intervening in the process. 
Deal breakdown: The two deals have fundamentally different structures.
The AT&T/TimeWarner deal is a "vertical" deal, joining two companies that aren't direct competitors. If it goes through, the new company would be "vertically integrated" by combining film and TV production with the distribution of that programming, similar to Comcast's acquisition of NBC Universal in 2011.

"As the case has progressed, the expectation that AT&T will win has progressively risen," MoffettNathanson analyst Craig Moffett told Axios last week in an interview for C-Span's The Communicators. "My guess is that the broad consensus is something like 80/20 that AT&T will win the case."

The Sprint/T-Mobile deal is a classic "horizontal" merger that combines two direct competitors in a four-player market. Such horizontal mergers typically trigger tougher antitrust scrutiny, making the Sprint/T-Mobile deal more likely to face a challenge than AT&T/Time Warner was initially considered to be. 

What remains to be seen is whether regulators include other competitors in their market picture — such as the Comcast/Charter wireless joint venture — and whether 5G networks change the calculation.
"I think it's very hard to imagine DOJ just giving this deal a pass, given how much it would increase concentration in key segments of the wireless market," said Gene Kimmelman, former DOJ official and CEO of Public Knowledge. He noted this is particularly true since Sprint and T-Mobile are each other's major competitor for the bottom half of the wireless market.
Possible scenarios:
AT&T wins the case against DOJ: If the government loses, analysts expect a wave of new transactions from companies trying to keep up with the new media juggernaut. This spills into telecom, as well, as the two industries become more tightly entwined. Antitrust enforcers could be forced to make resource decisions: Suing to block a deal, and potentially going back to court, is a costly and time-consuming undertaking.
DOJ wins the case: Some say that signals the government will crack down on other deals as well. But each transaction is unique — and the current DOJ doesn't seem to be interested in playing the regulator role to the extreme. Even with a court victory, DOJ could still find a reasonable argument to let Sprint/T-Mobile go through.
AT&T's own agenda will also come into play, win or lose. It has plenty of experience working behind the scenes with the DOJ and FCC on deals.
If AT&T loses the case, some expect its CEO, Randall Stephenson, would pressure FCC and DOJ to give the Sprint/T-Mobile deal close scrutiny. Regulators would have denied his company's attempts to buy both T-Mobile and Time Warner. He'd be likely to raise a ruckus.
If AT&T wins, the company will be more of a media powerhouse than a broadband and wireless provider —leaving Stephenson less likely to view a combined Sprint/T-Mobile as a serious competitive threat.
Go deeper