Facebook can't get a break from D.C. conservatives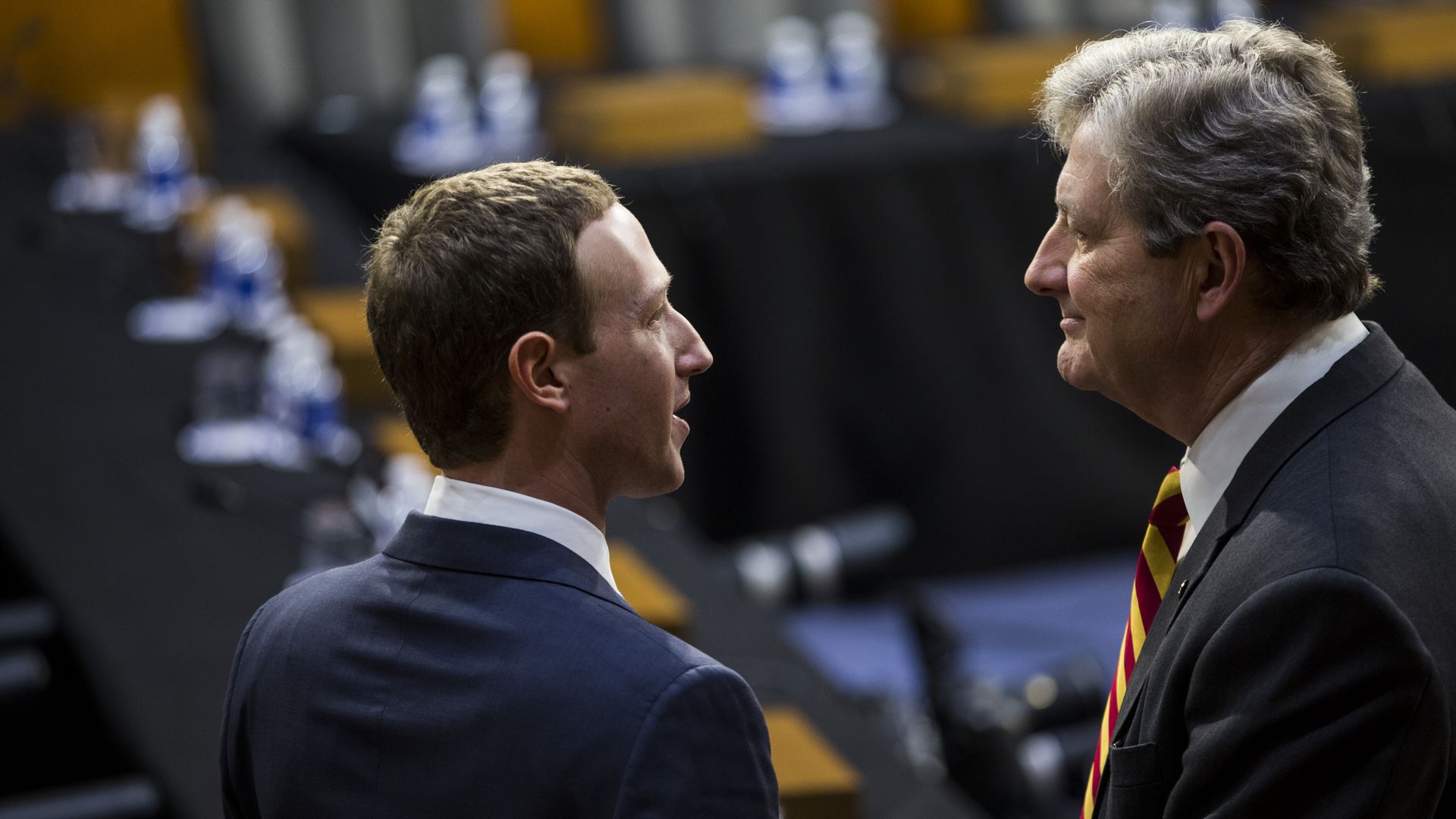 Facebook, despite years of outreach to conservatives, remains a punching bag for the right.
Why it matters: Facebook can't maintain its power as a network for everyone if one group of lawmakers — and users — keeps perceiving it as biased against them.
What's next: Just two weeks after CEO Mark Zuckerberg's congressional grilling, the social giant is bracing for another beating — this time, from some conservatives at a hearing featuring pro-Trump video stars Diamond and Silk, who say Facebook discriminated against their content. The internet companies aren't sending representatives to the hearing Thursday morning.
The big picture: Facebook's lukewarm relationship with the right has complicated its search for D.C. allies to help fend off new privacy regulations. On Tuesday, the company announced it had replaced the head of its Washington office with Kevin Martin, former Republican FCC chairman.
Buzz: One longtime conservative tech policy staffer likened Facebook's face-off with conservatives to trench warfare, "very much like on the Western Front": "In my mind I don't see much movement in terms of right-of-center groups coming out of their trenches to welcome Facebook, or vice versa."
Staffers also gripe that Facebook only seems to reach out to the right when something has gone wrong.
Facebook lacks the financial relationship with outside advocacy groups and think tanks that competitors like Google have cultivated through years of bigger donations.
One Republican lobbyist said that Google's donations have had an "inoculating effect" now that the political tide is turning against tech. (Facebook's political action committee did give more to Republicans than Democrats in the last election cycle.)
The rocky relationship, said the first staffer, was evident in a leak of an email from a Facebook staffer to conservative groups inviting them to a meeting about resisting privacy regulations. "If Google sent an email or AT&T or Comcast, groups wouldn't do that, because they know they're going to get money from them," the staffer said. "They do not feel loyal to Facebook."
Flashback: In 2016, Facebook got into hot water with conservatives over allegations of conservative bias in the site's Trending Topics section. That resulted in the company inviting a group of conservatives to its Menlo Park, Calif. headquarters. Facebook has long denied any bias, including at Zuckerberg's hearings.
Clashes over other issues have deepened the rift between Facebook and conservatives. House Republicans warned the social network and other major internet companies to tread carefully with their activism on regulatory issues like net neutrality and have split with company executives on hot-button issues like immigration.
But, but, but: Berin Szoka, the president of TechFreedom and a witness at Thursday's hearing, noted the right "isn't a monolith" when it comes to Facebook. "There's long been this brewing, latent division between cyber libertarians and conservatives," he said, with the former taking a hard anti-regulation stance and the latter more aligned with Republican dislike for Silicon Valley.
The bottom line: Some of the right's attacks on Facebook are easy to chalk up to election-year politics. (Rep. Marsha Blackburn, who had a campaign ad taken down from Twitter earlier this year, is in a tight race for a Tennessee Senate seat.) But conservatives in Washington continue to feel alienated from Facebook just as the company needs to win their trust.
Go deeper