Eritrea's coastline for hire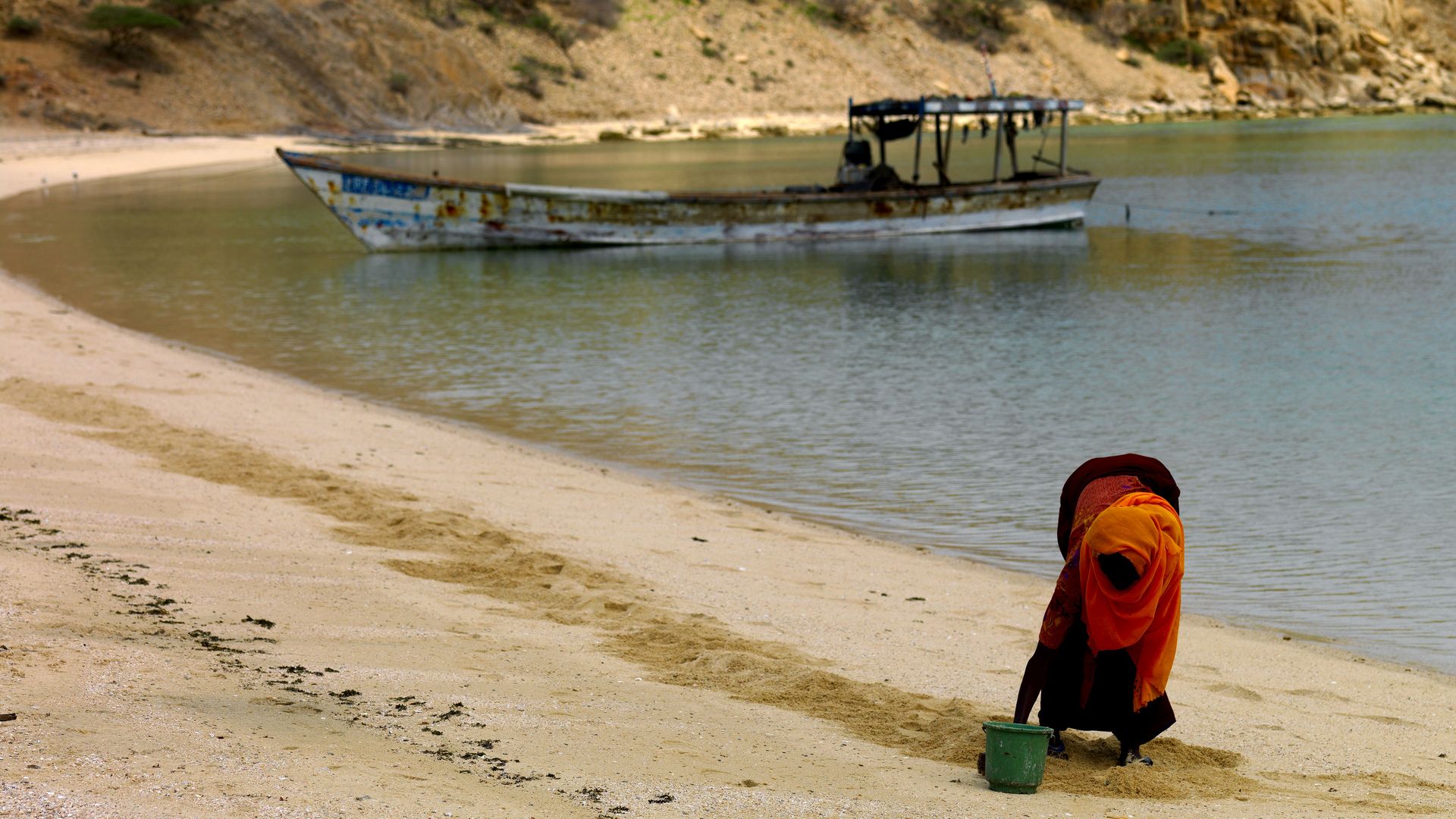 Eritrea is in dire need of economic development, but it has isolated itself from regional neighbors and the international community and doesn't trust or accept any foreign aid.
The bottom line: Without aid, Eritrea has to find other ways to make money, and one big asset is its coastline. The strip of land — just 200 miles from the Arabian peninsula where deadly conflicts between Gulf nations are playing out — is available to the highest Arab bidder.
Decades of mistrust
The backdrop: Eritrea's fight for independence, in which the small nation overcame Ethiopian forces backed by the West, shaped the worldview of Isaias Afwerki, the country's dictator since its founding in 1991.
"This perception that Eritrea must go at it alone in confronting a fickle, and often hostile, international community, continues to define Afwerki's mindset," a senior Western diplomat, who served as ambassador in Eritrea in the early 2000s, tells Axios.
Afwerki is deeply suspicious of Western intentions and aid and cuts his country off from the globe, the ambassador says.
The repressive government has blocked development and pushed scores of its citizens to flee to other African nations, Europe and the U.S., says Meressa Kahsu Dessu, a regional expert at the Institute for Security Studies in Addis Ababa.
The bidders
The Saudi-led coalition waging war in Yemen "now uses a base in the Eritrean port of Assab, close to Djibouti, as a key spot from which to attack Houthi positions in Yemen," reports the Economist.
The league of Arab allies — including Saudi Arabia, the United Arab Emirates, Egypt and Bahrain — sanctioning Qatar for alleged funding of regional terrorists have also won Eritrea's support.

That support has had its consequences. Eritrea is engaged in a territorial dispute along its border with Djibouti, but things quieted down when both parties agreed to let Qatar send troops to the region and serve as a peacekeeper and mediator. After Eritrea pledged support to the allies against Qatar, the Arab nation pulled its troops, sending the region into chaos once again, Dessu says.
Where things stand
Eritrea's neighbors have tried to get along. One semi-successful effort was the creation of the Intergovernmental Authority on Development (IGAD), a trade organization which includes Eritrea, Ethiopia, Djibouti, Uganda, Kenya, Somalia and Sudan.
Yes, but: Eritrea's membership in IGAD has been inconsistent. In 2007, it pulled out of the bloc for four years to protest Ethiopia's decision to send troops to fight al Shabaab in Somalia. Ethiopia remains Eritrea's biggest enemy, and it opposes nearly everything Addis Ababa supports.
"There's not an active conflict [between Ethiopia and Eritrea], but we call it 'no peace, no war," Dessu says.
Go deeper