Trump's next guest: Merkel follows Macron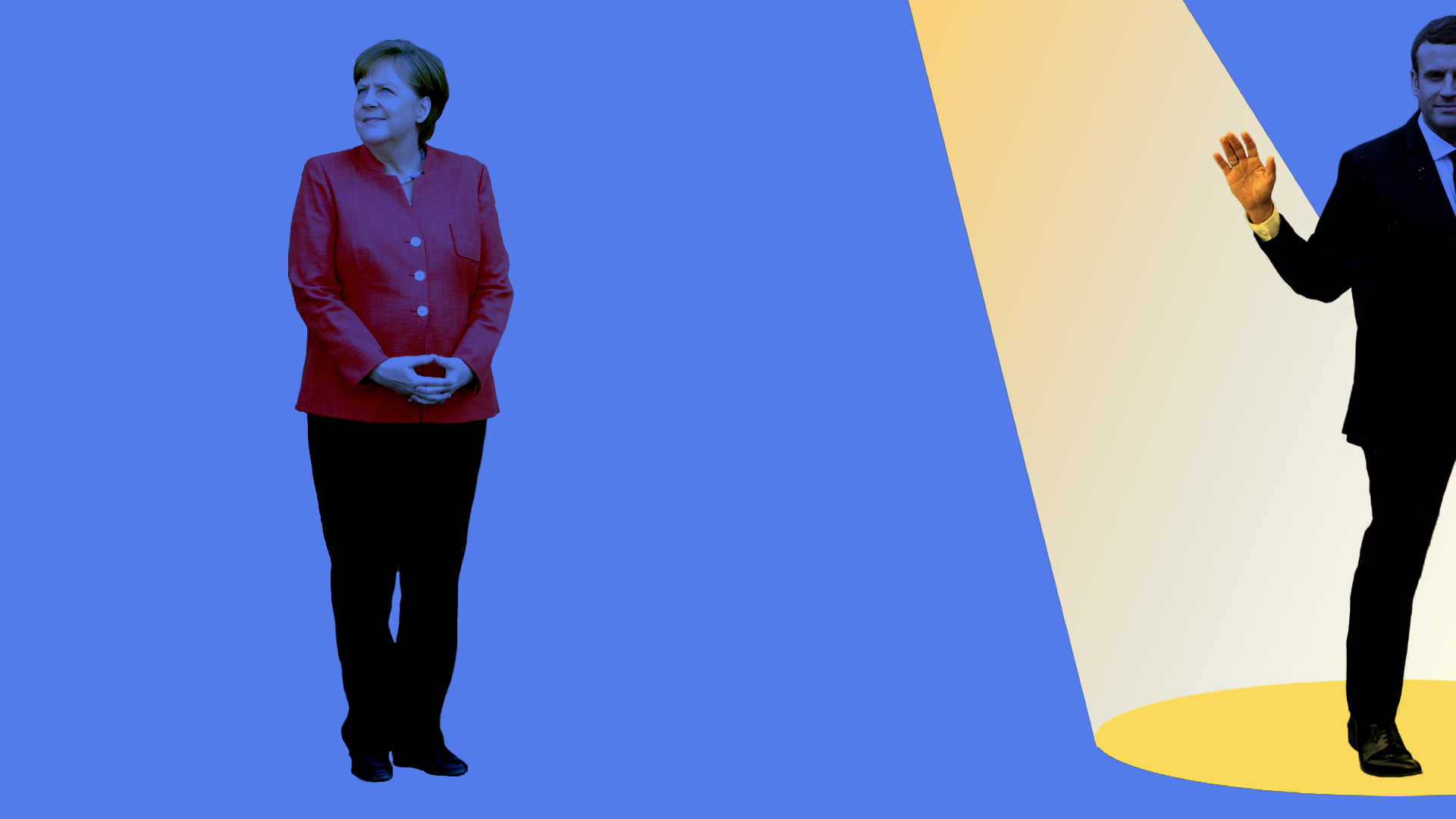 German Chancellor Angela Merkel will arrive in Washington tomorrow a diminished figure — limping into her fourth term after six months of torturous coalition talks and touching down in the afterglow of Emmanuel Macron's state visit.
Flashback: Days after Trump's election in November 2016, Barack Obama flew to Germany and hailed Merkel — then TIME's reigning Person of the Year — as "my closest international partner these last eight years." Headlines declared that she had, however reluctantly, become the "leader of the free world."
Flash forward: Since losing ground in September's election, Merkel has been in something of a strategic retreat internationally. A recent Der Speigel cover story bemoaned "Germany's Incredibly Shrinking Role on the World Stage."
According to Erik Brattberg, director of the Carnegie Endowment's Europe program, that retreat involved leaving some distance between her and a U.S. president who is toxic in Germany — though cold air was clearly flowing in both directions.
While she'll never match Macron's chummy relationship with Trump, she'll have more freedom to engage with him now that she has formed a government.
With Macron having moved the ball as far as he could on the Iran deal, and an E.U. exemption from Trump's steel and aluminum tariffs expiring Tuesday, her chief focus is likely to be trade.
Peter Foster, the Telegraph's Europe editor, says that if Merkel makes progress there, it will be a characteristic "triumph of substance over style." 
"After Macron, Merkel will inevitably look ponderous, dour even. But she has been around long enough to know that the Trumps and Macrons of this world have a habit of coming and going."
"Even as she enters the endgame of her political life, she will be quietly confident about whose legacy will endure. She will note that Macron may have upstaged her on the back-slapping stakes, but to scant effect — it looks certain that Trump will pull out of the Iran deal. Merkel still has the chance to pull off a substantive diplomatic achievement."
The bigger picture: With perhaps 3 years left as chancellor, and more than a dozen behind her, don't expect Merkel to take drastic steps to burnish her legacy.
"She sees her legacy as keeping Europe and the West together at a difficult time. That's how she wants to go down in history."
— Erik Brattberg
Go deeper: Putting Merkel's longevity in perspective.
Go deeper