Updated Apr 24, 2018 -

World
U.S. and China ratchet down rhetoric in trade disputes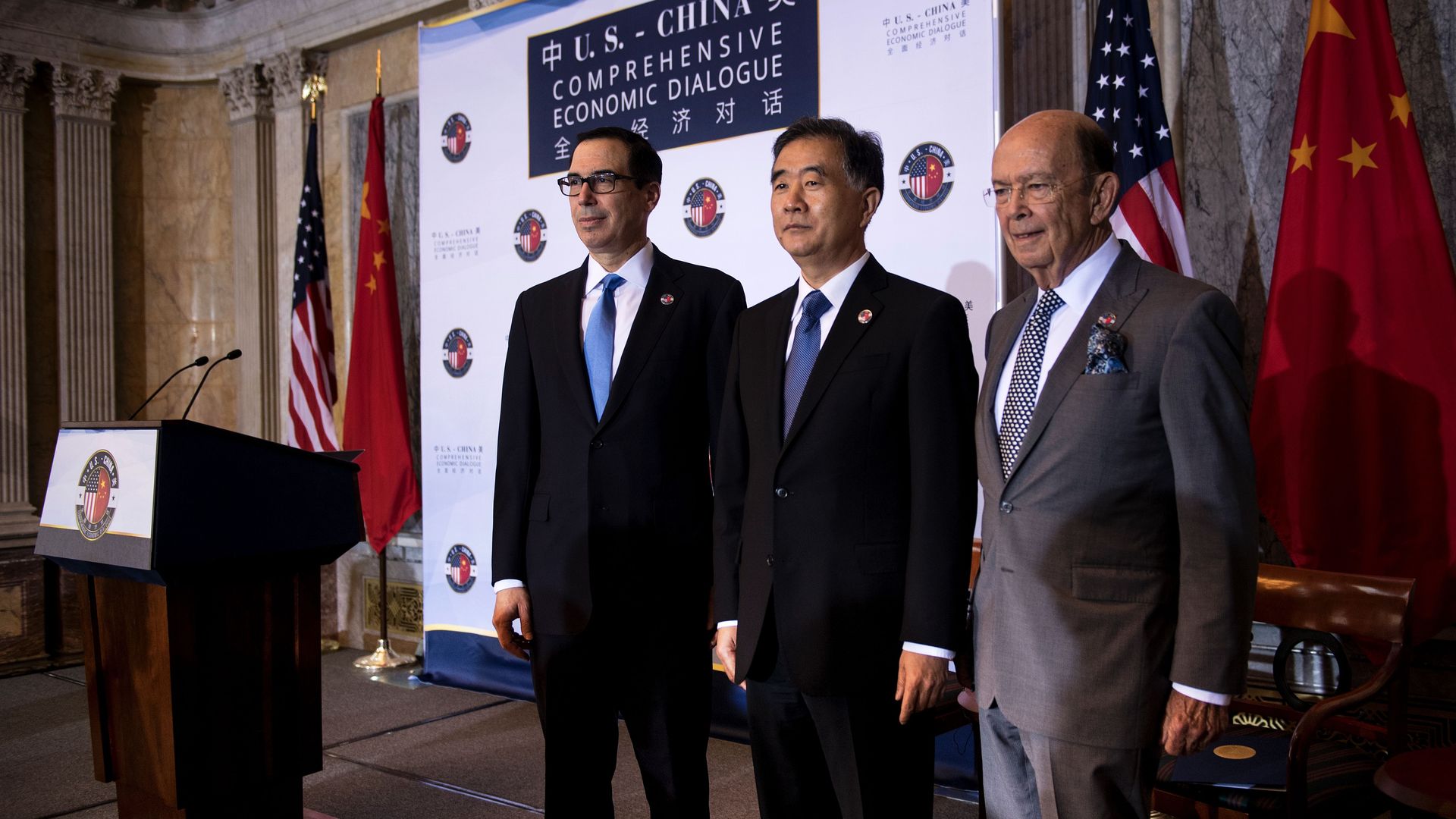 Trade disputes rarely escalate as quickly and intensely as the current U.S.–China spat, which has resulted in tariff volleys and vehement rhetoric from each side. But recent statements from both countries suggest that tensions may now be falling.
What's next: Trump indicated on Tuesday that he would send Treasury Secretary Mnuchin to China next week. As both sides have softened their stances, the stage is set for the two sides to consider returning to the negotiating table.
After President Xi first met President Trump at Mar-a-Lago in April 2017, the Chinese thought they could handle Trump as they had his predecessors, and didn't take his trade-related threats — many of them issued on Twitter — seriously.
But as tariff threats were followed by counter-threats, the atmosphere turned increasingly somber in Beijing, especially because Trump's objections extended beyond China's trade surplus to Chinese industrial policies.
Trump's escalations struck raw nerves in China, and the already-strident rhetoric emanating from Beijing reached a crescendo earlier this month, when the Chinese Ministry of Commerce spokesman declared that China was "prepared to pay any cost" to respond to the American threats.
It turned out, however, that staring into the precipice pushed leaders in both countries to look for solutions. On April 10, Xi announced that he would further open the Chinese economy by lowering tariffs on cars and other products and by strengthening foreign IP protections. The government lifted tariffs on cancer drugs two days later. President Trump got the signals, tweeting that he was "very thankful" for Xi's statement and that "We will make great progress together."
What to watch: Mnuchin will be accompanied next week by Trump's hardline trade representative Robert Lighthizer and adviser Peter Navarro. But even as tensions have started to ease, they're unlikely to be resolved in a single visit.
Dali L. Yang is the William C. Reavis Professor of Political Science at the University of Chicago and a senior fellow at the Chicago Council on Global Affairs
Go deeper