Trump asked Netanyahu if he genuinely cares about peace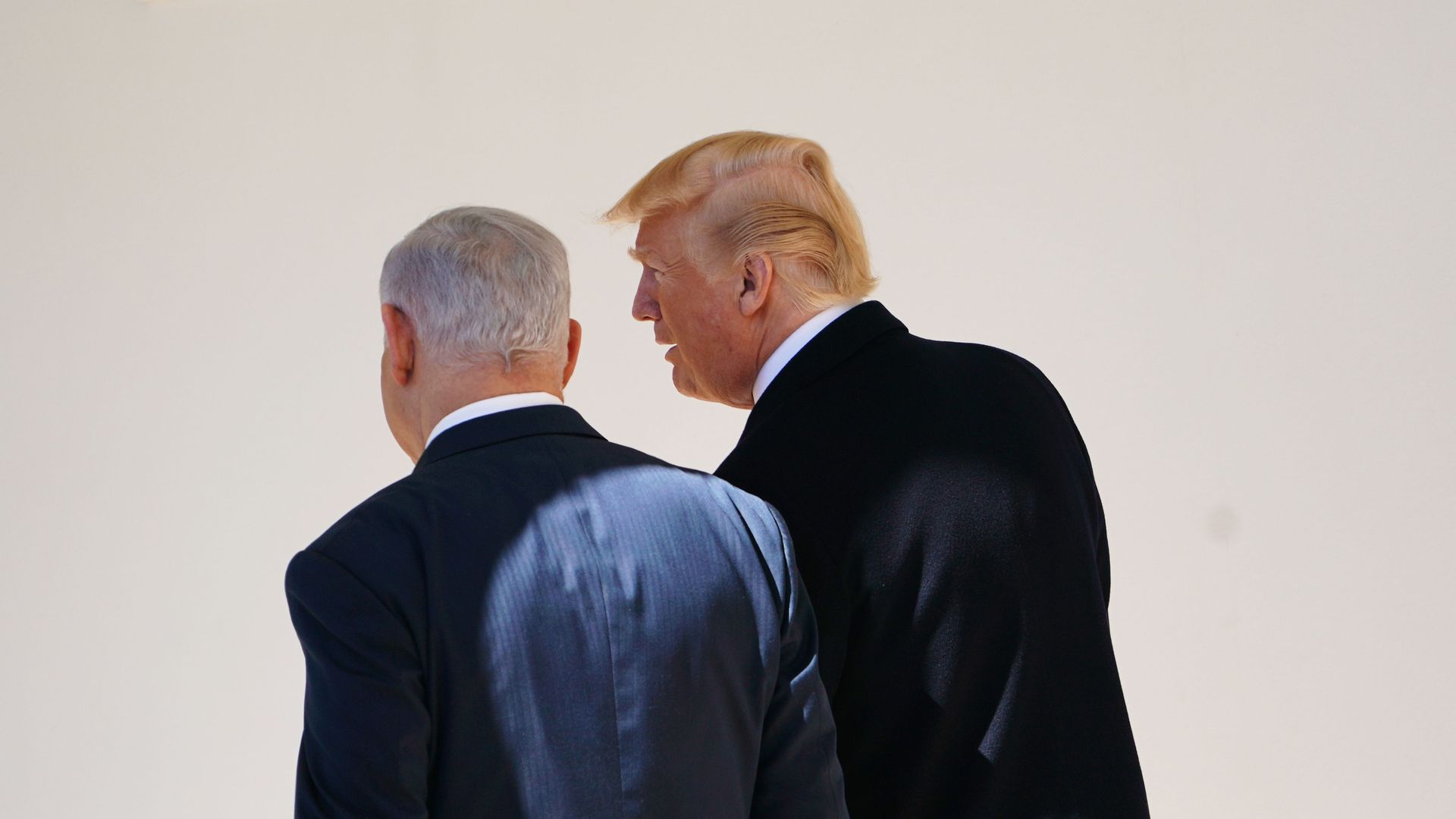 In a phone call last year with Bibi Netanyahu, President Trump said something that shocked some of the people who helped prepare his briefing materials for the conversations. According to three sources familiar with the call, Trump asked Bibi bluntly if he actually cares about peace or not.
The details: Trump was pressing Bibi on the importance of striking a "deal" for Mideast peace. He'd read news reports about Bibi planning to build additional settlements to please his conservative base in Israel. Trump thought Bibi was unnecessarily angering the Palestinians. So, in the course of a longer conversation that was mostly friendly and complimentary, he bluntly asked Bibi whether or not he genuinely wants peace.
When Axios shared the details of this conversation with the White House before publishing, a senior official said: "The President has an extremely close and candid relationship with the Prime Minister of Israel and appreciates his strong efforts to enhance the cause of peace in the face of numerous challenges."
And Press Secretary Sarah Sanders added: "The President has great relationships with a number of foreign leaders but that doesn't mean he can't be aggressive when it comes to negotiating what's best for America."
Between the lines: According to a host of sources familiar with the president's thinking, Trump views foreign policy as a question of relationships. The way he crafts American foreign policy is almost entirely dependent on his personal rapport with world leaders.
A perfect example: The United Kingdom .Though Trump has great affection for Britain (he has golf courses there, appreciates the special relationship, and has referred to himself as "Mr. Brexit"), he and Theresa May have a fraught relationship. He hits the roof when he reads that she's criticized him. So he has yet to visit America's closest ally, even after last year's terrorist bombings in Manchester, though a source privy to private discussions tells me that it's "quite likely" that Trump visits the UK before the summer.
Another example: Trump finds Japan's trade practices and regulations to be very irksome. But he has a great personal chemistry with Japanese Prime Minister Shinzo Abe, and would likely be going far harder on the country if their relationship were tense.
Why this matters: Trump's foreign leader interactions — often improvised, often hot and cold, often disregarding diplomatic conventions and basic briefing materials — have confounded much of the administration's national security staff.
​Trump freelances; he rarely refers to scripts and notes, and he disdains long briefings. Instead, he kibitzes with foreign leaders like he does with his Manhattan real estate friends.
His ad-lib style sometimes works to his advantage — and he's established genuinely good relationships with leaders like Emmanuel Macron of France and King Salman of Saudi Arabia — but it's also at times thrown staunch allies like the U.K. and Germany off-balance. And it makes the national security establishment — many of whom have longitudinal views of these relationships — break out in hives.
A Trump briefing is completely different from those of his predecessors. He doesn't want briefing books or long speeches about policy. Besides the news of the day, he almost always asks the following questions before most foreign leader meetings:
What is the trade deficit with the foreign country? How big is their army and defense spending, and to what extent is America picking up their tab? And, in some cases, how much foreign aid is the U.S. sending to the country? Put simply: what are we doing for them and how much are they contributing in return?
One hard lesson Trump's staff learned: Always find out whether the leader he's meeting with has said mean things about him.
Trump was furious with his national security team for not telling him in advance of his meeting last year with Greek Prime Minister Alexis Tsipras that Tspiras said during the presidential campaign that Trump represents an "evil" ideology.
At Trump's joint press conference with the Greek leader, Fox's John Roberts quoted the brutal things Tsipras had said about Trump. The president blew up at his team afterwards for not finding this out and briefing him about it in advance.
Go deeper