Kellyanne Conway rises — again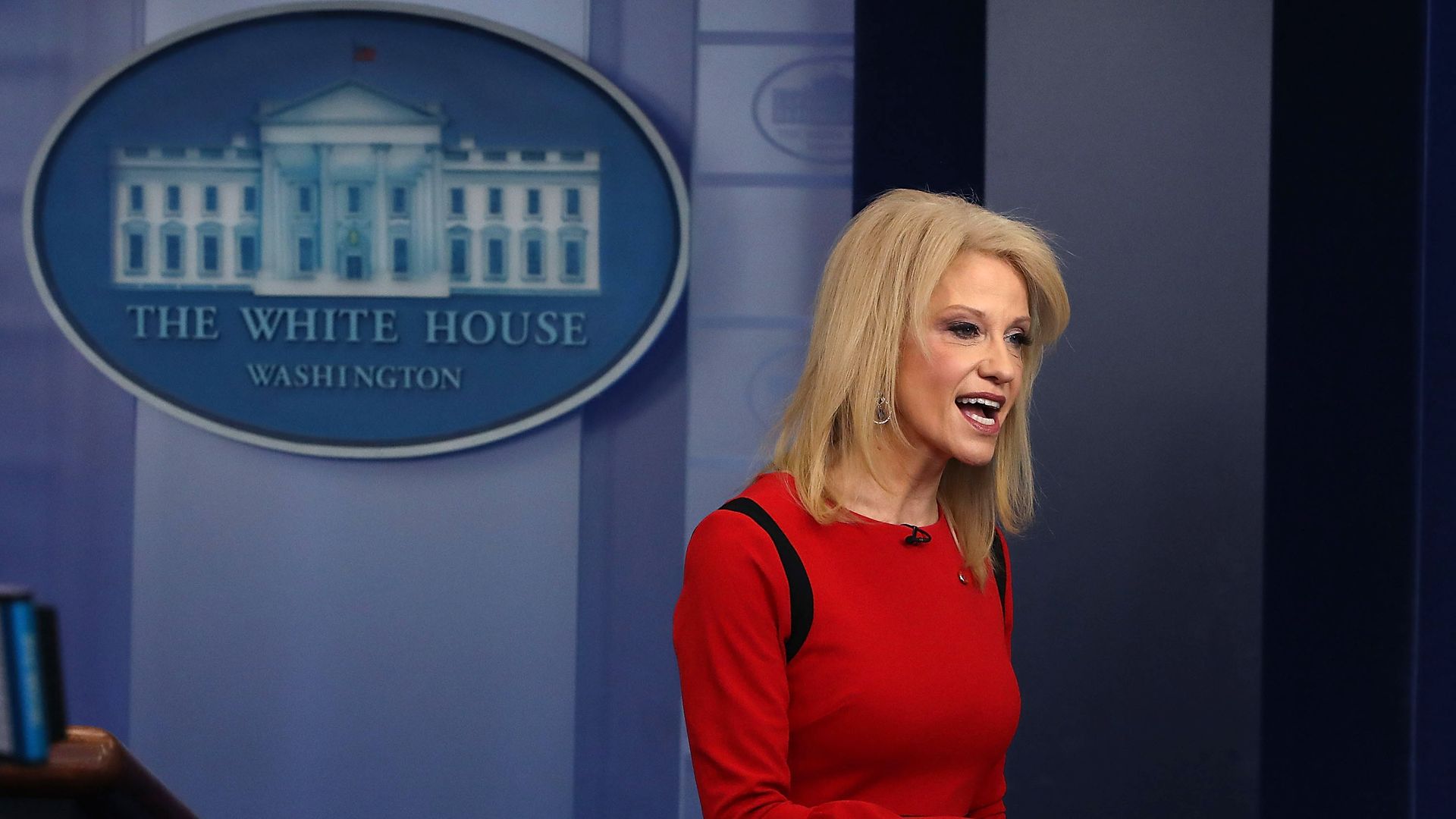 Kellyanne Conway has never actually wanted the job of White House communications director, according to sources who've discussed it with her, but Axios has learned that she left many in the White House communications team this week with the impression that she'd be leading the team in some capacity.
Behind the scenes: Senior White House communications official Mercedes Schlapp convened an off-site team-building and planning retreat last week for the White House comms team. They held the session on Thursday at the General Services Administration building a couple blocks from the WH (the same building that once housed the transition).
About 40 people were in the room, and according to sources who were there:
Conway opened the session by addressing the group and giving what a source in the room described as a "pep talk".
She told the staff that the President had asked her to take a more active role in communications. She didn't directly address any of the communications director speculation but many in the room were left with the impression that she'd be taking a leadership role going forward.
She then asked the group for ideas to take to POTUS.
One suggestion that most in the room agreed with: that Trump should do more local and regional media, which increases his chances of getting more favorable coverage than he's getting in the national media.
But one person asked how to reconcile what the president wants to see versus what actually helps but that he might not notice.
Trump wants to see surrogates defending him on cable TV but the consensus within Trump's own communications team is that getting surrogates out in regional and local markets is a far more effective way of conveying POTUS' messages and accomplishments than appearing on cable TV.
Besides Conway's address to the group — in which the communications director role wasn't directly discussed — there was no other discussion during the session about who would replace Hope Hicks.
Other tidbits: The group, which has been beset by leaks and media reports of infighting, ran team-building exercises on large notepads. One of the questions posed to the group: If somebody was making a documentary about the White House communications team in five years, what would they say?
At one point in the session, Kirk Marshall, Joe Hagin's top deputy for Human Resources, asked the group to explain what they thought the difference was between comms and press.
Somebody asked a question about the standard of the Trump administration's communications work and Brad Rateike, director of cabinet communications, joked: "It's impossible to get fired around here."
Next steps: Kirk Marshall will lead one-on-one interviews with communications staff, soliciting suggestions on how to better improve the White House team and will encourage staff to offer a more candid perspective than they might have in a large group. They then plan to hold another planning retreat.
Go deeper