How to lower prescription drug costs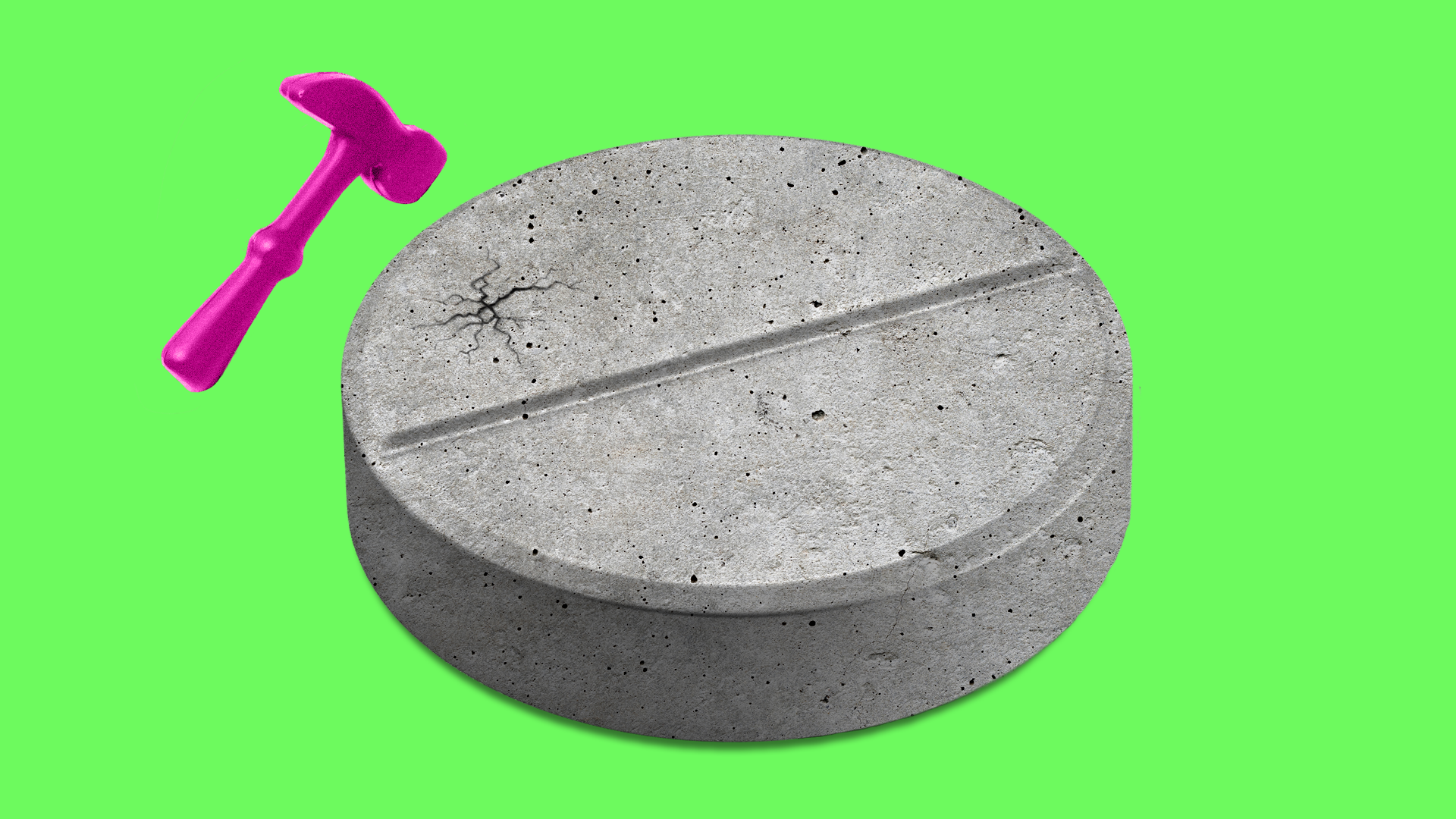 President Trump's upcoming speech on drug prices will probably stick to small-ball ideas. But small-ball doesn't necessarily mean no impact.
Reality check: There are a lot of legitimate ways to bring down drug costs; there are also a lot of empty gestures masquerading as real change. Here's a guide to the kinds of ideas and the odds that they'll actually happen.
Bucket 1: Move the costs around
The big picture: These proposals could reduce what patients pay for drugs, but not necessarily what the health care system as a whole pays.
How it works: The gist here is to rearrange existing discounts within the drug supply chain, usually by targeting the various middlemen between drug companies and patients.
One idea is to make pharmacy benefit managers, who negotiate big discounts on behalf of insurers and employers, pass more of those savings on to patients at the pharmacy counter.
The administration has already announced changes to a program that provides discounted drugs to hospitals, and Congress may go even further.
Threat level: This is where the administration has been most active so far, and politically, there's a lot of low-hanging fruit in this set of policies.
What they're saying: All of this fits with the industry's larger worldview, which is that new drugs are worth the money, but patients should have to foot less of the bill on their own. Consumer advocates don't oppose these policies, but they say this bucket doesn't get at the heart of the problem.
Bucket 2: Increase competition
The big picture: Some conservatives want to tackle the underlying price of drugs, but they want to do it by fostering a more competitive market, rather than through price controls.
How it works: New drugs are entitled to five to 12 years of sales, depending on the type of drug, before a generic version can come to market. That window usually ends up being longer, though, because of drugs' patent protections.
The FDA has largely cleared out its backlog of generic drugs waiting for approval, and commissioner Scott Gottlieb hopes to jump-start the lagging market for generic versions of especially complex drugs.
No one formally opposes more generics, but brand-name drug makers have been accused of unfairly denying generics the samples they need to develop their products. There's a bill in Congress to address that; industry opposes it.
Critics also say drug companies are abusing the patent system by taking out patents on even the most minor component of a drug, then reformulating those components and taking out a whole new "thicket" of patents — keeping generics at bay even longer.
Threat level: Health and Human Services secretary Alex Azar — himself a former pharmaceutical executive — said in his confirmation hearing that he would be willing to look at patent "gaming."
What they're saying: The advocacy group Patients for Affordable Drugs says some of these ideas, including the bill on product samples, would make a real difference. Industry, meanwhile, will probably have to concede that some "gaming" does occur, but acceding to the most aggressive regulatory changes would cost drug makers billions.
Bucket 3: Reduce the prices
The big picture: Bucket 1 addresses who pays, but not the underlying prices of drugs. Bucket 2 tries to get the market to deliver lower prices. Bucket 3 demands them.
How it works: The marquee policy here is for Medicare to negotiate — or simply to dictate — what it will pay for drugs.
Democrats say that would not only lower costs for seniors and Medicare, but for everyone, because private insurance wouldn't pay much more than Medicare does. Drug companies say it would dry up innovation and research.
Threat level: Trump has endorsed price negotiations in the past, which makes industry nervous, but the policy remain very much a long shot.
What they're saying: Traditional conservatives — like Azar, Gottlieb, Vice President Mike Pence, and congressional GOP leaders — have long hated this idea. And as much as it's still a holy grail on the left, the advocacy groups most active on this issue are also focusing on more achievable goals.
Go deeper