Gen Z's next battleground: lowering the voting age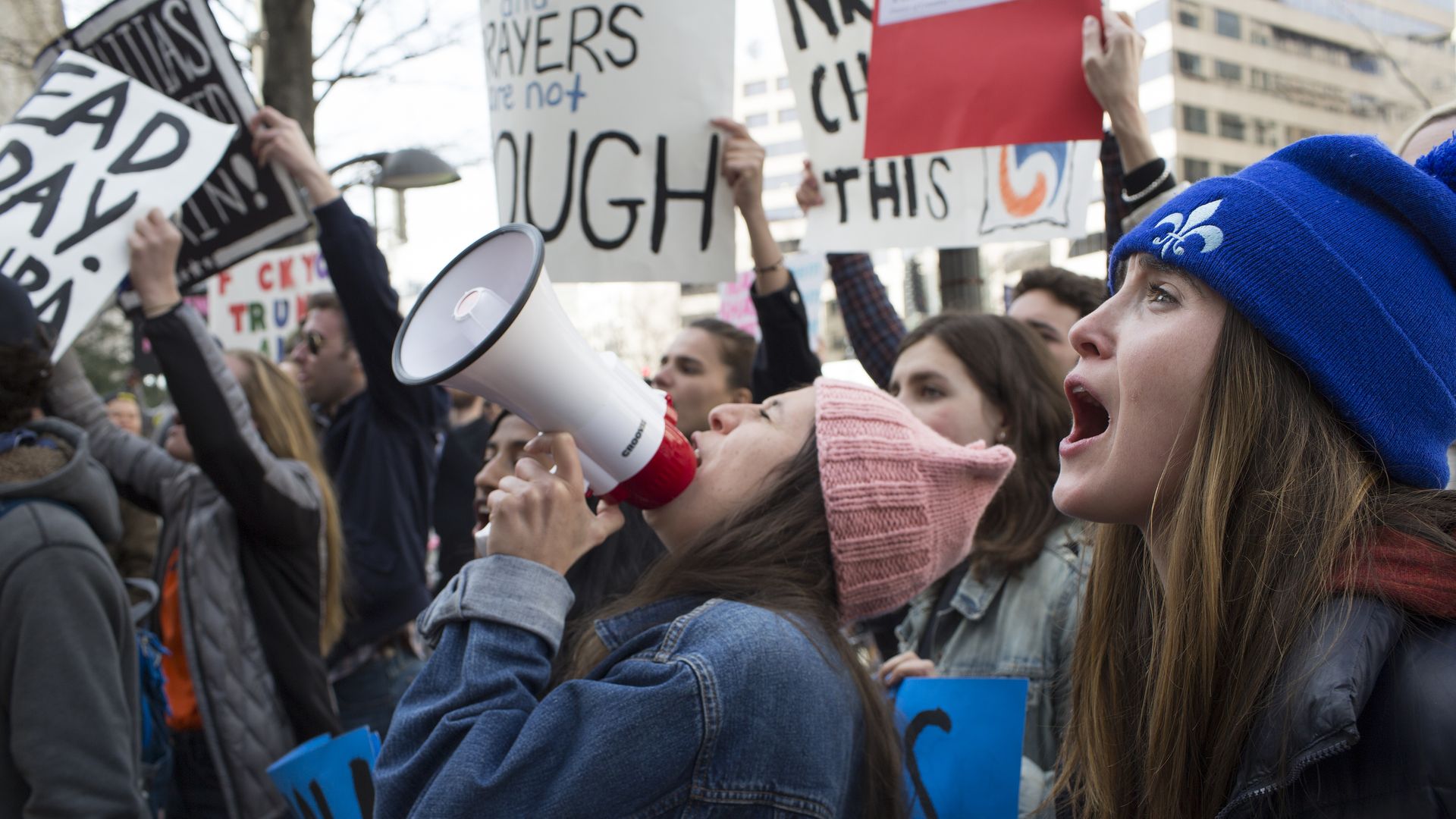 Washington, D.C. is on the verge of becoming the first major U.S. city to allow people as young as 16 to vote in local and federal elections, including for president — under a proposal that has gotten support from a majority of the District's council and the mayor.
Why it matters: Lowering the voting age to 16 from 18 is a direct attempt to capitalize on the post-millennial generation's brewing political activism and power that have been radically heightened by the country's increasingly polarized climate.
What they're saying:
Councilmember Charles Allen, a Democrat who introduced the bill last week, said in a statement that the act would spur civic engagement:

"We have no problem collecting taxes or fees from residents who are 16 and 17 – why shouldn't we fully enfranchise them?"

Scott Warren, executive director of the nonpartisan Generation Citizen, which advocates for youth participation in politics, and one of the main architects behind the D.C. proposal, acknowledged that the effort is largely seen as partisan. But he stressed the fact that young Americans are increasingly registering as independent. "So we really see this as an effort to create long-term voter behavior," he said.
The other side: Opponents argue teenagers aren't mature enough to make informed decisions and argue that it's a partisan push to get more Democratic voters in the rolls.
Yes, but: Little data exists on the political views of Generation Z, which constitutes those born after 1996. William Frey, a demographer at the Brookings Institution, said attitudes toward diversity, culture and gun control offer a glimpse of their thinking.
"One of the key elements of Generation Z is racial diversity and we have an administration that turns it's back on diversity … as well as a wide range of social issues from immigration to gay marriage, marijuana legalization."
— William Fray, who studies the millennial and post-millennial generations.
The backdrop: Localities have been expanding voting rights to younger people since 2013 through campaigns supported by Generation Citizen. Warren told Axios his group is targeting cities in California, Colorado and Maryland.
No state has lowered the voting age, but some have passed legislation allowing teenagers to pre-register to vote and participate in primary elections if they will turn 18 by the general election. Cities can only extend voting rights to local elections, but D.C., can allow people over 16 to vote in any election.
What's next: A public hearing for the proposal is expected in June and a vote before the year ends.
Go deeper