Trump and Kim's summit of surprises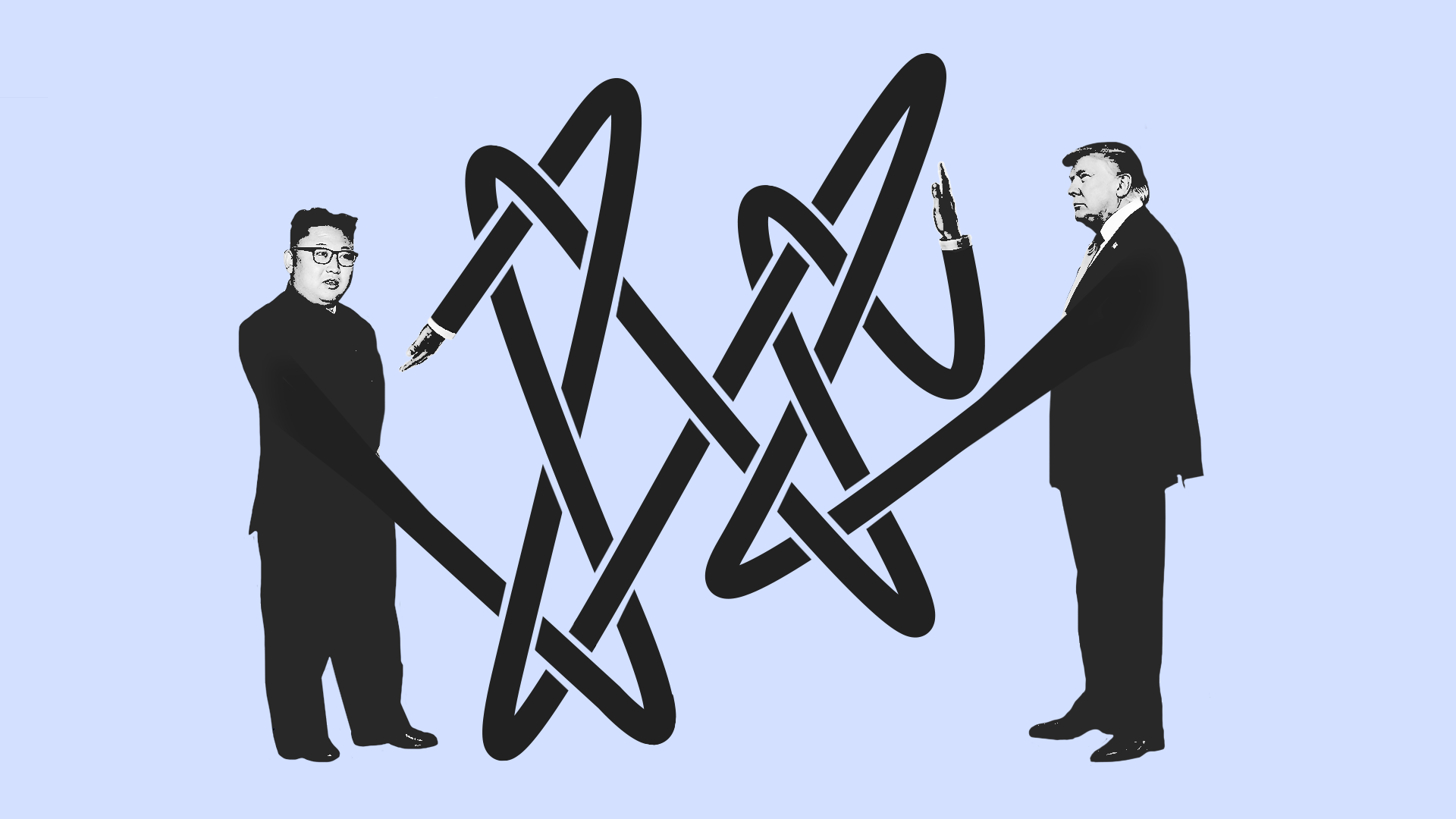 Mike Pompeo's secret visit to Pyongyang is the latest in a series of dramatic events in the run-up to the summit between President Trump and Kim Jong-un. It's almost certainly not the last.
The big picture: "Part of this is normal, but we've got a wacky situation here," says Jim Walsh, an international security expert at MIT who has taken part in previous negotiations with North Korea. When it comes time to present a "final package," he adds, "surprises won't fly."
Surprise #1: Trump accepts Kim's invitation
Trump stunned just about everyone on March 8 with his immediate acceptance of Kim's invitation to meet.
Between the lines: The news shocked the Japanese, as did the fact that South Korean officials announced the news from the White House.
Surprise #2: Kim rolls into Beijing
The Chinese had also been surprised by the news. 17 days later, an armored train arrived in Beijing and, after it departed, the Chinese confirmed that Kim Jong-un had been on board.
Between the lines: The Trump administration appeared "caught off guard" by Kim's visit to Beijing, "though not terribly surprised by the outcome," Chris Johnson, a former top CIA China analyst now at CSIS tells Axios. Press Secretary Sarah Sanders said Chinese officials briefed the White House — after the visit.
Surprise #3: CIA chief heads to PyongyangThe Washington Post reported Tuesday that the CIA Director and Secretary of State-designate was dispatched to Pyongyang on Easter weekend to meet with Kim. The news was leaked to bolster Pompeo's standing ahead of his confirmation battle, Politico reports and Axios' Jonathan Swan has confirmed.
Johnson says Pompeo's visit was likely motivated by the need "to verify at a very high level that denuclearization was on the table."
According to Walsh, "each side would have gotten some idea of what the other side wants," without tipping their hands on negotiations.
Between the lines:
"It's not the first time the U.S. has done this," says Yuki Tatsumi, a former Japanese diplomat now at the Stimson Center, noting that Henry Kissinger, for example, made secret trips to China during the Nixon administration.
This time was different, though, as most steps in this process have been. "You can have a secret meeting, but if it's a secret meeting you don't talk about it afterwards," Walsh says.
The White House and State Department wouldn't say whether there was any coordination with Tokyo or Seoul ahead of Pompeo's trip. The news certainly didn't reach some diplomats in D.C., who were sent scrambling by the news.
If there was any coordination, Tatsumi says, it was probably with South Korean intelligence. As for the Chinese, Johnson says, "I would highly doubt they were consulted, but I'm sure they were informed," by the North Koreans, probably shortly before Pompeo's arrival.
Go deeper