Bird is building the Uber of scooters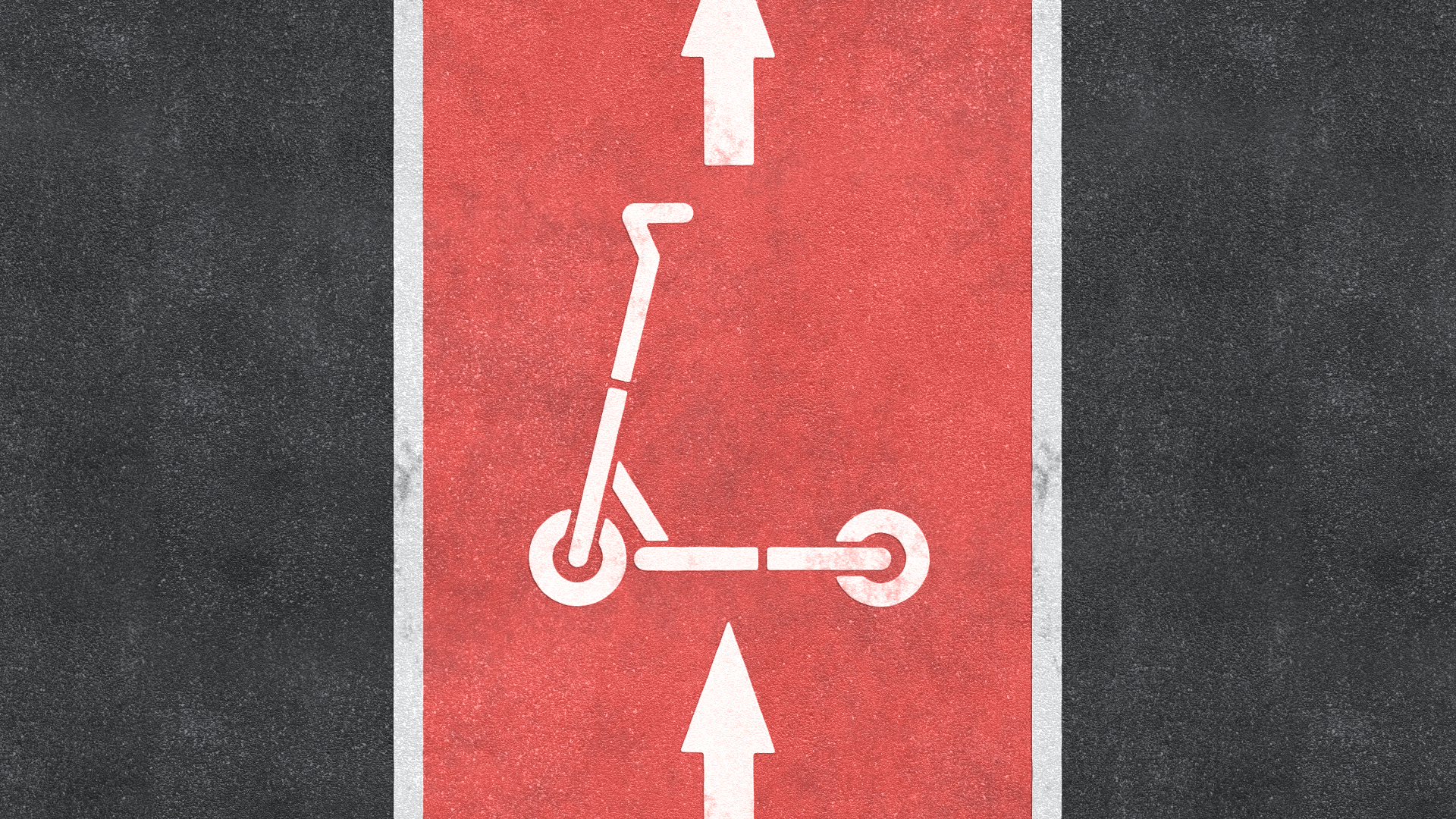 Electric scooter company Bird is beginning to look a lot like Uber, with an on-demand transportation service that is ubiquitous on San Francisco streets, a business model that gets ahead of local regulations, and a competitive streak that ruffles feathers.
Bottom line: This isn't a coincidence, as Bird founder and CEO Travis VanderZanden is a veteran of both Uber and Lyft.
Bird quietly began operating last year in its hometown of Santa Monica, and has since expanded to such cities as San Francisco, Austin, and Washington, D.C.
The other Travis
VanderZanden tells Axios that his daughters quickly lost interest in the bikes he bought them for Christmas and went back to their scooters. It was an aha moment for him.
At Uber, he was responsible for keeping Uber's driver acquisition machine running.
Before that, he was chief operating officer at Lyft, which he joined through its acquisition of his on-demand car wash startup, Cherry.
His move from Lyft to Uber was contentious, including a reported failed bid for the Lyft CEO role and a lawsuit that accused him of breaching confidentiality.
"It's a bet on Travis," explains a Bird investor who preferred his name not be used. "He knows the playbook… If anybody is going to build a big scooter business, it's going to be this guy." Bird already shares a few investors with Uber, and not by accident.
Past as predicate
Bird is operating in regulatory gray areas, just as Uber did in the early days of ride-hail:
Santa Monica filed criminal charges against Bird for operating without a permit. Bird settled in February, agreeing to pay a $300,000 penalty.
San Francisco gave Bird a business permit, but resident complaints about scooters clogging up sidewalks resulted in some scooters being impounded and a cease and desist order on Monday from the city attorney. A new permit system is now being created, which also would apply to Bird rivals like LimeBike and Spin.
Austin's city council is also working to get rules and permits in place.
Bird chief legal officer David Estrada, who previously led government relations at Lyft, says that the company welcomes regulations, but it hopes that cities carefully observe and assess how residents interact with the service instead of rushing to pass rules.
Still, the company is also trying to anticipate some problems. It recently announced its "Save Our Sidewalks" pledge, inviting competitors to join in picking up theirs scooters every night, moderate growth, and remit money to cities to support infrastructure. Spin described the pledge as "insincere," while LimeBike called it a "PR stunt," adding it's focused on working with city leaders instead.
Bottom line: Rolling out scooters in cities without specific regulations forced cities to accept the new category and create rules that legitimize it—but it's not helping Bird avoid a reputation of arrogance.
Lessons learned
VanderZanden acknowledges the playbook similarities to Uber, but also says there are key differences.
Safety: Bird makes helmets freely-available to customers.
Congestion: "The biggest difference [from ride-hailing] is that Bird is taking cars off the road," said VanderZanden.
Environment: E-scooters don't create carbon emissions.
To be sure, there are many caveats to those positive steps, particularly when one realizes that Bird supports legislation that would remove the requirement that adult e-scooter riders wear helmets (thus putting it in line with current e-bike rules).
But maybe that's the point: VanderZanden recognizes that early Uber missed out on a lot of low-hanging PR fruit and the defenders that come with it. Be aggressive, but also be a savvy messenger.
Go deeper