DOJ inspector general refers Andrew McCabe to federal prosecutors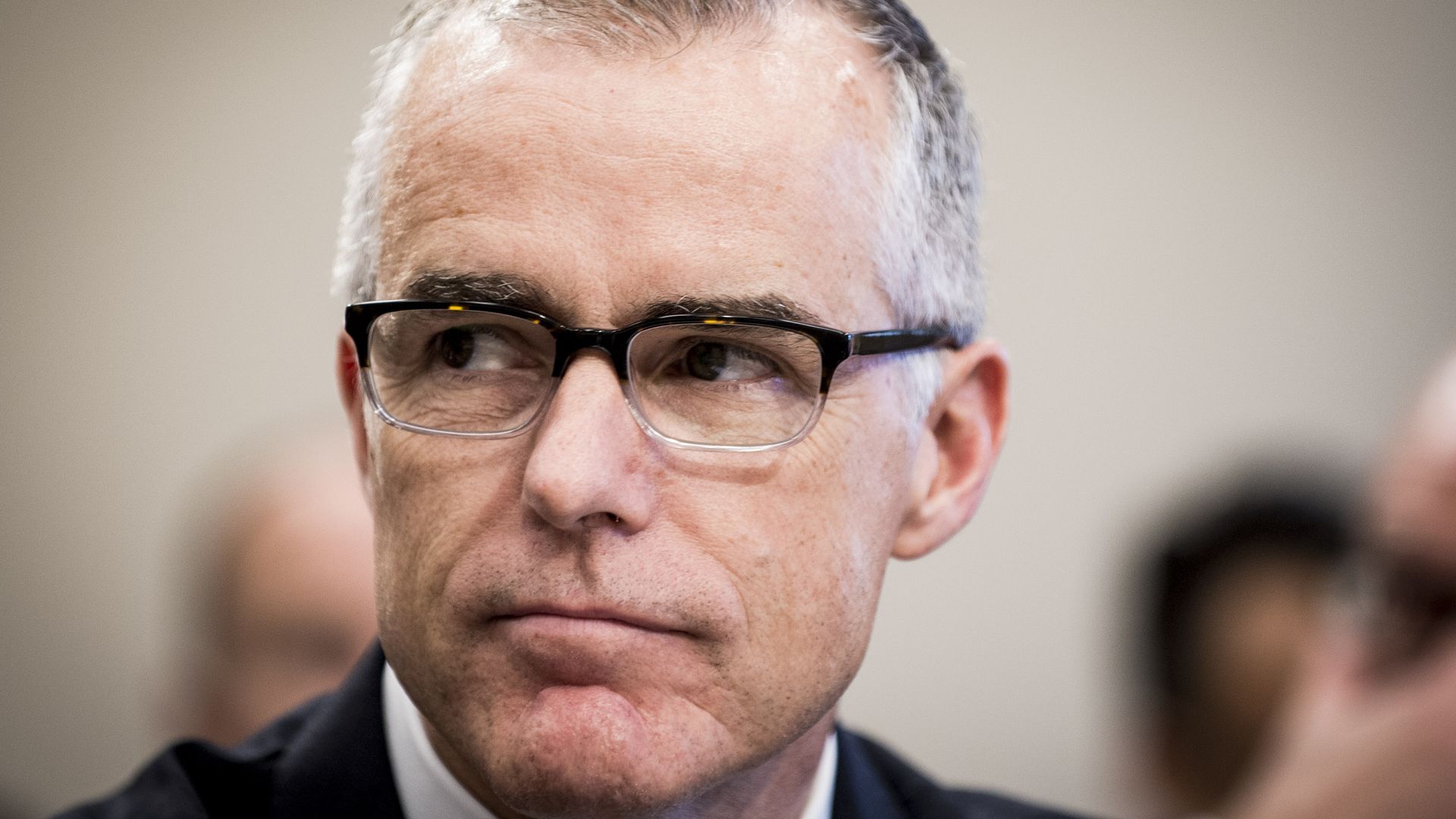 The Justice Department's inspector general issued a criminal referral to the U.S. Attorney's Office in D.C. regarding its report that former FBI Deputy Director Andrew McCabe lied under oath about disclosing sensitive information to the media, the Washington Post reports.
The big picture: McCabe's situation has been extremely politicized — notably, with President Trump not shy to voice his displeasure about him — but now, the allegations against him have been placed in the hands of nonpartisan federal investigators. In short, it's difficult to read anything from this development alone: this referral could mean McCabe gets charged with a crime, but it also could mean that he avoids charges completely.
McCabe and his lawyer Michael Bromwich have known about the referral for the past few weeks and have already met with members of the U.S. Attorney's Office, according to a statement. Bromwich added "the standard for an IG referral is very low" and they are "confident that, unless there is inappropriate pressure from high levels of the Administration, the U.S. Attorney's Office will conclude that it should decline to prosecute."
More big takeaways from WaPo's report:
To refresh your memory: "Attorney General Jeff Sessions fired McCabe from the FBI last month, just 26 hours before McCabe could retire, denying McCabe some of his retirement benefits and reigniting the political firestorm that has long surrounded the former FBI official."
The allegations: "Last week, Inspector General Michael Horowitz sent to Congress a report blasting McCabe. It says he inappropriately authorized the disclosure of sensitive information to the media, then lied repeatedly to investigators examining the matter. The report...laid out in stunning detail allegations McCabe had deceived investigators about his role in approving the disclosure, even as he lashed out at others in the FBI for leaks."
Why this matters: "The referral from the Inspector General to the D.C. U.S. Attorney's Office is thought to be far more serious, as inspector general investigators are nonpartisan lawyers and agents who probe wrongdoing for a living."
McCabe's response, from the day he was fired: "This attack on my credibility is one part of a larger effort not just to slander me personally, but to taint the FBI, law enforcement, and intelligence professionals more generally. It is part of this Administration's ongoing war on the FBI and the efforts of the Special Counsel investigation, which continue to this day. Their persistence in this campaign only highlights the importance of the Special Counsel's work."
Go deeper