Scoop: Les Moonves demanded control of CBS/Viacom in 2016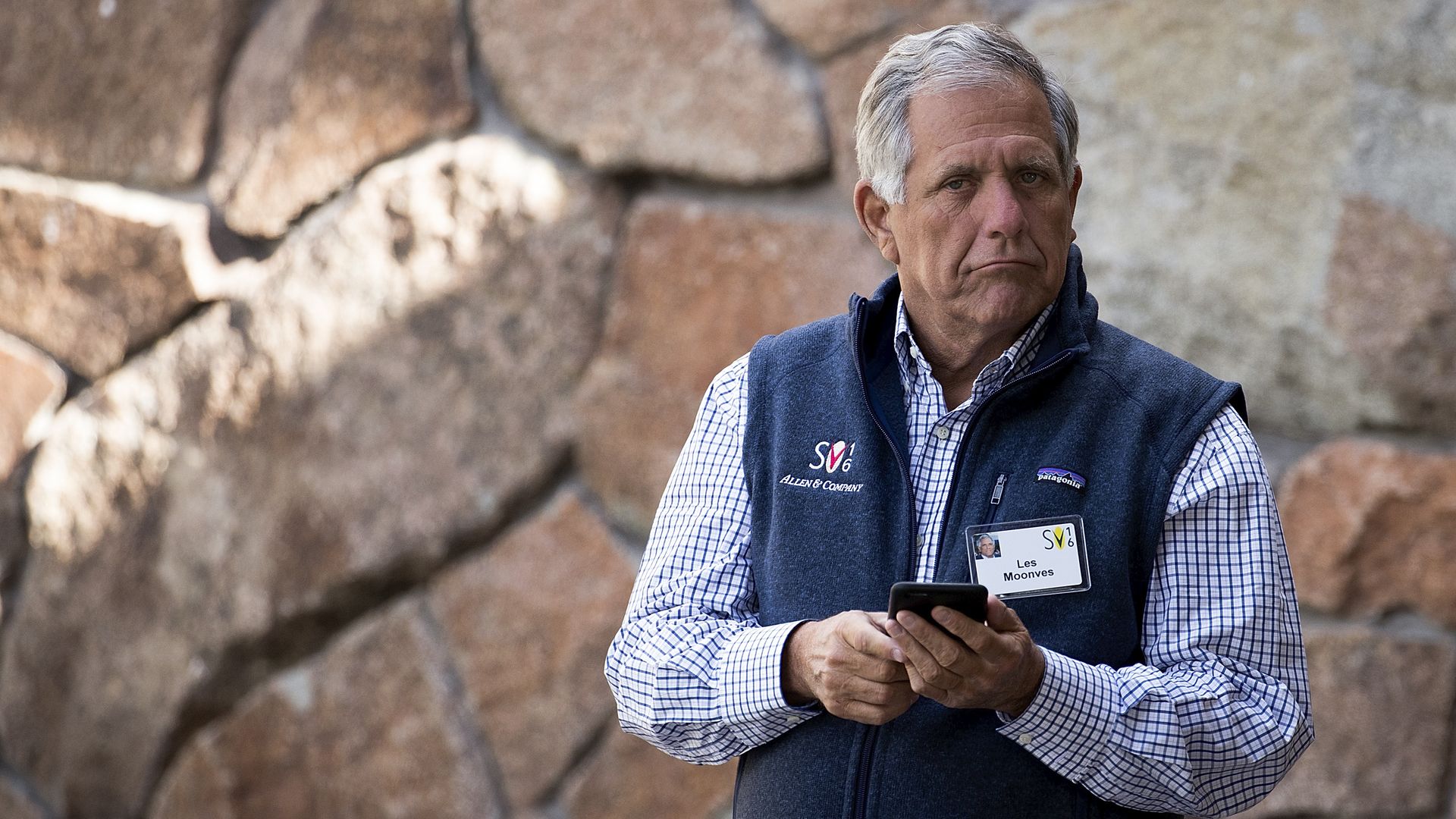 CBS Chairman and CEO Leslie Moonves asked in 2016 to remain Chairman of the Board of a combined CBS/Viacom and for his CBS management team to "have complete and irrevocable authority to manage the combined businesses," according to a new book excerpt first obtained by Axios.
Why it matters: While the letter points to negotiations from previous merger talks between CBS and Viacom, sources say that the overall theme of the nine conditions listed by Moonves — centered around management and control — could have a common link with Moonves' feelings today that having his team oversee the combined company would be crucial for a successful merger.
The letter is included in an excerpt from Ken Auletta's upcoming book, Frenemies: The Epic Disruption of the Ad Business (and Everything Else), which has been obtained by Axios. The letter is copied below.
As Auletta notes in his book, due for release in June, this contradicts Moonves' previous implications that board control negotiations with Shari Redstone were not a large issue, threatening a potential merger between CBS and Viacom.
"Publicly, in 2016 Moonves professed his reluctance and said he was not in a standoff with Redstone over whether he or she would control the board of the combined companies. 'Control was not a very large issue,' he says. This appears to be untrue," Auletta writes.
Reports this time around have suggested that negotiations regarding who would be second-in-command of a combined company, Viacom CEO Bob Bakish or CBS chief operating officer Joseph Ianniello, have held up merger talks, as well as pricing around the Viacom acquisition.
Rumors of tension between the two parties intensified last week, when CNBC reported that Redstone, vice-chairwoman of National Amusements, the holding company for CBS and Viacom, was contemplating firing Moonves, should merger talks between the two networks fail. Shortly thereafter, National Amusements put out a statement rebuking the report, saying it "has tremendous respect for Les Moonves and it has always been our intention that he run a combined company."
Auletta's book, on changes buffeting the $2 trillion global advertising and marketing business from the perspective of its most powerful players, is available for pre-order here. 
----
The full letter is copied below. (CBS is "Comet" and Viacom is "Venus")
###
Wachtell, Lipton, Rosen & Katz
September 30, 2016
Christopher E. Austin, Esp.
Partner, Corporate
Cleary Gottlieb Steen & Hamilton LLP
One Liberty Plaza
New York, NY
1006-1470
Dear Chris,
As we discussed when we last spoke, putting in place an appropriate governance framework will be critical to the success of a potential combination of Venus and Comet. Since the possibility of a combination first surfaced many months ago, Comet and its CEO, CFO and investor relations officers have been increasingly told by Comet's major shareholders, and by the leading securities analysis, that such a potential combination would face substantial hurdles and objections. With the recent turn of events - and the speculative possibility about to shift to an active exploration of the possibility by both companies - the intensity of the investor and analyst concerns has become even more heightened.
One of the key concerns is whether the Comet CEO and Comet management team will have complete and irrevocable authority to manage the combined businesses, and to make the hard choices that will be required to position a combined entity for future success.
For that reason, the independent directors of Comet do not want to entertain the prospect of a combination and invest the time and resources toward the necessary diligence and negotiation in connection with a possible transaction, unless they are satisfied that the Comet CEO and management team (subject, of course, to their oversight as directors) would have complete operating and strategic authority going forward. Thus the Comet directors feel that it is their fiduciary duty to ensure, as a threshold matter, that the management and structure that have produced the great Comet success would not be diluted or lose in a potential combination with Venus. For these reasons, the Comet board and management have asked me to send the attached governance points and to request a response before any further action is taken to explore a possible combination. I will be happy to meet with you to discuss.
Regards, Martin Lipton
Board: At least 75% of Board will consist of independents, with the Board size capped at 13. Up to two independents from Venus who are approved by Comet Board to be added. Comet Board committees continue as is.
New Directors: New director must be nominated by nominating committee and chosen by Board.
Officers: Chairman and senior officers of Comet will all continue as such in the combined company
Removal: Removal of Chairman-CEO requires approval by two-thirds of the independent directors
Consent: The A shares will not act by consent; only at a shareholder meeting
Special Shareholder Meeting: Can only be called by Board
Conversion: Neptune will not reduce holding of A stock below 50% of the outstanding As. If Neptune wishes to reduce below 50%, must first work with Board to amend charter to collapse with B stock on no-premium basis
Management Authority: The Chairman/CEO will be responsible for all strategies and operational decisions. Major transactions will be subject to board approval (by majority of directors). Neptune will not amend the charter or bylaws in any way that either restrains, or requires, business decisions by the board or by shareholder approval.
Implementation: These governance provisions will be implemented by appropriate provisions in the charter and bylaws of the combined company.
Go deeper