Pashtun protests reflect Pakistan's tensions with U.S., Afghanistan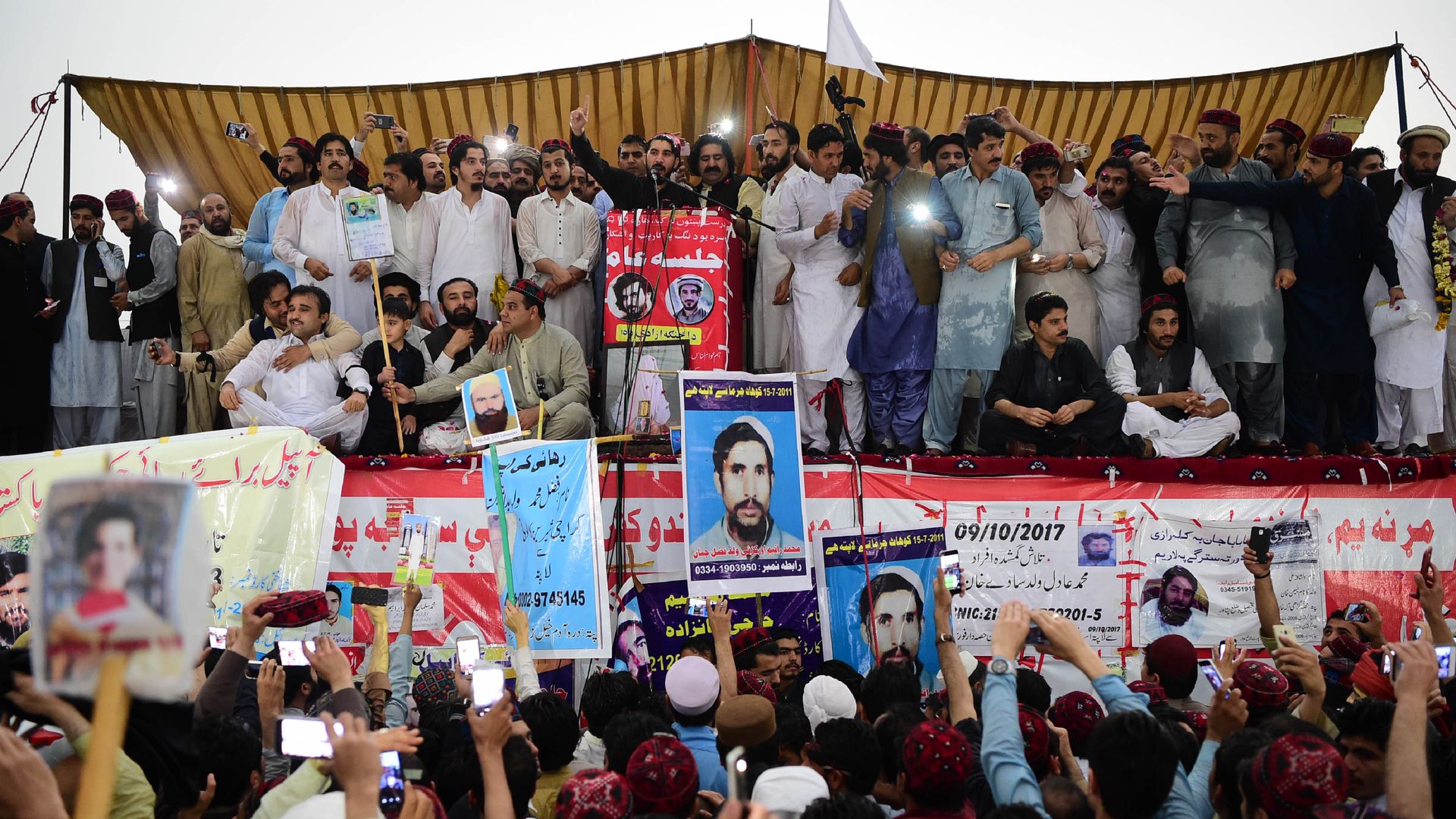 In a protest led by the Pashtun Tahafuz (Protection) Movement, thousands gathered in Peshawar, Pakistan, last Sunday to demand the release of missing persons and basic human rights for Pakistan's Pashtun ethnic minority. The protest is part of the Pashtun Long March, a domestic non-violent movement, which began in January 2018 after the extrajudicial killing of a Pashtun falsely accused of terrorism.
Why it matters: Pakistan's partnership with the U.S. in fighting terrorism has incurred severe domestic costs, especially for Pakistani Pashtuns, straining its already-fraught relationships with both Pashtun-majority Afghanistan and the U.S.
The background: Since 2008, Pakistan has been waging two wars simultaneously: a war in Afghanistan with U.S. and allied forces, and a domestic counterinsurgency campaign. Pakistan has launched counterinsurgency operations in every agency of the Federally Administered Tribal Areas, including strikes that have killed 3500 militants. These campaigns have led to an exponential growth of "enforced disappearances," extrajudicial killings and ethnic profiling of Pashtuns.
In the wake of those atrocities, the Long March has become a culmination of the Pashtun community's grievances against the Pakistani state. The March, however, is Pakistan's chance to right its domestic wrongs and improve political stability.
The bottom line: If the Pakistani government fails to address Pashtun concerns, it spells trouble for the U.S. and any political agreement to end the war in Afghanistan. Pakistani inaction will not only risk further weakening of its relationship with Afghanistan, but will also further reduce its already waning leverage on the Taliban to accept President Ashraf Ghani's peace deal.
Sahar Khan is a visiting research fellow in the Cato Institute's Defense and Foreign Policy Department.
Go deeper