Pentagon cloud plan favors Amazon, rivals say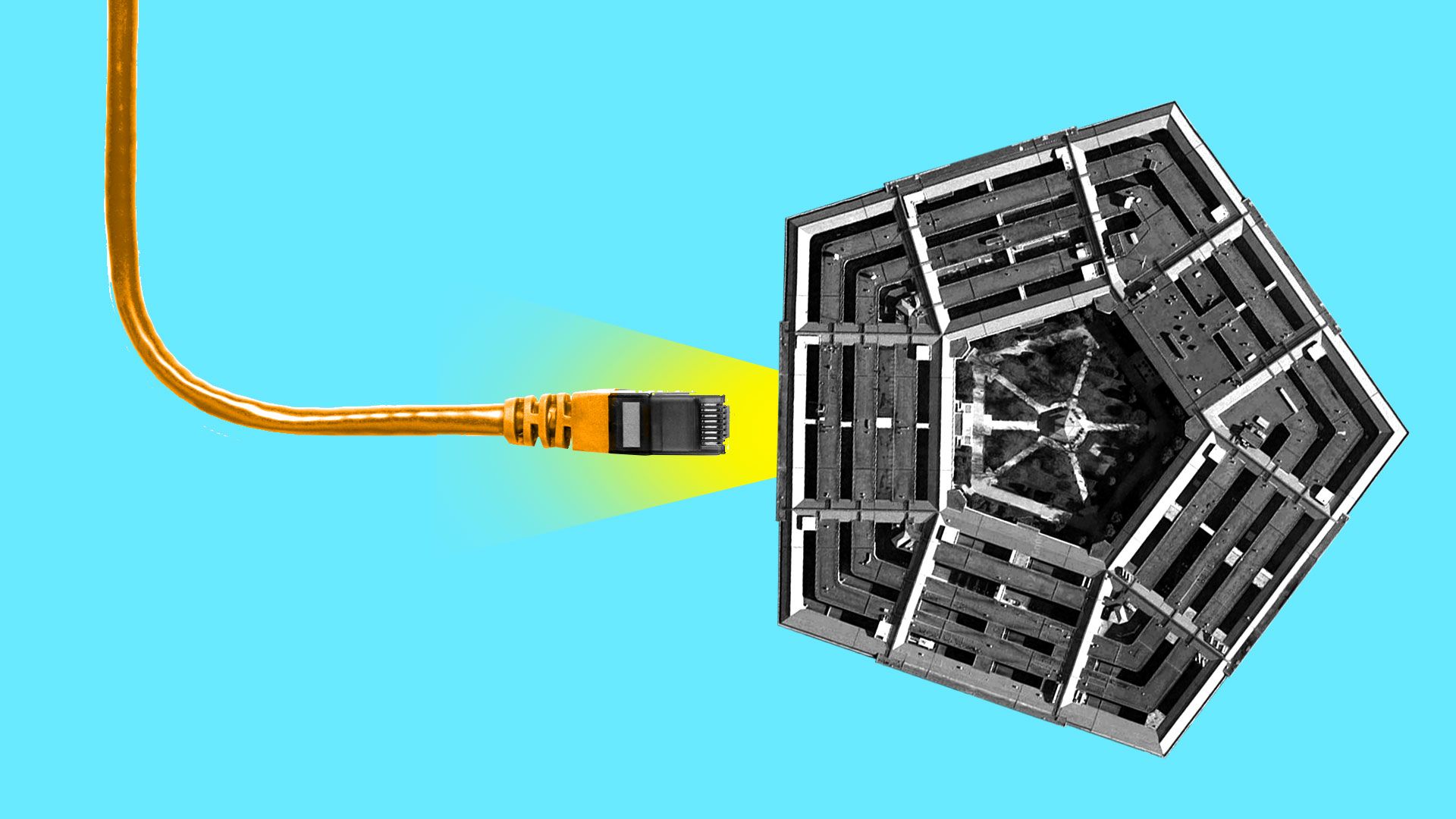 As the Pentagon moves military information systems into the cloud, some industry experts and executives are questioning the wisdom of awarding the contract to just one vendor — particularly since that vendor might well be Amazon.
Why it matters: Sure, Amazon's competitors want a piece of this business. But they're also raising arguments about whether any single cloud service provider can meet the Defense Department's unique needs.
What they're saying: Rivals argue that the Pentagon's draft RFP (request for proposal) shows a pro-Amazon bent. But none would go on the record to cite specifics.
Concerns with Amazon: Amazon has deep experience in this space — and it has previously won two government cloud contracts, including with the CIA.
But when the Pentagon went looking earlier this year for a vendor to prep its systems for the cloud migration and chose a company that partners with Amazon.com, competitors cried foul, and the Pentagon cut the size of the award drastically.
Oracle's Safra Catz raised concerns about the Pentagon having a preference for Amazon to President Trump last week, according to a report by Bloomberg's Jennifer Jacobs. Trump then reportedly indicated he wanted the process to be fair.
The Trump factor: Trump's got a bone to pick with Amazon, as Axios' Jonathan Swan has reported (and many White House tweets have documented). Oracle declined to comment on Bloomberg's report. The White House did not respond for request to comment.
The stakes are high:
 This could be a multi-billion dollar contract that lasts for a decade.
Whichever vendor (or vendors) wins the award will also get bragging rights that the Pentagon, with all of its classified and sensitive missions and data, trusts its system.
The Pentagon has worked to allay fears over the cloud contract. Pentagon spokesperson Michelle Baldanza tells Axios that multiple vendors could work together to form one solution and win the contract together. However, Ken Glueck, Oracle's senior vice president, told me, "If you...actually know something about cloud technology, you'll see that the draft does not reflect an open competition."
The concerns industry experts have with using just one vendor go beyond Amazon — they're about falling behind on innovation over time, vulnerabilities of a one-vendor system, the likely long-term costs to the Pentagon if one vendor gets a lock on the contract, and whether a single cloud can properly support all the Pentagon's missions.
"Obviously in a time of war you don't want a single point of failure," an industry executive whose company is vying for the award said.
Because "the DoD is so big and has so many different unique areas of responsibility and missions...the optimal set of options would be found by awarding one contract to multiple vendors," said Trey Hodgkins, senior vice president for the public sector at the Information Technology Industry Council. The council's member companies include Amazon, IBM, Microsoft, Google, and Oracle — all of which are expected to be vying for the award.
But one industry executive tells Axios that the Pentagon's priority is to "make sure the department and services meet their mission requirements," and that will take precedence over any push to make the RFP friendlier to multiple-company contracts.
Up next: The Pentagon is planning to release a second draft request for proposals for the cloud competition this month, while a final RFP is expected to be released in May.
Go deeper