The left is getting more active on health care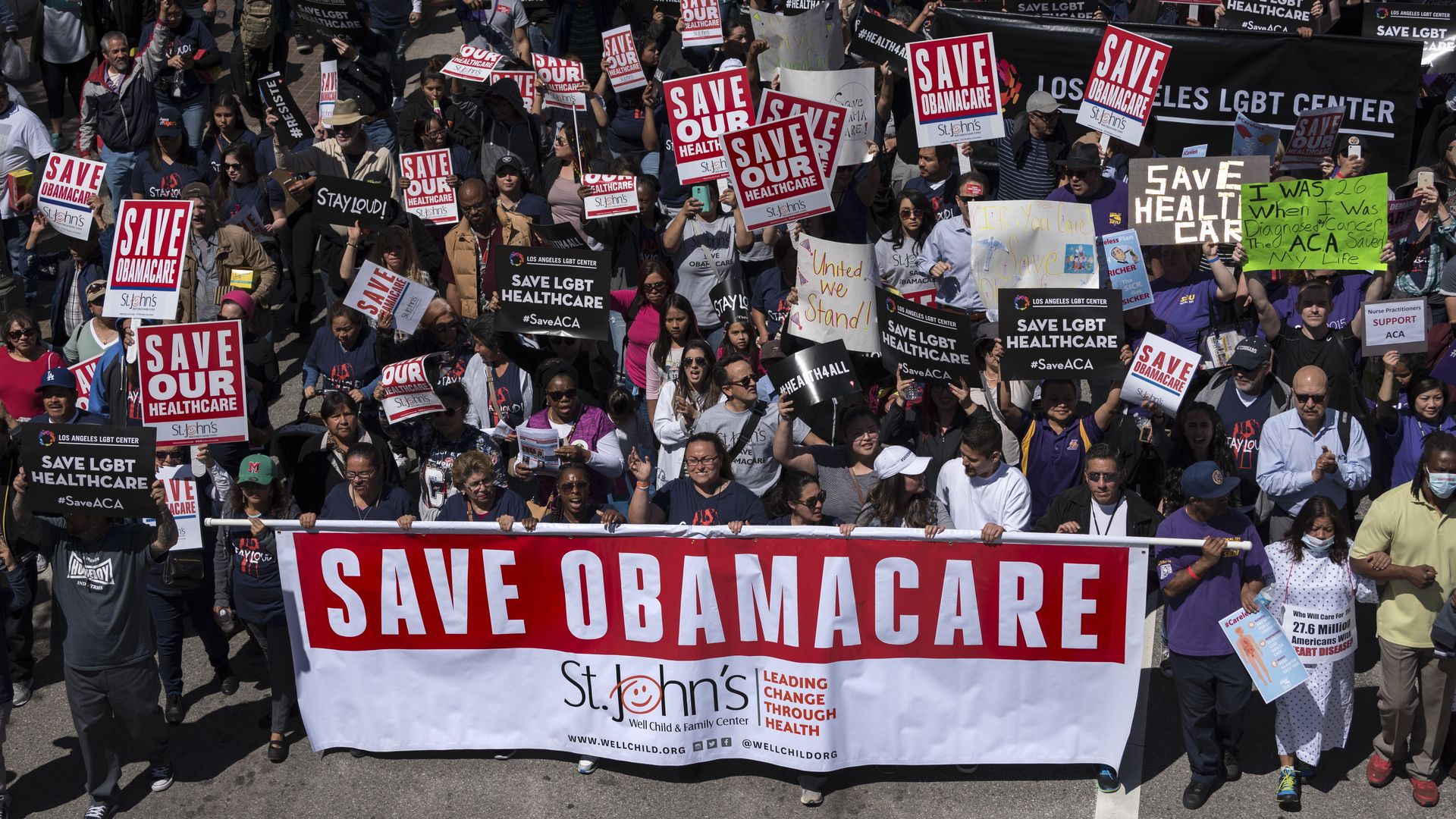 Activism and political protest is on the rise on the left in the U.S., and support for the Affordable Care Act is one of the biggest issues motivating the protesters, according to the latest survey on activism and protest by the Kaiser Family Foundation and the Washington Post.
Why it matters: It's a reversal from the last election cycle, when public opinion about the ACA was more negative than positive and Tea Party protests against the ACA were commonplace. It's clear that the political energy in health is switching from right to left.
The majority of those who have rallied or protested about the ACA over the past two years say they plan to be politically active over the next year. But they're not single-minded ACA activists. Most are critical of President Trump and they have a number of interconnected issues on their minds, including the ACA.
The numbers that matter: In our survey, we found that about 50 million adults said they had gone to a rally or protest to express their views in the past two years, with about 14 million saying the ACA was a reason they were rallying. That's about 28%, similar to the shares who said the same about the environment and energy issues (32%) and immigration (30%), but behind women's rights (46%).
The vast majority (85%) of those who say they rallied, in part, about the ACA were coming out to support the law.  We conducted the survey in January and February, before the recent marches on gun violence.
People who name the ACA as a reason for their activism were more likely to say they will vote in the midterms than people who didn't go to rallies (90% vs. 57%), but it's not so much their voting power that may matter as their personal participation in the political process. They skew older, higher income, and Democratic, and most would likely have voted anyway.
The details:
70% of those who attended rallies are anti-Trump; 30% approve of him.
Those turning out about the ACA were about twice as likely as those who turned out on other issues to say they plan to volunteer or work in a 2018 election campaign.
Activism on behalf of the ACA was not a rejection of single payer. Most demonstrators support both.  
The big picture: At a time when trust in institutions is declining and many say we are wallowing in a "post-truth" society, rather than turn off and tune out, large numbers of citizens are seeing a virtue in getting out of their homes to participate in the democratic process.  
Go deeper