Democrats' latest Pelosi strategy: a temporary transition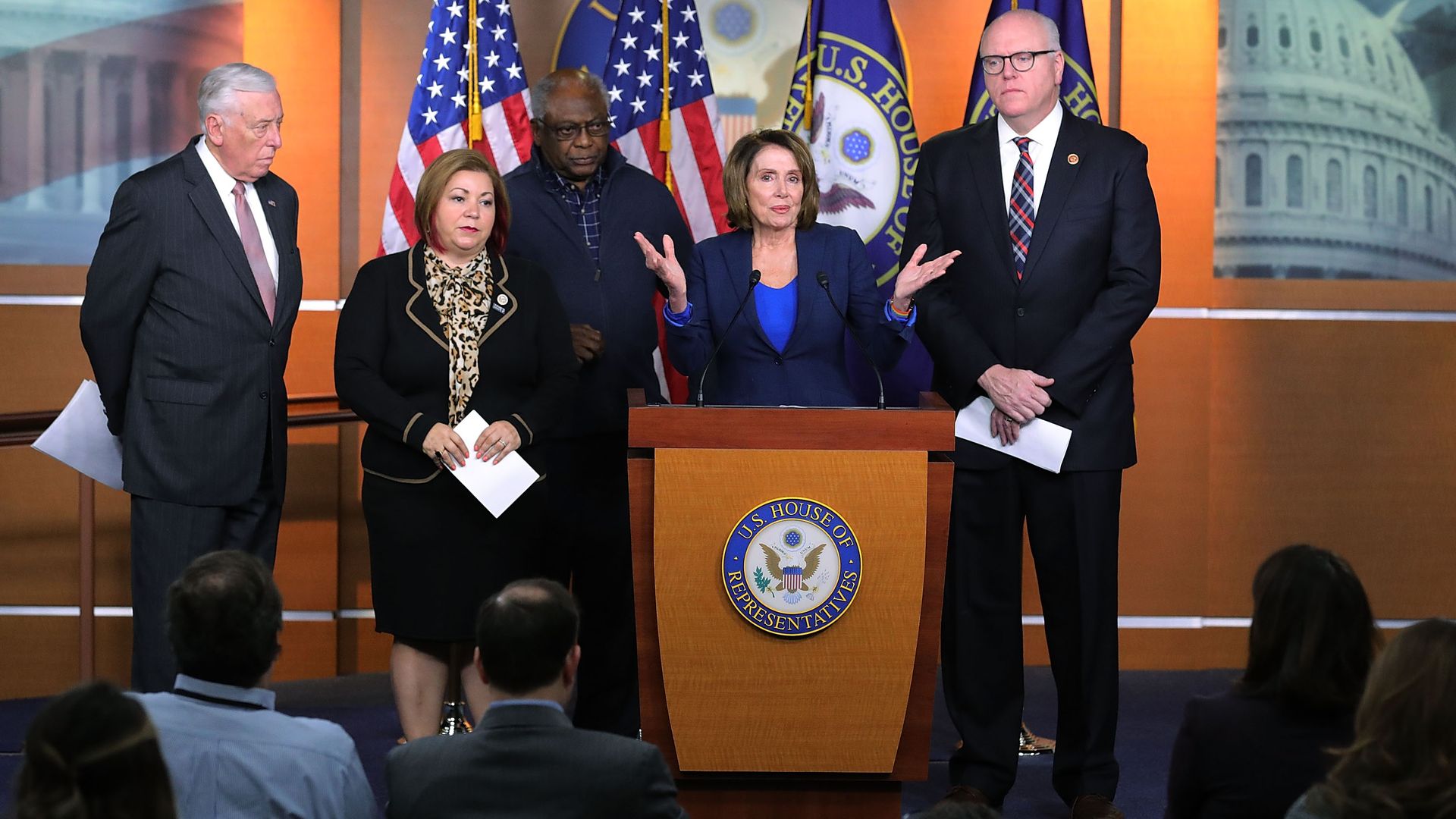 Younger Democrats have been calling for a new generation of leadership to replace House Minority Leader Nancy Pelosi. But the two men who could likely replace her are treading carefully, even as the national narrative of the "Pelosi problem" heats up ahead of the 2018 election.
The latest: Reps. Joe Crowley (age 56) and Steny Hoyer (age 78) aren't exactly the fresh-faced leaders some Democrats are hoping for. But the AP's Lisa Mascaro reports one way Democrats are trying to reconcile that: Hoyer's allies are "floating the unusual idea of him becoming a short-term leader — someone who could temporarily take the helm, if and when Pelosi steps down, to ease the transition."
What they're saying: "Would I like to be speaker? Of course. Would I be disappointed if it doesn't happen? No," Hoyer told the AP's Mascaro. And although he's been eyeing the leadership spot for years, he is now "actively, if quietly, seeking lawmakers' support," Mascaro writes, noting his allies are positioning him "as a possible 'bridge' leader, who might ease a transition to a next generation."
Meanwhile, Rep. Crowley, the #4 Democrat in the House, told Fox News' Chris Wallace "if Nancy Pelosi stays, I don't see a scenario by which I would challenge her for that position." But many Democrats view Crowley as the likeliest successor if Pelosi does leave.
Pelosi has made no indication that she will retire, even saying "I think I'm worth the trouble" after Republicans continue to tie Democratic candidates to her.
Battle lines: It's no secret that some Democrats want Pelosi to step aside; Conor Lamb earned national attention after he said he wouldn't back Pelosi if elected, and Reps. Linda Sanchez, Kathleen Rice and Tim Ryan have called for new leadership. But Pelosi's team and Democrats across the Hill praise her ability to fundraise and keep the caucus in line on tough votes.
Be smart: The last thing the Democratic Party needs is a leadership fight in addition to their ongoing civil war between moderates and progressives. This likely won't change unless more anti-Pelosi Democratic candidates emerge or Democrats win the House.
Correction: This story has been updated to correct the first reference to Crowley. His first name is Joe.
Go deeper