Fossil finger points to early humans in Arabia 85,000 years ago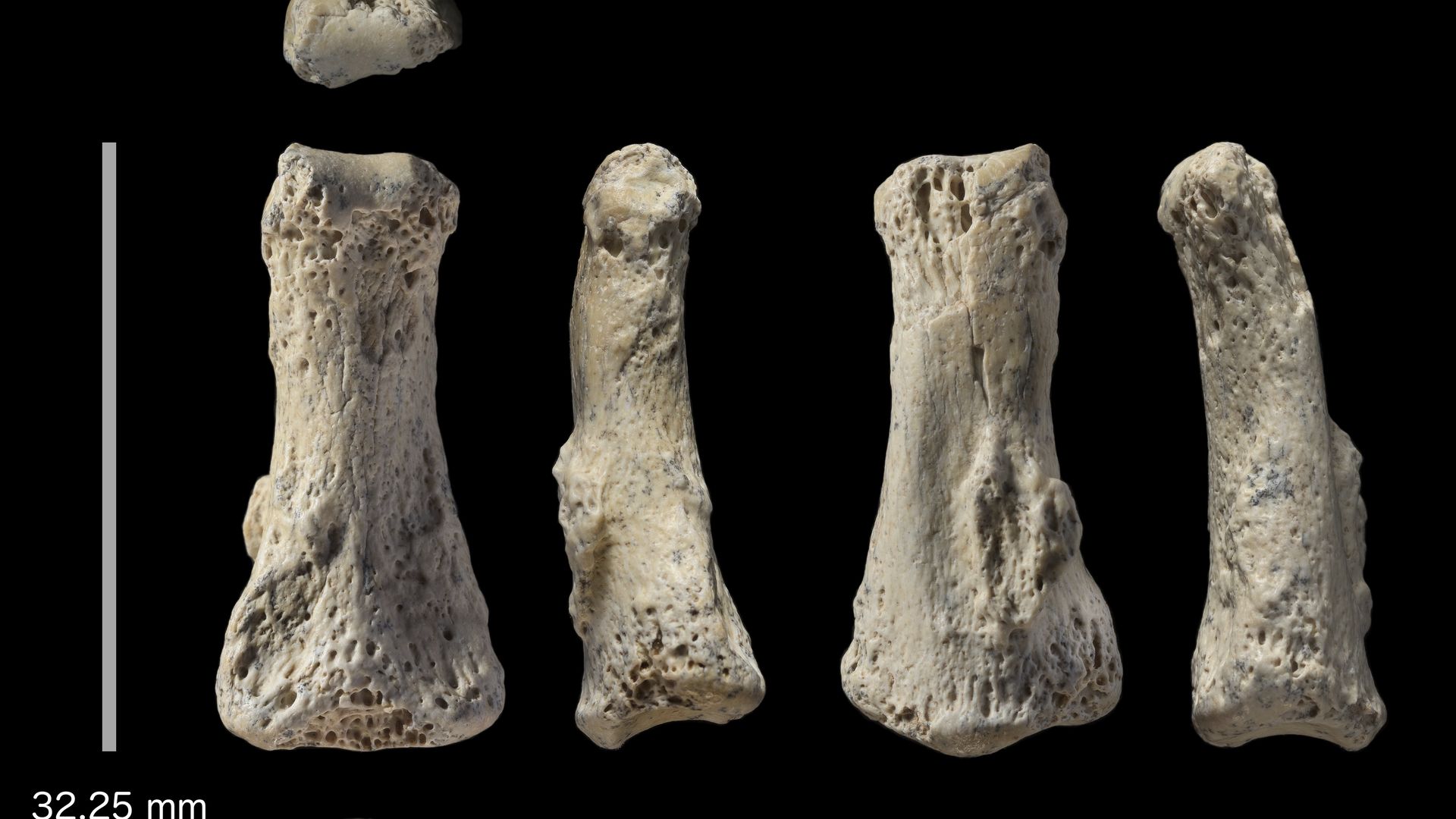 An international team of scientists say they have found the oldest Homo sapiens fossil outside of Africa and the Levant corridor — suggesting that early humans left Africa 20,000–25,000 years before most earlier evidence suggested.
Why it matters: The finding published in Nature Ecology and Evolution Monday supports the view that rather than migrating out of Africa 60,000 years ago in a single large migration, small groups of early humans may have left the continent earlier and in more complicated patterns than previously thought.
What the team found: After searching a site in the Al Wusta region of Saudi Arabia for nearly 10 years, they found part of a finger bone in 2016 along with hundreds of artifacts like stone tools and various types of animal fossils, including hippos. "It was like a dream come true," Michael Petraglia, one of the study authors, told reporters during a press conference.
How they tested it: They directly dated the fossil using radioisotopes, which they say is more reliable than solely testing the surrounding sediment or artifacts. They also tested the surrounding sediment, animal fossils and artifacts at independent laboratories and found the ages roughly matched.
The testing "very strongly demonstrates" the bone is from an early human, according to University of Oxford's Huw Groucutt, another study author who also spoke at the press briefing. Not only did labs confirm this, but the boneshape is much longer and thinner than Neanderthal fingers, he said.
Yes, but: Richard Potts, paleoanthropologist and director of the Smithsonian Institution Museum of Natural History's Human Origins Program, says he agrees the bone is "probably" from a Homo sapiens but adds the claim that it is the oldest may downplay other recent findings in East Asia and Australia that also support the idea of smaller, periodic exits from Africa or its bordering Levant region.
The response: The authors say those prior studies are limited though because they either did not date the fossils directly (instead they tested associated layers of sediments and artifacts) or were unable to directly prove their fossils were Homo sapiens.
The big picture: "It's not just one single wave out of Africa 60,000 years ago," Petraglia said. "We're arguing here there were multiple dispersals out of Africa. The movement was far more complicated" than originally thought.
Go deeper