The latest on Scott Pruitt's dangerous days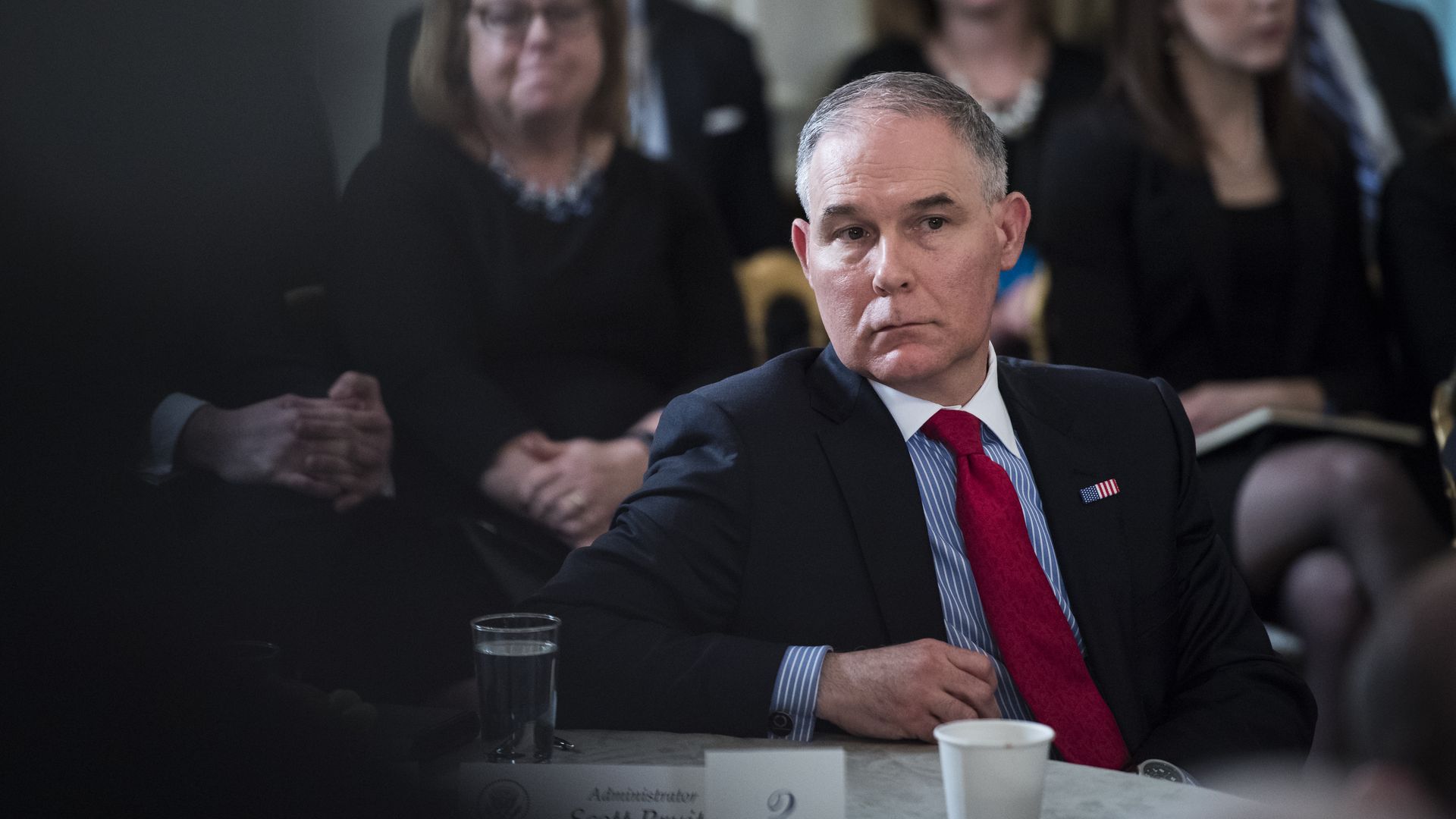 As ethics controversies continue to swirl around EPA Administrator Scott Pruitt, many observers in Washington are wondering how long he might be able to hang onto his job.
The view from the West Wing: Axios' Jonathan Swan spoke with sources close to President Trump and this basic picture emerged: If nothing else bad comes out against Pruitt, they'll probably ride through the storm with him. But should more damaging stories surface — especially ones that demonstrate poor ethical judgement — Pruitt could be abandoned in a flash. Trump is uneasy about the situation, and has his finger in the wind.
"Not" cool: ICYMI, when asked yesterday whether President Trump is OK with Pruitt's $50-per-night deal last year for the room in a condo owned by the wife of an energy lobbyist, White House spokeswoman Sarah Sanders replied, "The President is not."
"We're reviewing the situation. When we have had a chance to have a deeper dive on it, we'll let you know the outcomes of that," she said at a briefing yesterday.
Why it matters: It showed the White House going public with its widely reported concerns about Pruitt, who faces questions and bad headlines around the condo deal as well as controversial raises for top aides.
About those raises: As Axios' Haley Britzky noted yesterday, Pruitt said in a Fox News interview Wednesday that he just learned of big pay raises for two aides that came to Washington with him:
"I found out this yesterday and I corrected the action and we are in the process of finding out how it took place and correcting it."
The intrigue: That follows a report in The Atlantic that "Pruitt ordered" the pay boosts — $28,130 and $56,765 — for the two aides using special authority under the Safe Drinking Water Act after the White House rejected the request. EPA did not provide comment.
Pruitt's allies push back: More via Swan, who reports that Pruitt's allies are back-channeling several messages to Trump in a bid to save the EPA chief, including:
Don't let the left take down Pruitt. This is really about ideology, and people on the left who don't like his aggressive moves to unwind regulations.
Firing Pruitt would bring endless trouble. Pruitt's backers say the left — and they lump the mainstream press into that category — won't be satisfied if Pruitt goes. They'll just move onto the next cabinet secretary.
A reality check: Per Swan, White House officials he's spoken with have little patience for those defenses of Pruitt. They blame him and him alone for his ethical missteps, particularly the condo.
And White House sources are hearing rumors from colleagues in the administration that there's more to come. If there are legitimately bad facts still unreported, it's hard to see how he survives.
Late-breaking: CNN reported last night that the EPA's top ethics official, who had previously signed off on Pruitt's condo situation, "clarified his earlier analysis of whether . . . Pruitt's rental arrangement broke the federal gift rule, saying he didn't have all the facts when evaluating the lease."
Go deeper