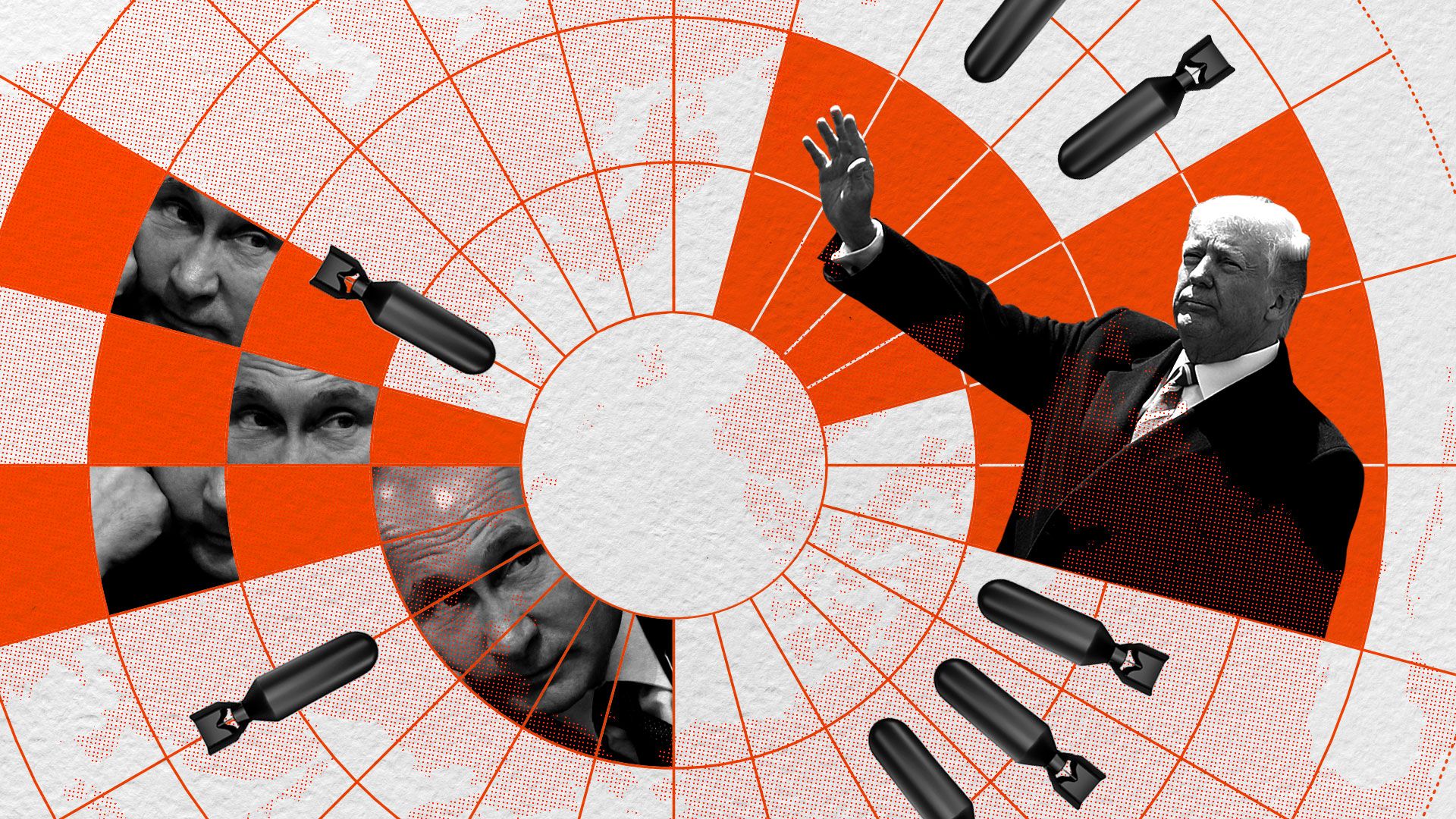 Despite President Trump's mixed appraisals of the Russian threat, a clear consensus is emerging among foreign policy experts on both sides of the Atlantic: this is a new Cold War, with new dangers.
Why it matters: "We are deep into what you might call Cold War 2.0," Brookings Institution fellow Strobe Talbott said Wednesday, and this time it's "far more dangerous."
Like the last time around, Talbott argues, it's a zero sum game with both ideological and geopolitical dimensions at play. But this time, "there is no process underway to mitigate" the threat of a hot war, and we're in an "arms race without arms control." 
This is escalating fast. Consider:
One month ago, Russian ex-double agent Sergei Skripal and his daughter were found unconscious on a park bench in Salisbury, poisoned with a military-grade nerve agent.
The U.K., U.S. and some two dozen other countries accused Russia, and expelled dozens of diplomats. A European diplomat tells me the goals were relatively modest — to do something "sufficiently painful" to show Moscow "the costs of doing this kind of thing exceed any benefit."
That led to a tit-for-tat response from the Kremlin, with U.S. diplomats boarding buses and leaving the Moscow embassy this morning, per the AP.
Before the end of the week, the Trump administration will sanction "at least a half-dozen" Russian oligarchs with ties to Vladimir Putin under a law designed to punish Moscow for election meddling, Reuters and the Washington Post report.
Talbott, who served in Bill Clinton's State Department, said the Russian threat is magnified by the decline of "transatlantic institutions and trust," and the lack of a coherent Russia policy from the White House. ("We've had bad policies, but never no policy.")
Sir Francis Richards, the former chief of GCHQ (Britain's version of the NSA), told the Economist Radio the new Cold War "has rules that bind us but none that bind the aggressors."
The bottom line: Things will get worse before they get better.
For more stories like this, sign up for the new Axios World newsletter.
Go deeper